It's Four Days Until Theresa May's Big Brexit Speech And It's All Going Really Well
Fresh criticism for Boris Johnson over his £350 million claim, a Vote Leave chief likening the Brexit process to "putting a gun in mouth & kaboom", and the government's top Brexit official moving departments. Just another manic Monday.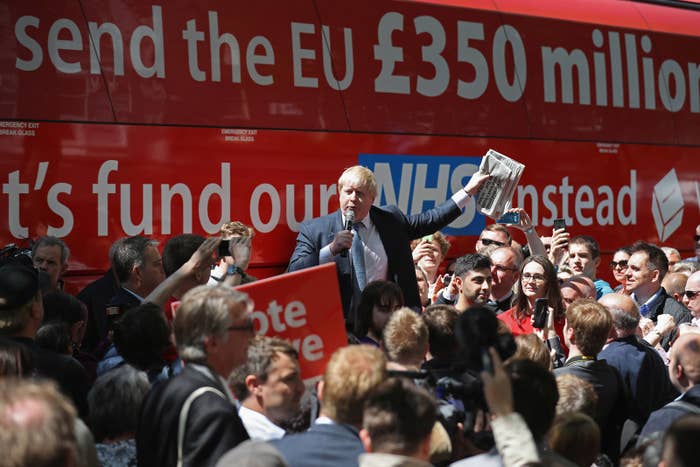 Theresa May is struggling to contain an escalating internal conflict over the handling of Brexit, as the former head of Vote Leave likened her government's approach to shooting itself in the face and Boris Johnson faced fresh criticism from experts over his claim that Britain would "take back control" of £350 million a week.
Dominic Cummings, the man behind the official Leave campaign during the EU referendum, warned that triggering Article 50 back in March – effectively setting a two-year timer for Britain to disentangle itself from the EU – had been like "putting a gun in mouth & kaboom".
In a no-holds-barred Twitter thread, he also said Brexit secretary David Davis and others had listened to "bullshit legal advice" and been "led like lambs to slaughter" by cabinet secretary Jeremy Heywood.
Meanwhile Johnson, the foreign secretary, was urged to be more responsible over his use of statistics following his decision to revive the much-maligned £350 million claim in a 4,000-word article in the Daily Telegraph.

Hetan Shah, executive director of the Royal Statistical Society, told BuzzFeed News: "When Boris Johnson previously was associated with these numbers he was the figurehead of the Vote Leave campaign – but he is now a minister.
"That means he is expected to follow the ministerial code. One of the tenets of that is honesty, and the code of practice for statistics is also something he needs to take into account."
Johnson's article, in which he outlined his vision of Brexit and also questioned the patriotism of young Brits who wanted to stay in the EU, sparked a flurry of speculation in Westminster this weekend that he was gearing up for a leadership bid. To the frustration of Number 10, it came just days before Theresa May delivers a major speech on Brexit in Florence on Friday.
Asked about his intervention while on a trip to Canada and the US, May told journalists on Monday: "Boris is Boris." Echoing home secretary Amber Rudd's description of Johnson as a back-seat driver, she added: "This government is driven from the front, and we're all going to the same destination."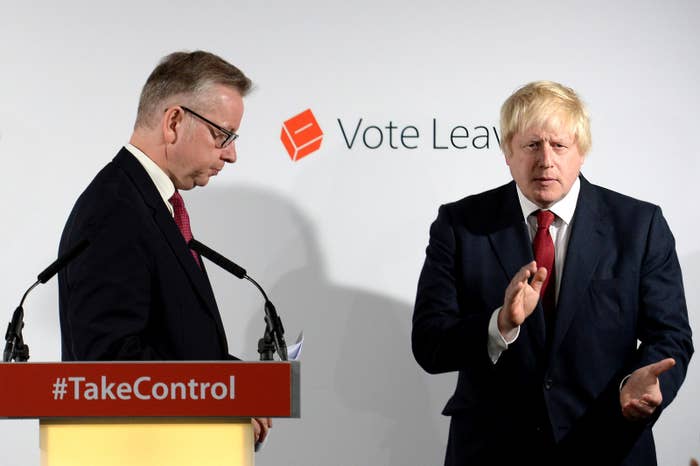 In his article, Johnson wrote: "And yes – once we have settled our accounts, we will take back control of roughly £350 million per week. It would be a fine thing as many of us have pointed out if a lot of that money went on the NHS."

That prompted Sir David Norgrove, the chairman of the UK Statistics Authority, to write to Johnson saying he was "surprised and disappointed" with the claim and that this was a "clear misuse of official statistics".
Johnson wrote back, accusing him of a "wilful distortion of the text of my article".
But Shah told us Norgrove was right to raise concerns, and said it would have been more accurate to use a figure of £250 million, given Britain's rebate. "To the regular person on the street trying to make sense of how much do we have control over on a day-to-day basis, that's probably a more reasonable figure," Shah said.
"I do think the intervention by David Norgrove needs to be seen in that context of he's trying to help clear up this longstanding misunderstanding around the numbers.
"I suppose my own view is it's pretty worrying when the minister then seeks to undermine our independent statistical regulator. We're known worldwide for the independence of our statistics, and for me it's a real shame to throw that into question."
In another twist, the government's top Brexit official, Olly Robbins, has left the Department for Exiting the European Union to work in the Cabinet Office reporting directly to the prime minister.
The move, which will give May greater control over Brexit negotiations, comes after alleged tensions between Robbins and Brexit secretary Davis. Critics said it was just another example of the chaos at the heart of government over the Brexit process.
Labour MP Stephen Doughty, speaking on behalf of campaign group Open Britain, said: "Boris Johnson may be back-seat driving, but the car is now in danger of spinning wildly out of control.
"We've already seen Lord Bridges and Lord Price, the government's ministers for Brexit and trade in the House of Lords, resign in recent weeks. This is just the latest indication that all is not well at DExEU."
Liberal Democrat leader Vince Cable said: "This is a sign of the chaos and division at the heart of this government. Conservative ministers are trying to drive through an extreme Brexit no matter the cost, ignoring expert advice from civil servants.
"With Boris Johnson trying to grab the tiller of HMS Brexit, it's little wonder the rest of the crew are jumping ship."