It's Boris Johnson's Favourite Day Of Conference: When Everyone Looks At Him
The foreign secretary isn't trying to rock the boat with Theresa May – he just wants some attention, party sources have claimed to BuzzFeed News.
by
,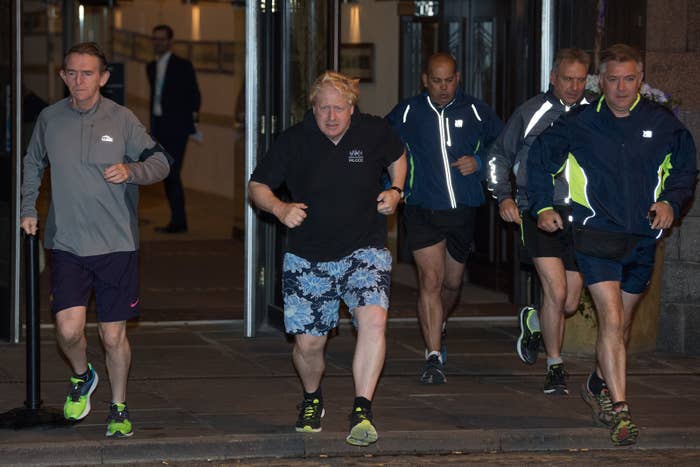 Senior Tories have played down talk of a Boris Johnson leadership bid, claiming his public challenges to the prime minister on Brexit were not thought-through beyond simply getting attention.

The foreign secretary has made two major interventions on Brexit in recent weeks – sparking speculation that he is seeking to undermine the weakened prime minister and shore up support to take her job.
With his long-held ambition to take on the top job in no doubt, Tory MPs and ministers are privately exasperated at the timing of Johnson's latest antics – just as Theresa May is attempting to steer delicate Brexit negotiations and reassure the shaken party faithful after a disastrous election result.
But party sources at the Conservatives' annual conference have attempted to downplay Johnson's interventions, insisting that after a long, slow summer dominated by speculation about Jacob Rees-Mogg's apparent leadership ambitions, the foreign secretary was simply keen to get his name in the headlines again and remind the public he was there.

All eyes will be on Johnson on Tuesday as he makes his keynote speech at the Tory conference in Manchester, and he will undoubtedly attract the biggest media scrum of the week as he walks through the convention centre.

Johnson recently penned a 4,000-word article for The Telegraph – reiterating his controversial, and much debunked, claim that Britain would be able to claw back £350 million a week for the NHS post-Brexit – then subsequently did an eve-of-conference interview with The Sun.
In the interview, Johnson laid down his "red lines" for Brexit, including a transition deal of "not a second longer" than two years that appeared to be at odds with May's own promise of "around two years".
But senior Tory sources insisted his interventions were not a carefully calculated bid to undermine May on points of policy – but rather that he just could not resist the publicity.
"Boris didn't do it to be controversial," one aide said. "He didn't mean to differ from the party line. He just realised he hadn't been in the press for a while and desperately wanted some attention."
Another party insider said Johnson was mortified that his articles had been "taken out of context", adding: "That was not the intention." But they conceded that his staff needed to make him realise that any intervention on Brexit would always be analysed by journalists for "thinly veiled attacks" on May.
Others view Johnson's articles as an attempt to test the water to see if Tory backbenchers are keen to see more from him. If so, the move appears to have backfired.
Several Tory MPs have told BuzzFeed News they believe May should have fired Johnson already, and that leaving him in post has undermined her already fragile authority.
Some party insiders believe May is too weak to risk a confrontation with Johnson, but one MP said the foreign secretary doesn't have the support in the parliamentary ranks to launch a leadership challenge now.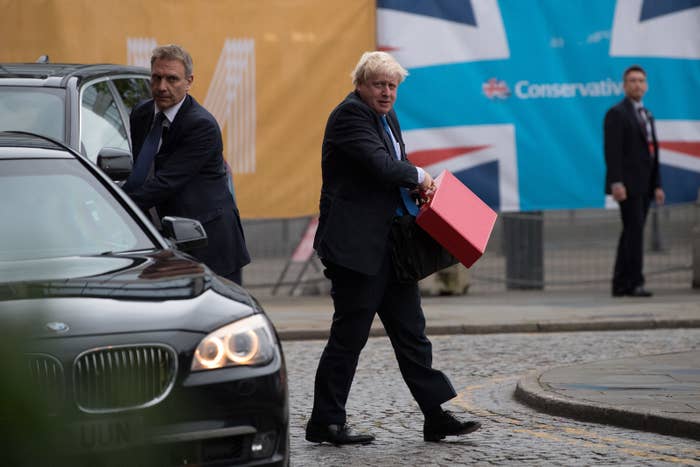 BuzzFeed News reported on Sunday how ministers are increasingly exasperated at Johnson's antics, with one cabinet member telling us: "Nobody is unsackable."

May played down the threat from Johnson on Tuesday, telling BBC Radio 4's Today programme: "I think leadership is about ensuring you have a team of people who aren't yes men, but a team of people of different voices around the table, so you can discuss matters, come to an agreement and then put that government view forward, and that's exactly what we've done."

She also told Sky News: "His speech has been looked at, don't worry."
Meanwhile, health secretary Jeremy Hunt used an interview with The Guardian to warn Johnson to back off. Asked if he thought Johnson wanted to be PM, Hunt replied: "What do you think? All I would say to anyone who might be eyeing a different job is that Jeremy Corbyn is also eyeing a different job."
And home secretary Amber Rudd slapped down Johnson over his "red lines". She told the Daily Mail: "They are not for him to set. They are for the prime minister to set."
Johnson insisted on Monday night that he was fully behind the PM, telling BBC Newsnight: "Contrary to some of the stuff that I notice has been knocking around in the media, you have a cabinet that is totally united behind every comma, every full stop, every syllable of the prime minister's excellent Florence speech.
"That's the agenda that we're going to deliver, and we're going to deliver a great Brexit for this country."