Inside The Tory Campaign To Stop Nigel Farage
BuzzFeed News joined former Conservative leader Michael Howard on the campaign trail in South Thanet, where UKIP and the Tories are neck and neck.
Michael Howard, the former Tory leader, is leaning into an intercom outside an apartment block in the seaside town of Broadstairs. "I think your analysis is absolutely correct – we're the only people with any chance of beating Mr Farage," he says down the microphone in his familiar clipped accent.
The man inside the building is not a Tory supporter. But he's been tracking the odds for months and is, Howard tells us afterwards, "going to vote Conservative for the first time in his life to keep Farage out".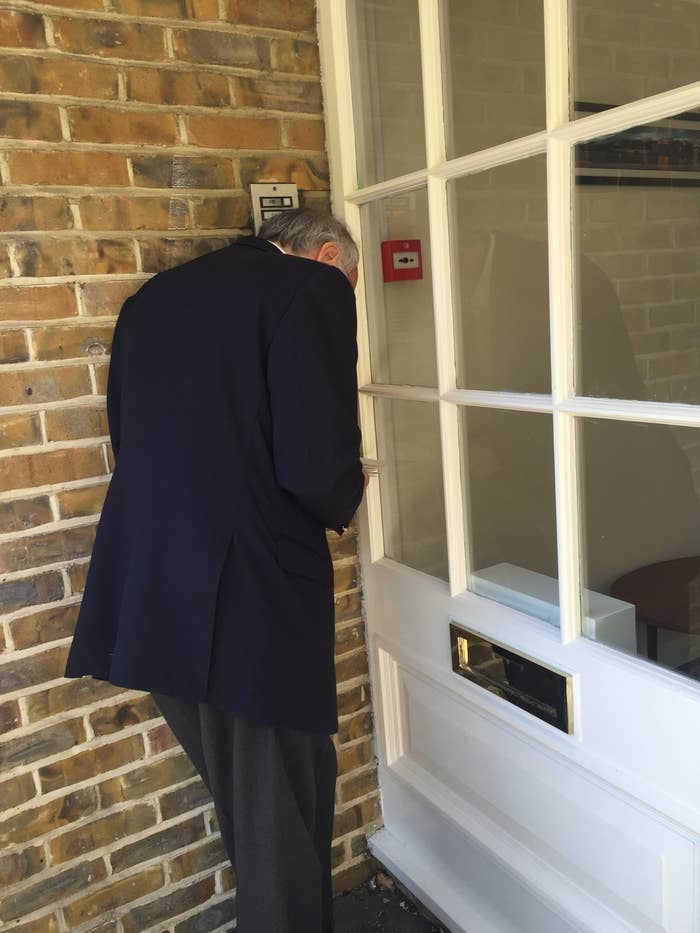 BuzzFeed News has come to South Thanet in Kent – arguably the most high-profile seat in the country – to test the mood in the Conservative camp two days before the general election. It's no exaggeration to say that UKIP's future could be decided by this result: Farage, the party's candidate in this seat, has promised to stand down as leader if he loses. And Tory candidate Craig Mackinlay is convinced that he's done enough to beat his UKIP rival on Thursday.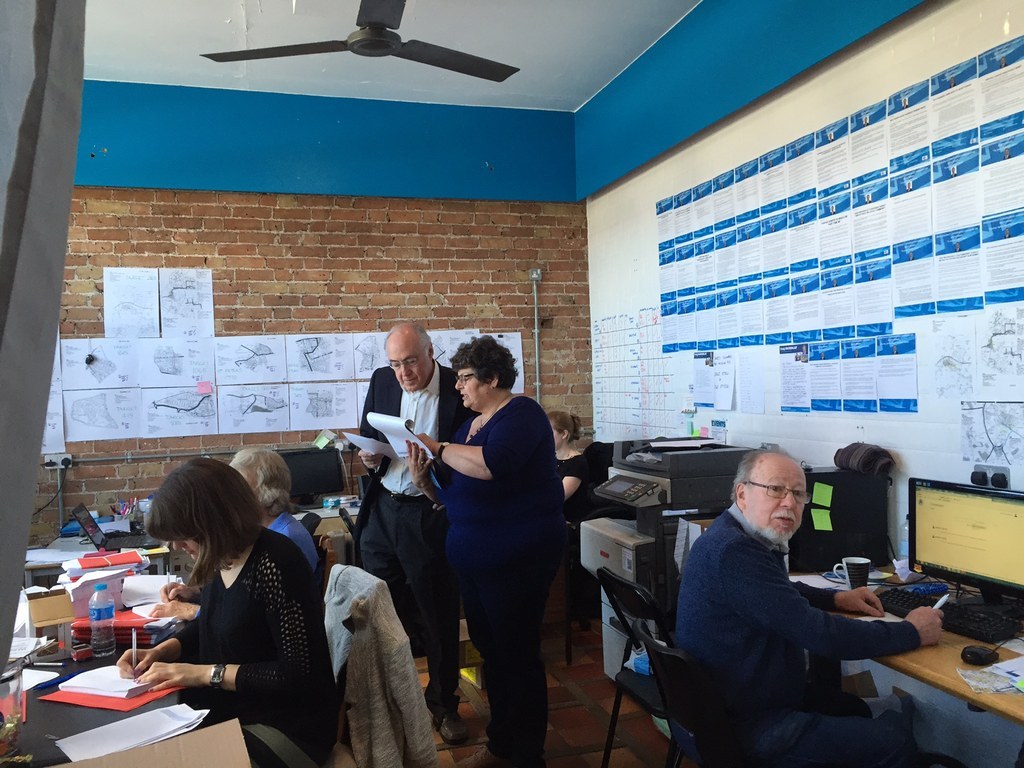 Mackinlay points to the most recent poll by Conservative peer Lord Ashcroft, which puts the Tories on 34% in South Thanet, two points ahead of UKIP and eight points ahead of Labour.
The Tory vote share has been creeping up over time while the Labour share has been falling – suggesting that Labour supporters are lending their vote to Mackinlay to keep out Farage.
That's easy to believe when walking around the genteel town of Broadstairs: There is a visceral anti-UKIP mood in some areas, with posters in the windows that say, bluntly: "No UKIP."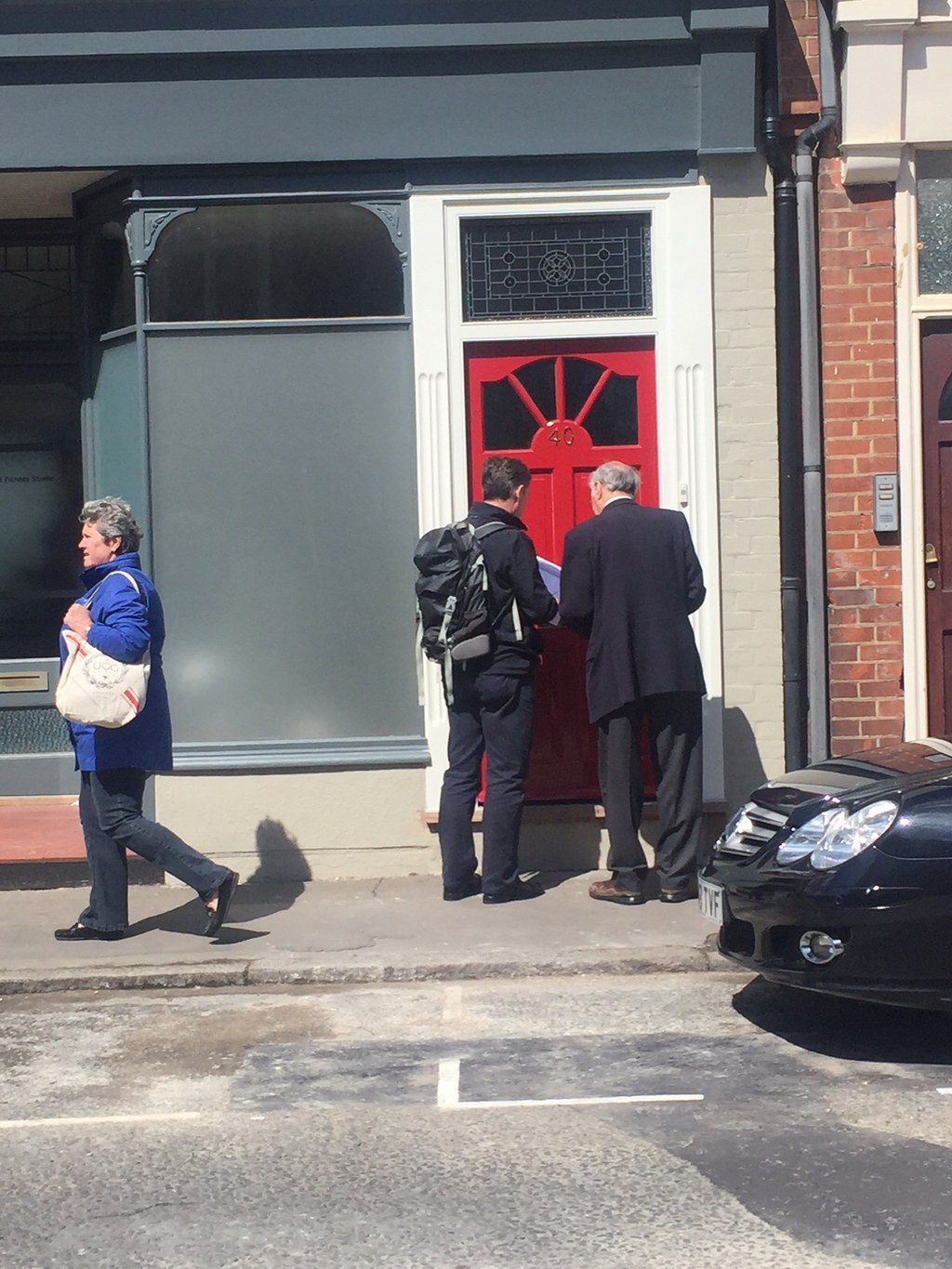 One such anti-UKIP poster is accompanied by an "I'm voting for Will Scobie" sign – the Labour candidate – but a Tory aide cheerfully assures me that the homeowner will no doubt switch sides come polling day when they realise who has the better chance of winning.
Meanwhile, Howard and Mackinlay are having a good chat with the resident of a large house on the blustery seafront, who seems pretty chuffed to meet a former home secretary. Howard tells me the man is a lifelong Labour voter who will be voting Tory this time round. Is that to keep out Nigel Farage? "Yes, and Miliband," Howard says.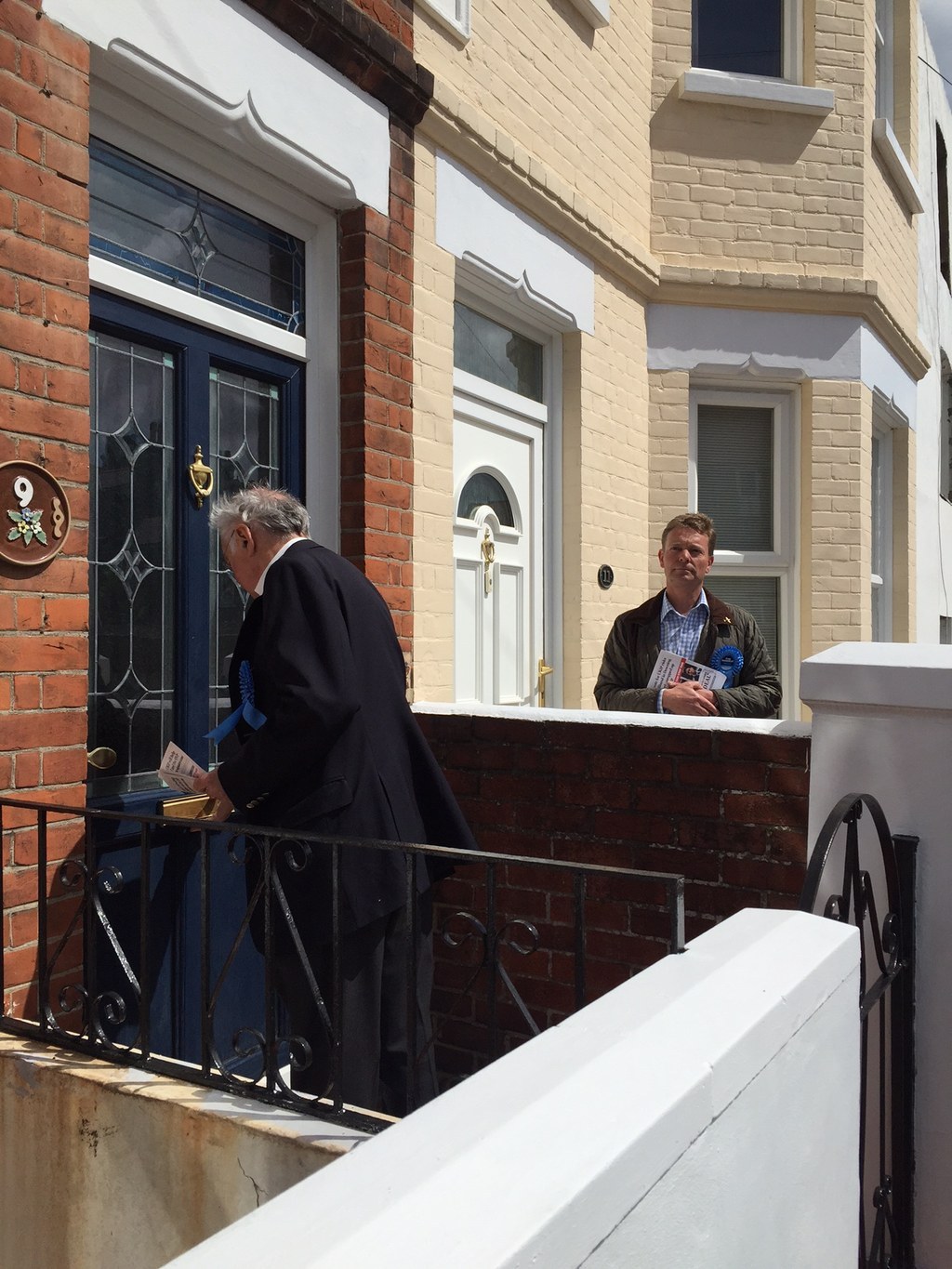 Howard is just one of many Tory "big beasts" who have helped campaign in South Thanet in recent weeks. Boris Johnson was mobbed for selfies in Ramsgate last month, while William Hague and George Osborne have also popped down for a photo opportunity. But there has been one man conspicuous by his absence – David Cameron.
Tory sources assure me I shouldn't read too much into this, and that Cameron has been focusing on the constituencies that could benefit most from his presence. But it does seem to suggest that Tory HQ believes Cameron wouldn't be a huge asset to the local campaign; that in fact, he might actually put off a few wavering voters.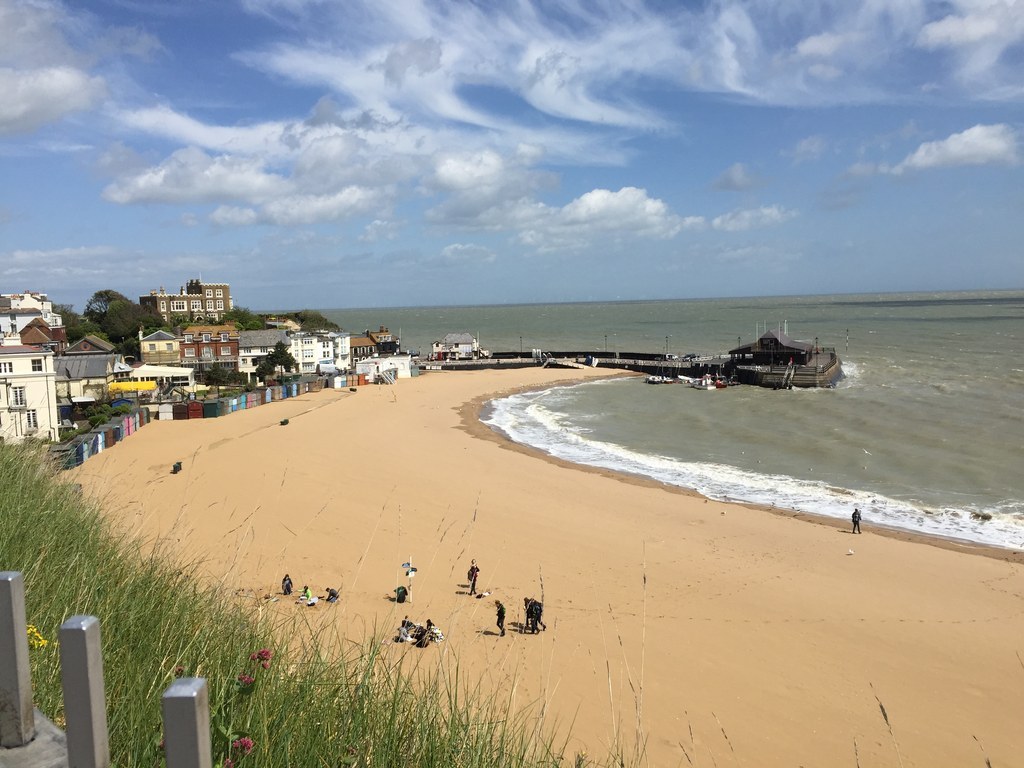 Howard, who led the party between 2003 and 2005 before being replaced by Cameron, dismisses his own celebrity status on the doorstep. "Oh, I'm an old hand now," he says. "People don't know who I am."
But he's certainly recognised by people of a certain age. One typical exchange: "Hello, I'm Michael Howard." "I can see you're Michael Howard."
He doesn't get a completely easy ride. There are people with concerns about the Conservatives at a national level. One woman eating fish and chips is worried about the future of the NHS. Another woman in a Greenpeace T-shirt tells Mackinlay she doesn't agree with the Tories on fox-hunting. "That's the first mention of hunting I've had on the doorstep," he tells her.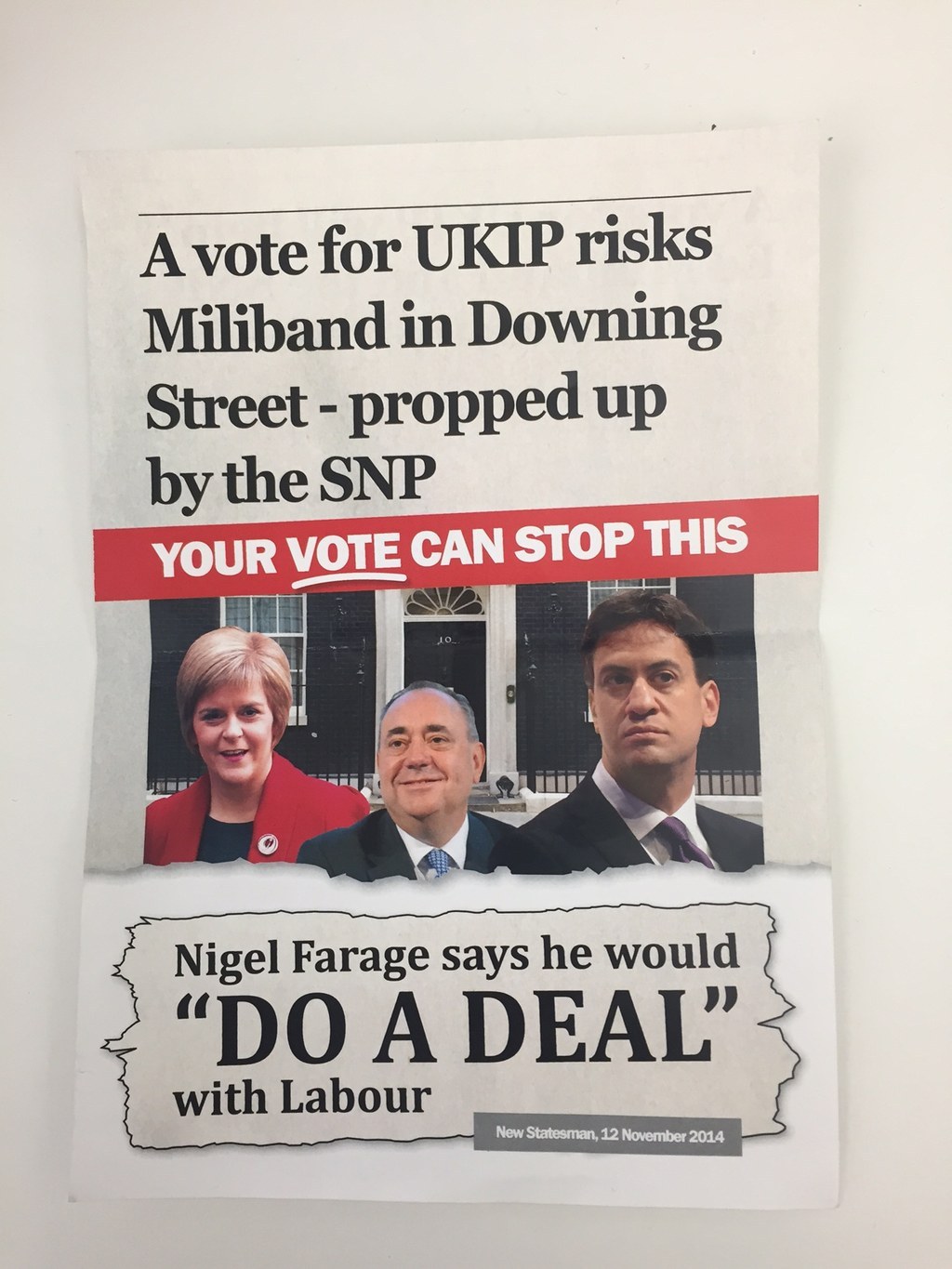 Mackinlay, who's lost a stone in weight since August by pounding the streets, is desperate to let people know it's a straight fight between him and Farage. His team know it will go right down to the wire, and they need all the votes they can get. "Clearly now Labour are out of the game, they're very much in third place," he says. "It's a two-horse race between us and UKIP."
Yet his leaflets are not targeted at Labour voters, but at those flirting with UKIP: "A vote for UKIP risks Miliband in Downing Street – propped up by the SNP. Your vote can stop this." There is zero mention of the Conservatives on the front.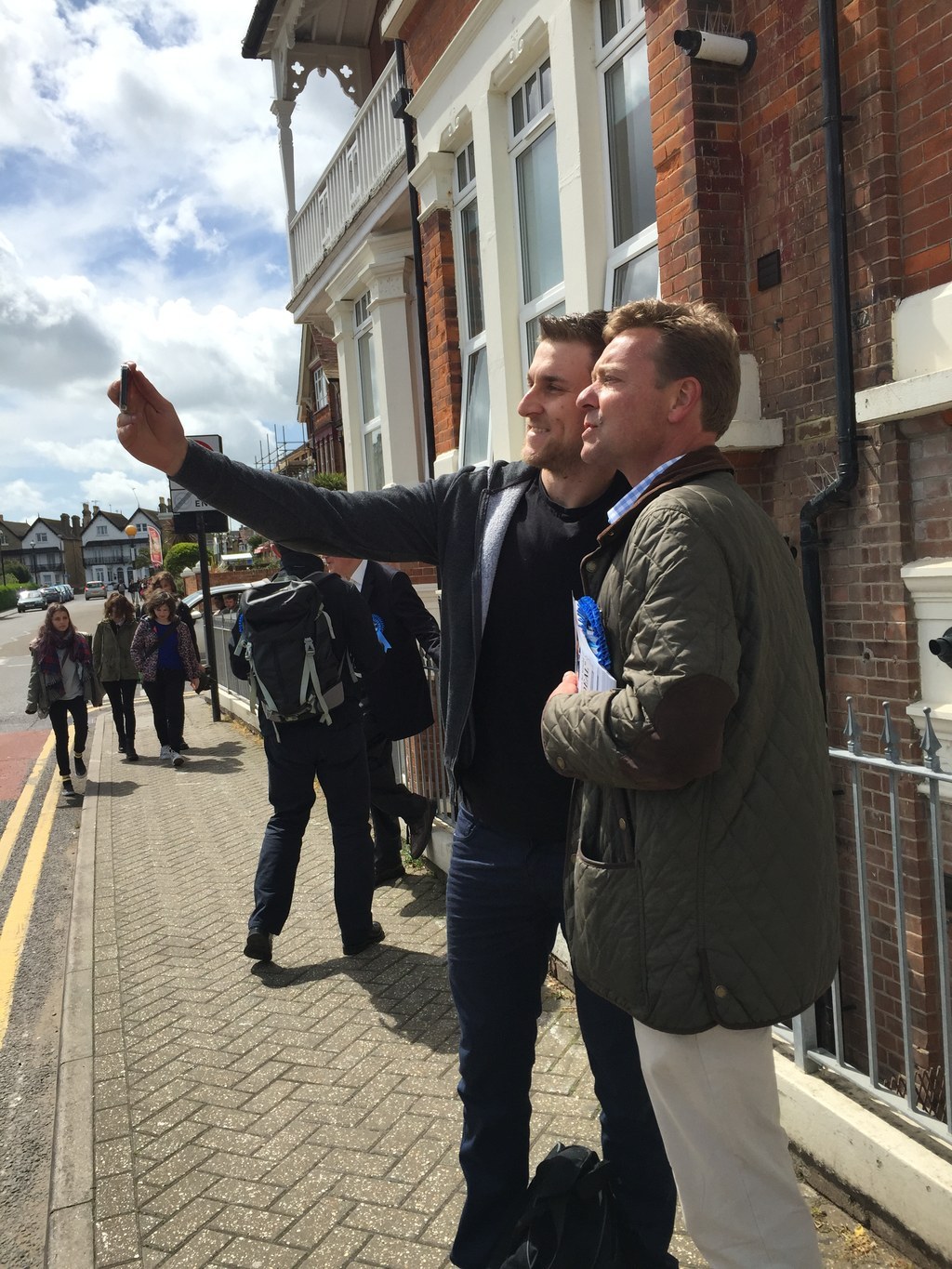 Mackinlay is actually a founding member of UKIP, but quit the party in 2005 when it started "attracting the wrong kind". There is no love lost between him and his old friend Farage, and he claims that the UKIP leader is avoiding local events – in fact, Farage has been empty-chaired that very morning by BBC Radio Kent in a hustings debate.
But Mackinlay doesn't want his campaign to focus just on "cutting the head off the UKIP snake", as some commentators have put it. "What he [Farage] decides to do is what he decides to do," he says. "Look, if you want that [European] referendum then that is best achieved with a Conservative government. It couldn't be more black and white, really."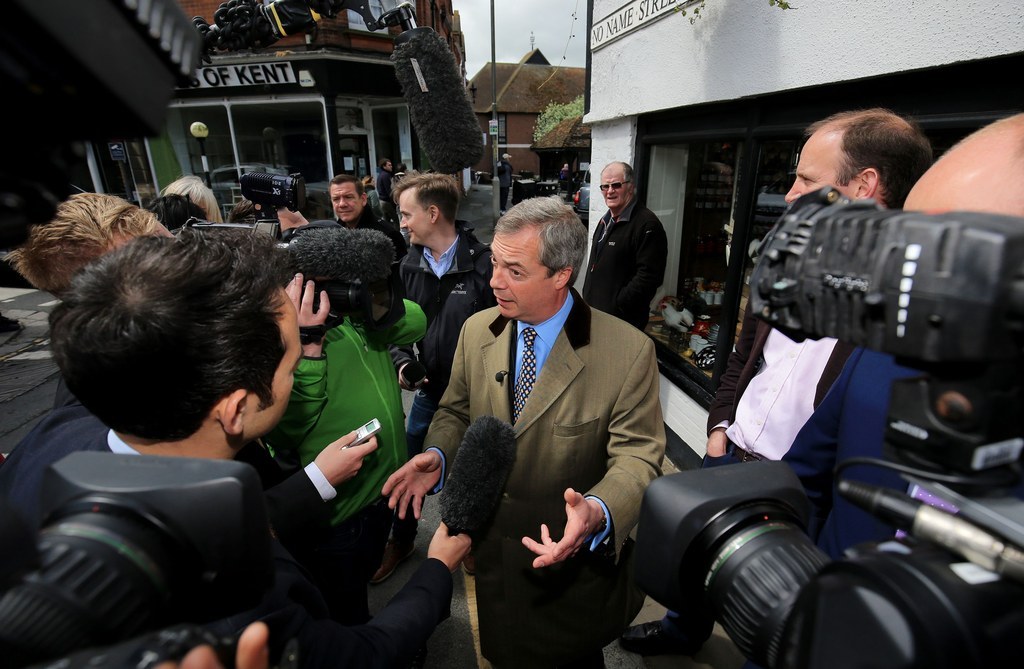 Meanwhile, Howard is stopped in the street by a middle-aged woman. "I know who you are!" she cries and looks around. "Where are the cameras?"
The cameras aren't here – they're 10 miles away in the medieval town of Sandwich. Why? Because media magnet Farage is campaigning with UKIP MP Douglas Carswell. The UKIP leader certainly attracts attention wherever he goes: The question is whether he can turn those camera flashes into votes. Mackinlay and the Tories are praying that he can't.