Here's The Increasingly Batshit Story That Eventually Led To Priti Patel's Resignation
Updated: It's all over.
Last week BBC News reported that international development secretary Priti Patel had held some meetings while on holiday in Israel – without telling the Foreign Office first.
The story described how Patel had been on a family holiday in August when she met a senior politician and visited some organisations to discuss government business.
Oh, and she was accompanied by Lord Polak, honorary president of Conservative Friends of Israel, a lobbying group with access to wealthy party donors.

Then the Guardian rang her up. She told it that, actually, foreign secretary Boris Johnson had known all about it.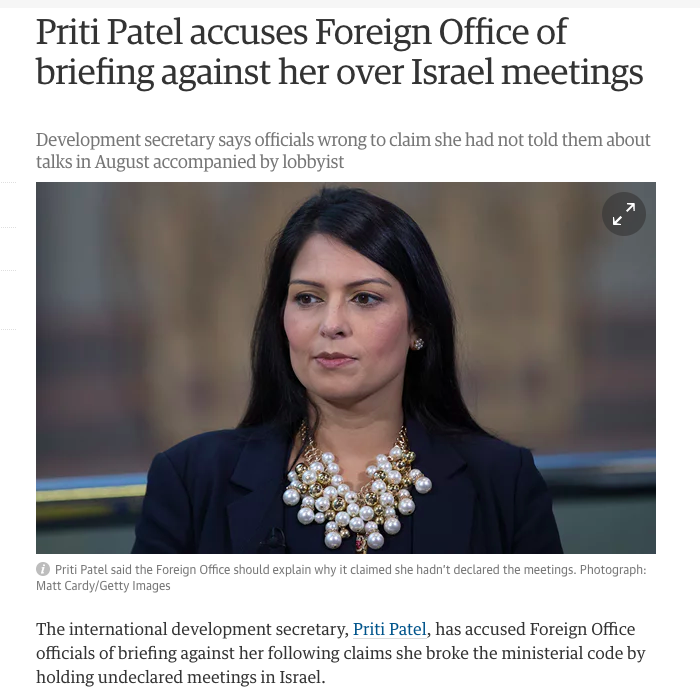 "Boris knew about the visit," Patel said. "The point is that the Foreign Office did know about this, Boris knew about [the trip]. It is not on, it is not on at all.
"I went out there, I paid for it. And there is nothing else to this. It is quite extraordinary. It is for the Foreign Office to go away and explain themselves."
Tensions have been strained between the Foreign Office and the Department for International Development after Johnson appeared to call for Patel's department to be absorbed into his own. She told BuzzFeed News last month: "DFID is an independent department."

But it wasn't until Monday that it all kicked off – when her department issued what could be the one of the greatest press releases of all time.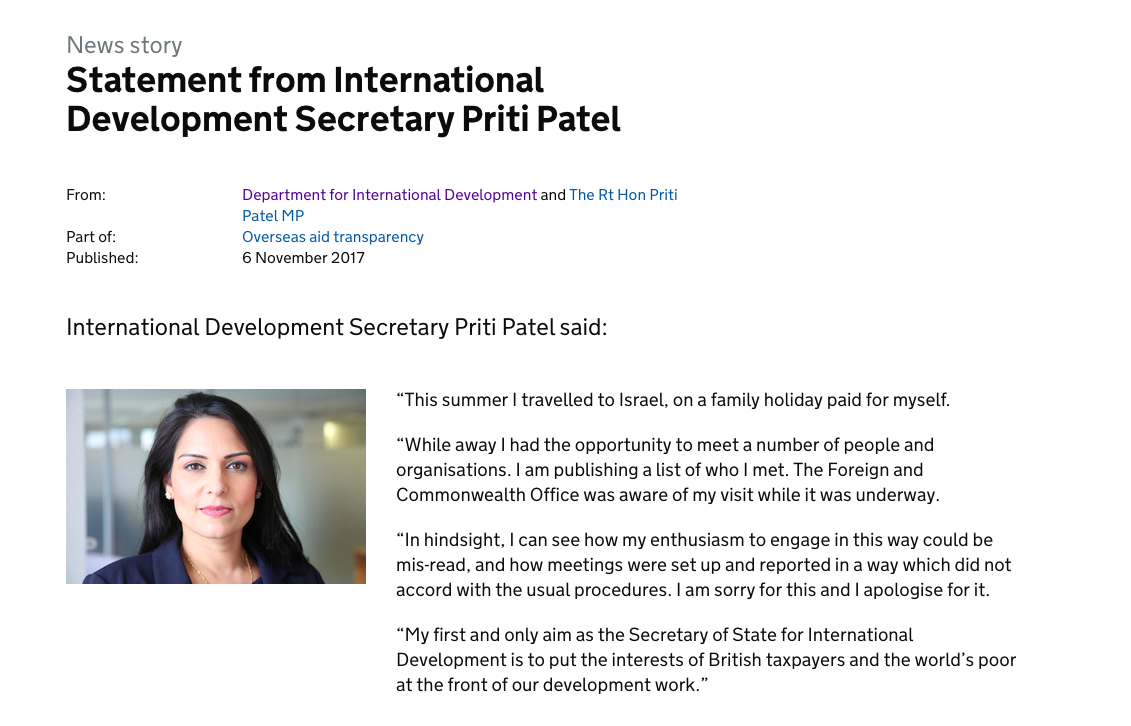 First there was the mea culpa statement from Patel, in which she admitted: "In hindsight, I can see how my enthusiasm to engage in this way could be mis-read, and how meetings were set up and reported in a way which did not accord with the usual procedures. I am sorry for this and I apologise for it."
Then there was the list of TWELVE separate meetings and engagements she had undertaken on the trip – including with Israeli PM Benjamin Netanyahu.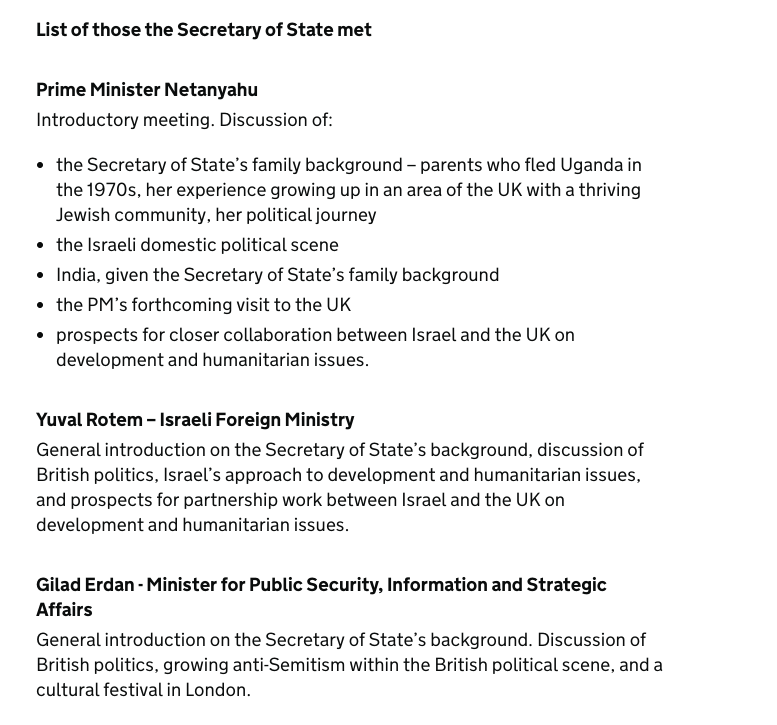 The list also includes Yair Lapid, the leader of Israel's Yesh Atid party, and Yuval Rotem from the Israeli Foreign Ministry. (Bear in mind this was a family holiday.)
And finally, a "clarification" of her comments to the Guardian, in which a poor press officer had to write: "This quote may have given the impression..."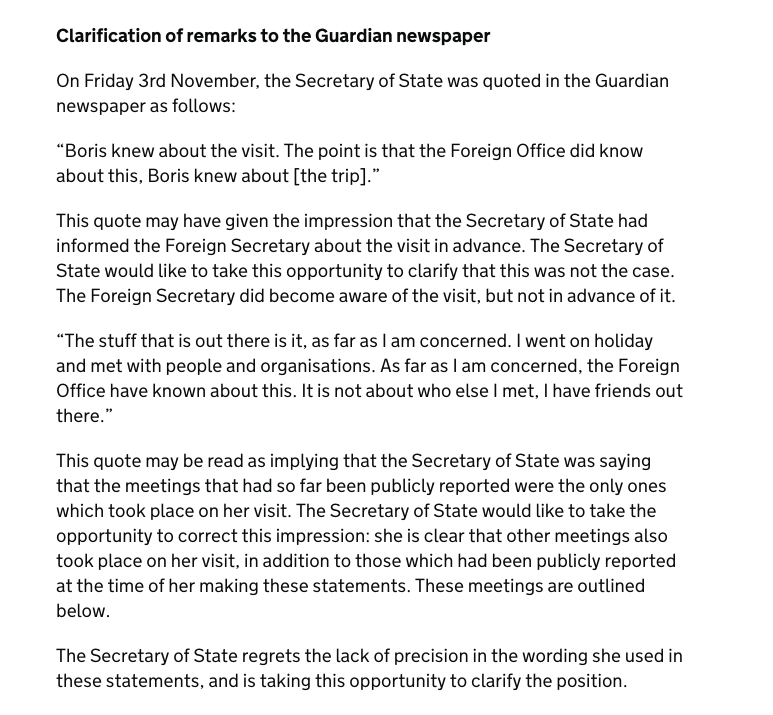 This quote – "Boris knew about the visit. The point is that the Foreign Office did know about this, Boris knew about [the trip]." – was commendably clarified like so:
"This quote may have given the impression that the Secretary of State had informed the Foreign Secretary about the visit in advance. The Secretary of State would like to take this opportunity to clarify that this was not the case. The Foreign Secretary did become aware of the visit, but not in advance of it."
It all seemed...somewhat unfortunate.
Meanwhile reporters were asking Number 10 when exactly the prime minister had found out about these meetings. It was Friday, apparently, when the first report came out.
Which is awkward because Netanyahu had visited Theresa May in Downing Street the day before.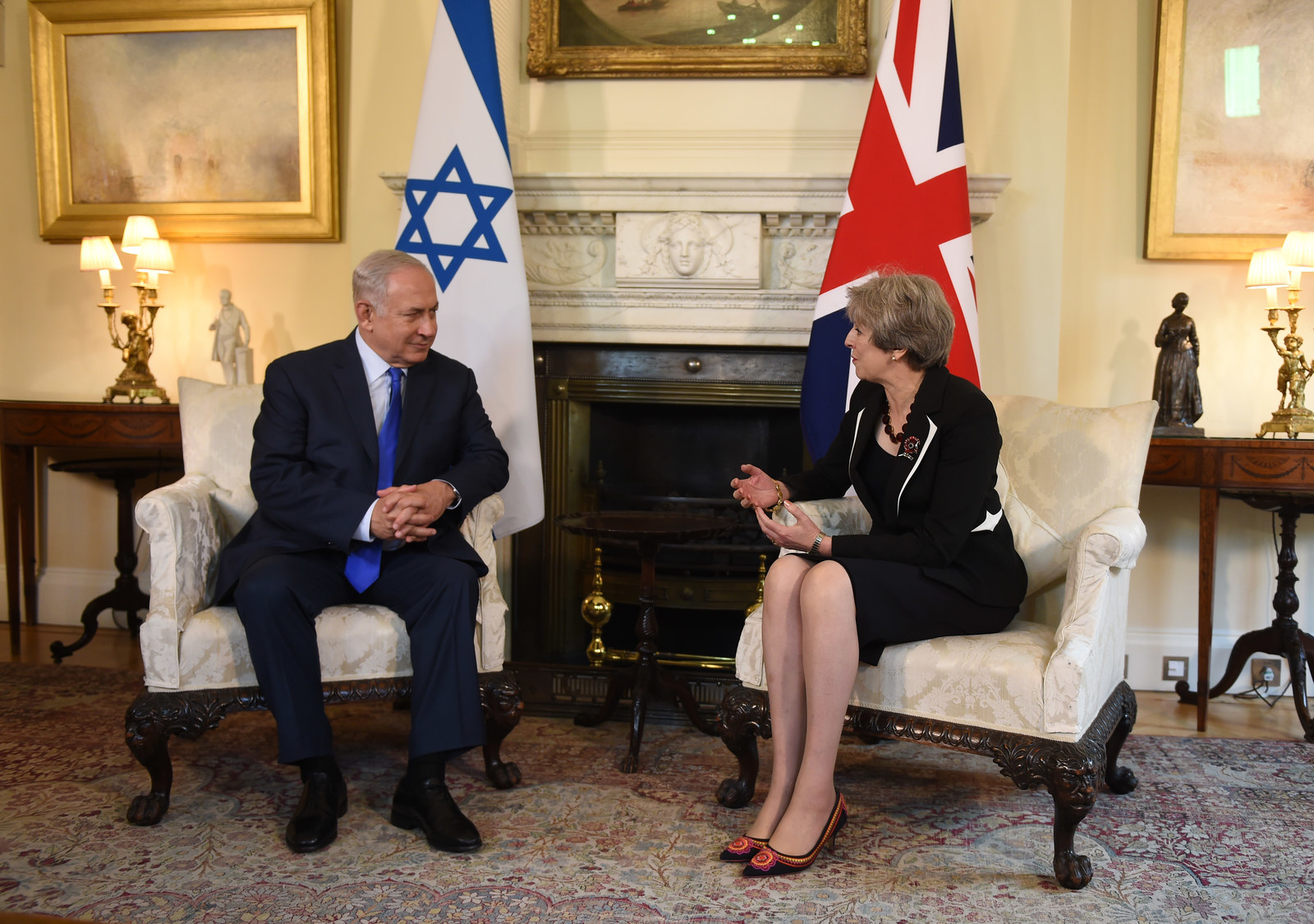 A Number 10 spokesman said on Monday: "The prime minister welcomes the secretary of state's clarification about her trip to Israel and has accepted her apology for her handling of the matter.

"The prime minister has met with the secretary of state this morning to remind her of the obligations which exist under the ministerial code."
He added: "The prime minister thinks she's doing a good job."
And it got even more awkward.
And then it turned out that after her trip, Patel had asked her officials to look at giving some British aid to the Israeli army.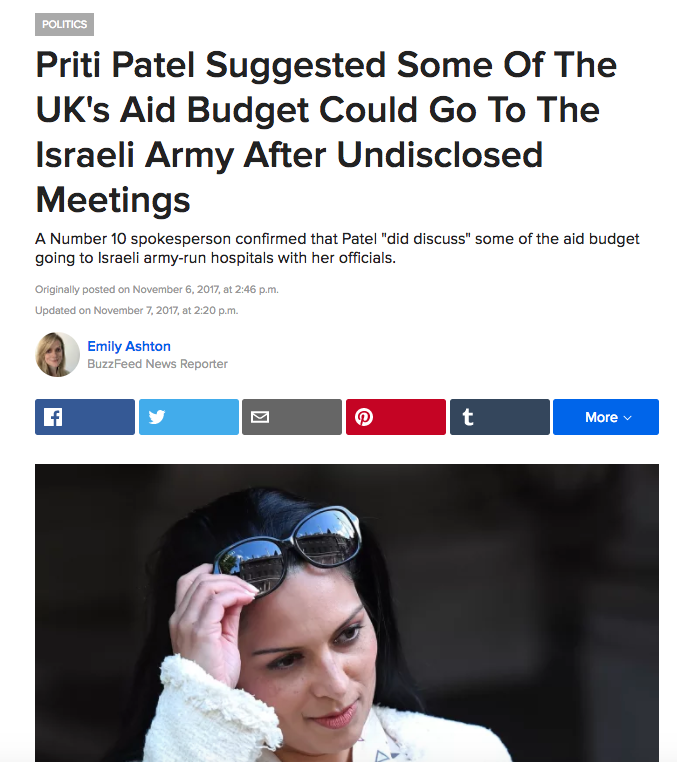 Her deputy, Alistair Burt, confirmed this in the House of Commons on Tuesday, adding: "The department's view is that aid to the IDF [Israel Defense Forces] in the Golan Heights is not appropriate, we don't do that, and that was the advice given to the secretary of state."

But why was Burt dragged to the Commons? Why not Patel herself? Well, she had hopped on a plane to Uganda.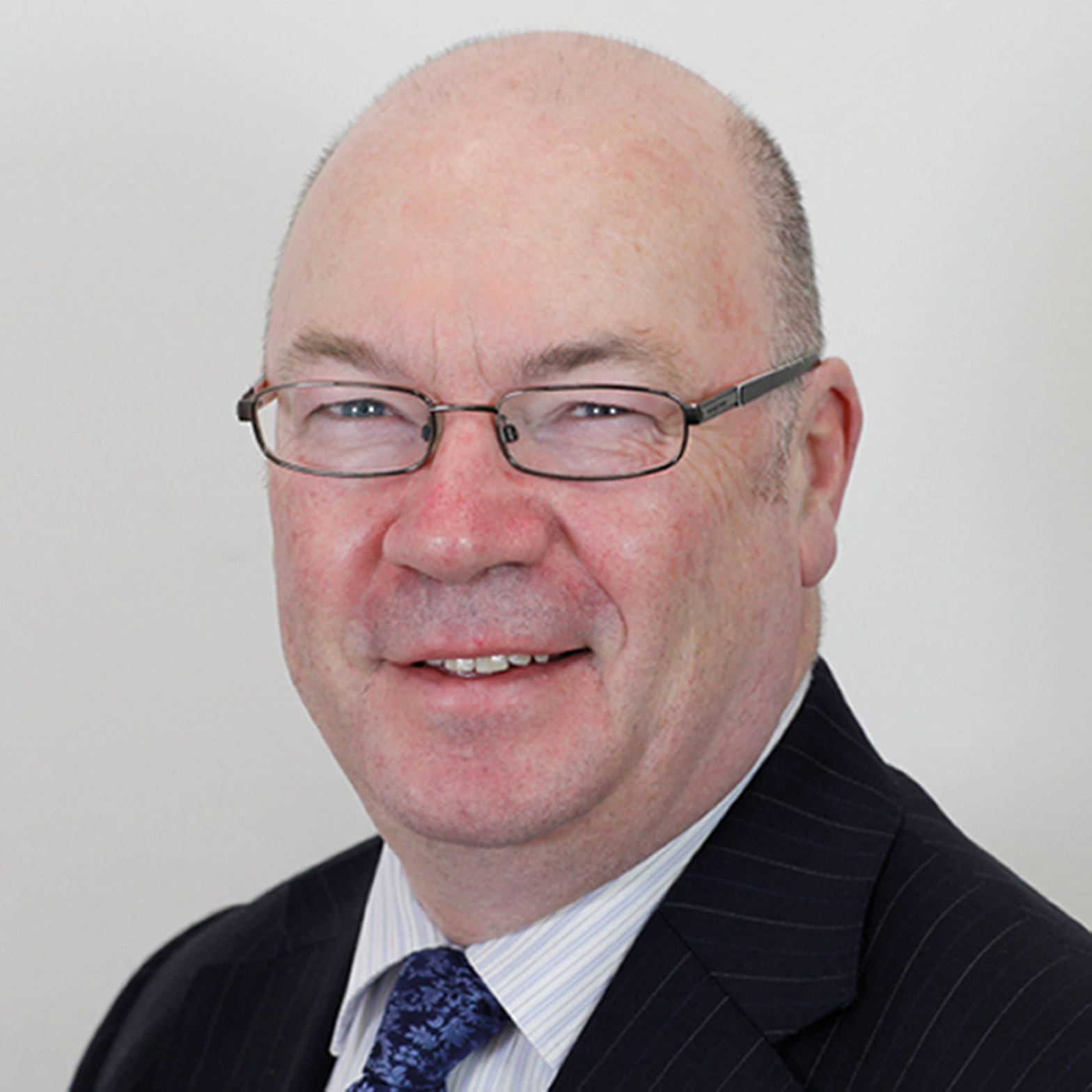 Patel happened to be starting a three-day official visit to Africa on Tuesday. But it didn't last long.
The Sun reported on Wednesday that she had admitted to two more secret meetings in September – with Israeli minister for public security Gilad Erdan for talks in London and Israel's Foreign Ministry boss Yuval Rotem while in New York.
There were also reports that she had visited the Golan Heights.
So the PM summoned Patel back to London – and journalists everywhere started tracking her flight back.
Remember this was happening in the context of a cabinet at war with itself and with various ministers recently sacked, facing the sack, or under investigation.
(And spare a thought for this reporter, who flew all the way to Uganda for an interview with Patel and was stood up. We had a chat with her.)
It's not just Patel who has been facing questions. The Jewish Chronicle claimed on Wednesday that, in fact, Number 10 knew all about her meetings – even though it has been telling journalists it knew nothing until last Friday.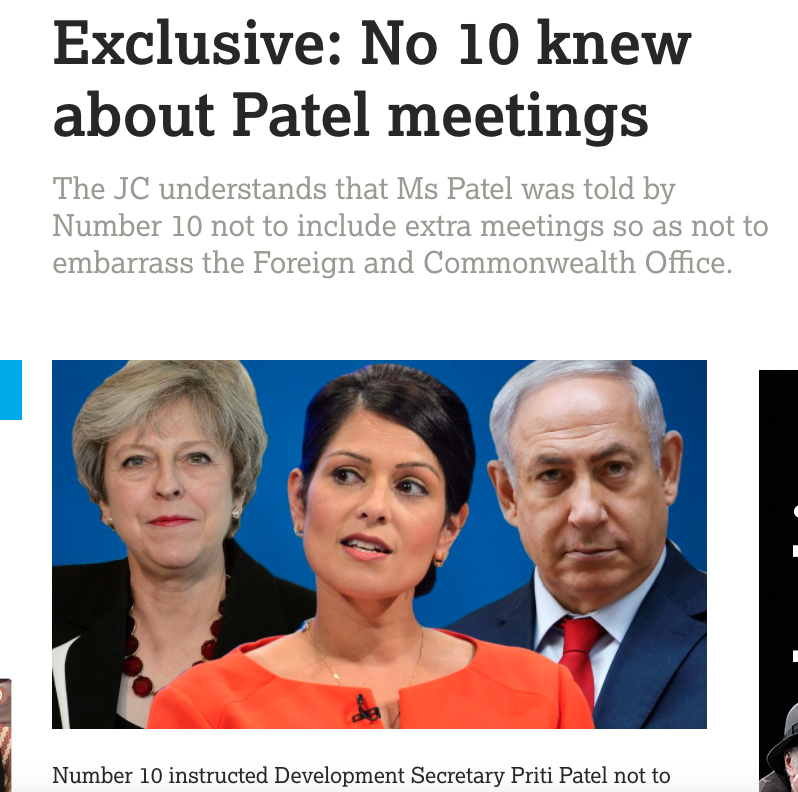 This complicated matters further, and they were further complicated by the fact Number 10 said the story was untrue.
A Number 10 spokesperson told BuzzFeed News: "It's not true that the Prime Minister knew about the International Development Secretary's meeting wth Prime Minister Netanyahu, before Friday 3rd November."
They went on: "It's equally untrue to say that Number 10 asked DFID to remove any meetings from the list they published this week."
Then it was a long nine-hour wait as the British press corps eagerly awaited Patel's flight landing at Heathrow.
But surely the nation's public broadcaster wouldn't actually get a helicopter and film the landing live...
Here was one journalist waiting to welcome her in the arrivals hall.
But he was sadly disappointed, as a ministerial car pulled up for Patel so she could avoid the waiting reporters.
And so the saga continued...
Until finally, several hours later, Patel resigned from her post.
Politics in 2017, eh? Bloody hell.