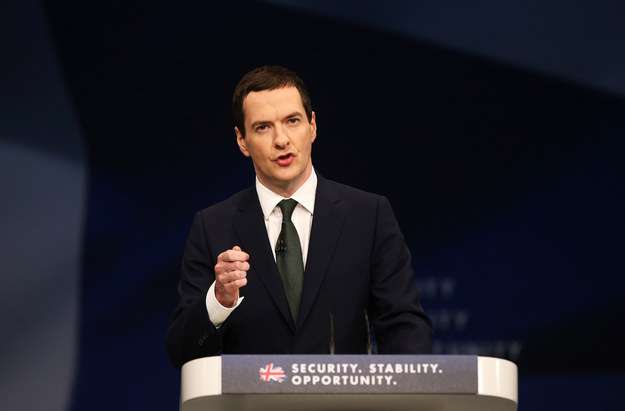 Chancellor George Osborne has made an audacious grab for Labour territory, rebranding the Tories as "builders" who will revitalise the North.
In a 30-minute speech to Conservative party conference in Manchester, Osborne said the Tories were now "the only true party of labour". And he repeated the phrase "we are the builders" six times.
All eyes were on the chancellor as he prepares to enter the race to succeed David Cameron as Tory leader in the coming years. But despite there being standing room only, the mood in the hall was more subdued than expected.
Osborne was introduced by Tory MP Andrea Jenkyns, who dramatically unseated ex-shadow chancellor Ed Balls in Morley and Outwood at the general election. Her speech was followed by a short film showing Osborne in a series of hi-vis jackets on building sites taking about the north of England, all set to the Phoenix track "1901".
But when Osborne finally arrived on stage, he did not dwell long on the Tories' election victory. He told the packed hall: "Friends, it is precisely in our hour of greatest success that I choose to come here to deliver a warning, a warning for us all to heed.
"It is this – don't let us rest on our laurels. The British people have not put us here to congratulate ourselves. They have put us here to do a job."
He added: "Some stand on the sidelines. Some want to knock things down. But we – we are the builders. And let me tell you who we are building for. The working people of Britain. The millions of people who work hard, provide for their families, and pay their taxes for the public services we need. The people who just get on with it."
Osborne said working people needed to know the Tories were on their side – and pointed out that many of them "still voted for the Labour party just this May". He said: "They want security and opportunity, but they didn't quite feel able to put their trust in us. We've got to understand their reservations."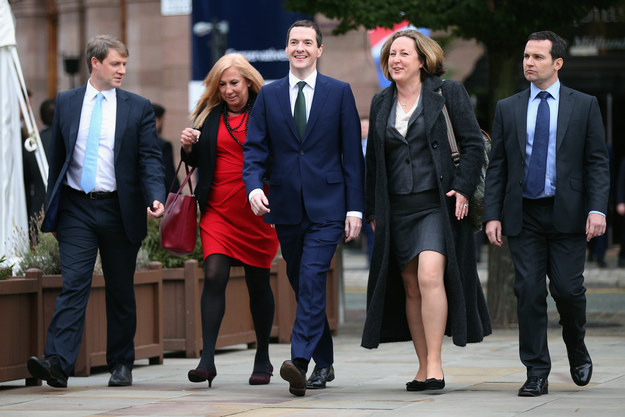 In a swipe at new Labour leader Jeremy Corbyn, Osborne said working people had been "completely abandoned by a party heading off to the fringes of the left – let us all here today extend our hand".
He said: "Do you know what the supporters of the new Labour leadership now call anyone who believes in strong national defence, a market economy, and the country living within its means? They call them Tories.
"Well, it's our job to make sure they're absolutely right. Because we're now the party of work, the only true party of labour. My message to today's Labour party is this: You head back to the 1980s. We're heading forward. You listen to the few. We'll govern for the many."
Pledging to close the gap between the North and South of England, Osborne announced that he would allow councils to keep all the rates they collect from business – instead of the money going to Whitehall – in a "devolution revolution".
And he said any local area would be able to cut business rates as much as they like. "We're putting the power into the Northern powerhouse," he said. He also promised to "slay dragons that stand in Britain's way" – a line that will inevitably draw "George and the dragon" headlines.
The speech was immediately criticised by shadow chancellor John McDonnell. "George Osborne spoke for 30 minutes and didn't mention Redcar once," he said. "This is a Tory chancellor who doesn't live in the real world.
"He spoke of slaying dragons more than he spoke of how working people in the North East, who feel abandoned by this Tory government, are seeing their industry and way of life under attack.
"He said the Tories are the 'builders' but he has sat on the side lines for the last five years and failed to tackle the housing crisis in this country – as a result housebuilding is at its lowest level in peacetime since the 1920s."
Mark Serwotka, general secretary of the Public and Commercial Services union, added: "Osborne claims the Tories are the party of working people but they have cut living standards and in-work benefits, introduced fees for employment tribunals, increased VAT and cut corporation tax, and are shackling trade unions with new draconian legislation."