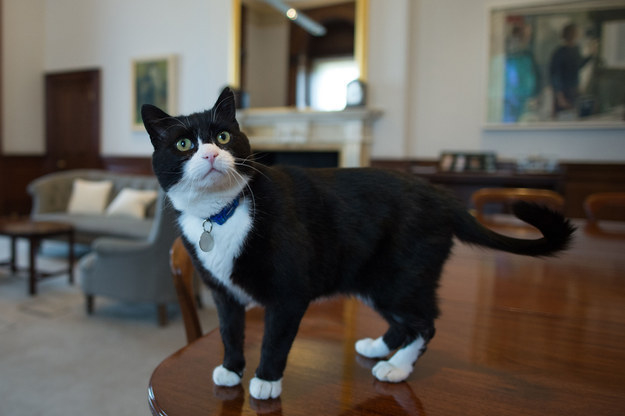 Palmerston the Foreign Office cat was originally called Leonard, BuzzFeed News can reveal. He was given the name by the people who found him wandering the streets of London last year, before he arrived at Battersea Dogs and Cats Home.
But his name was changed to Palmerston by a senior diplomat when he was selected to be the Foreign Office's first official chief mouser in April.
Freedom of Information (FOI) requests also show that Palmerston has had only one official gift so far – from Larry the Downing Street cat. He gave him a pack of Dreamies treats and a toy mouse soon after his arrival.
Palmerston's new name was chosen by Sir Simon McDonald, the department's permanent under-secretary, in whose office he now lives.
A Foreign Office spokesperson said the black-and-white cat had been named after Viscount Palmerston – the longest-serving British foreign secretary and one of the most influential in history. "No other names were considered," they said.
"When Palmerston arrived at Battersea Dogs and Cats Home, the people that had found him had called him Leonard. Once he was identified as a suitable mouser for the FCO [Foreign and Commonwealth Office], his name was changed to Palmerston."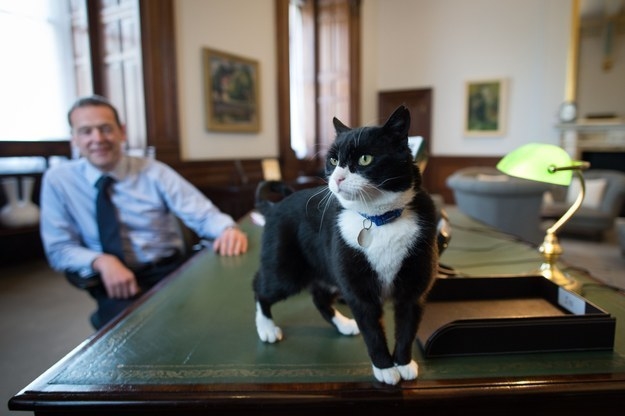 The FOI requests were made by a Palmerston fan in Westminster who passed on the information to BuzzFeed News, after we broke the news of his arrival earlier this year.
Officials said that only Larry, the prime minister's cat, had given Palmerston a gift although Foreign Office staff had donated food, toys and equipment. They also confirmed that all his living costs had been funded by staff through a bake sale.
A excerpt of Palmerston's "diary" in the Foreign Office staff newsletter tells how he was "completely overwhelmed" on his arrival and was interviewed by BuzzFeed on his first day.
Palmerston says he's keen to meet Rocco, the dog belonging to minister Hugo Swire, and also needs to "pop next door for a meeting with Larry". He adds: "Don't believe what you read on social media, there's no competition here and he's already sent me a welcome present.
"I'm sure the two of us will make a formidable duo to rid the corridors of Whitehall from rodents."