Nigel Farage: UKIP Will Struggle To Win Oldham By-Election Due To "Block Vote"
The party leader pointed to communities within the constituency that didn't speak English. "That is a very difficult demographic for UKIP," he said.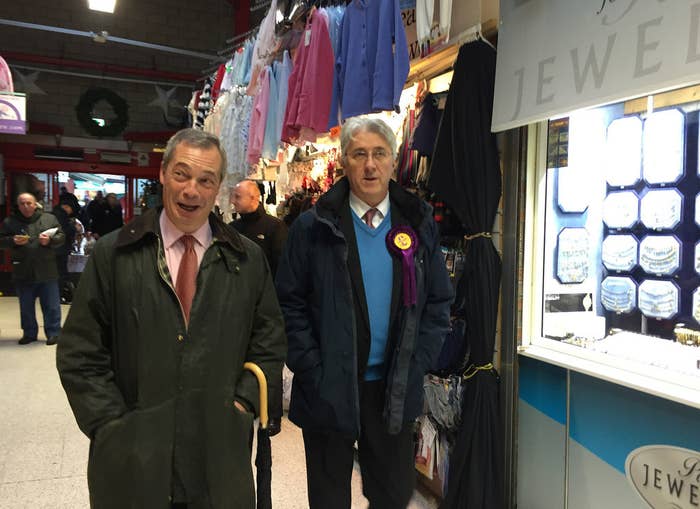 UKIP will struggle to win the Oldham by-election because of a "block vote" of people who don't speak English, Nigel Farage said on Thursday just hours before the polls closed.
The party leader was visiting the Oldham West and Royton seat, which Labour is tipped to hold when election results are announced in the early hours of Friday. But UKIP is hoping to slash Labour's 14,738 majority and come a close second.
Speaking in UKIP's Royton headquarters, Farage admitted it would be very difficult to win the by-election. He said the postal vote would probably swing it for Labour thanks to a "particular block vote".
It came after UKIP's candidate John Bickley told BuzzFeed News on Tuesday that Labour was "very strong in the Muslim community".
Farage told reporters on Thursday: "If this was taking place today in one of dozens of other constituencies in the north of England we would have won it comfortably. The reason it's close and the reason I can't be confident about the postal votes is because in this constituency there is a particular block vote that is a very difficult demographic for UKIP."
Asked which "block vote" he was referring to, he said he feared being "accused of racism", adding: "I'm going to say nothing because otherwise you'll all scream at me."
But he pointed to a tweet from Guardian journalist Helen Pidd, who has been meeting voters in Oldham.
Farage said: "This particular demographic in this constituency... This has been a much tougher constituency for us. The point I'm making is if it had been dozens of others [seats], I think we'd have walked it."
He said he believed UKIP still had "huge potential with the old Labour vote in the Midlands and the North", adding: "If we come out top tonight then I think the Labour dominoes will start to fall quite quickly across the North.
"If we don't come out top but put in a big, big, strong performance then I think we just wait for the right by-election. It's only a matter of time before we win one of these by-elections."
This was Farage's seventh visit to the constituency during the campaign – compared to Labour leader Jeremy Corbyn's one visit at the launch.
UKIP has been using Corbyn on its leaflets, seeking to capitalise on what it believes is deep distrust of his leadership from local residents. "I did offer to buy his train ticket," Farage said. "His brand of politics is probably desperately popular in Islington but it's not working terribly well in Oldham."
Yet Jim McMahon, the Labour candidate and the leader of Oldham council, remains in pole position ahead of the close of polling at 10pm.
He was out knocking on doors on Thursday and unable to speak to national media. But he told us on Tuesday: "If UKIP think having an Asian population that have the right to vote is somehow a problem then surely what they should be doing is trying to reach out to the whole of Oldham. They are a nasty, negative party who think nothing of personal attacks."