This Minister Who Protested Against A Gambling Crackdown Went To The Races As The Guest Of A Bookmaker
Exclusive: BuzzFeed News has learned that Esther McVey received hospitality from William Hill at the Cheltenham races in March.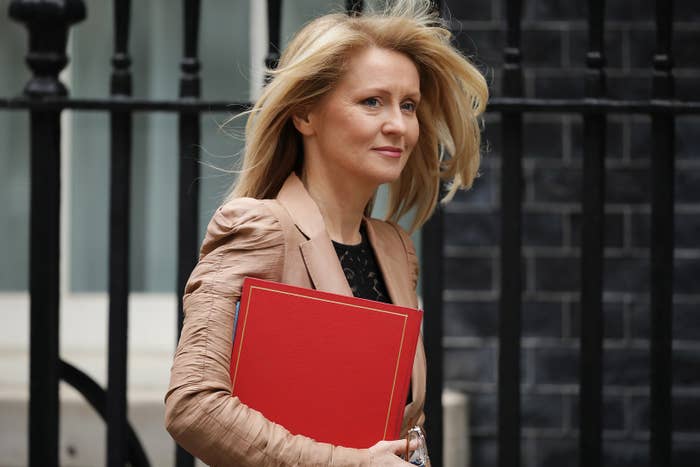 The cabinet minister who reportedly led a protest against the recent move to regulate gambling machines went to the Cheltenham races in March as the guest of a major bookmaker, BuzzFeed News has learned.
Work and pensions secretary Esther McVey was at the event alongside Tory MP Philip Davies, who had been given two free tickets and hospitality by William Hill.
Davies declared the two tickets – worth a total of £540 – on the register of MPs' interests.
But there has been no mention of the ticket on McVey's entry in the register, nor on her department's list of ministerial gifts and hospitality, which has not been updated since December 2017.
There is no suggestion that McVey has broken parliamentary rules by not declaring the tickets herself. But campaigners believe she should have done so as a matter of transparency.

It was claimed last week that McVey had protested in cabinet against proposals to lower the minimum stake on addictive fixed-odds betting terminals. The Times reported that she had "strongly objected" to the plan.
But despite her concerns, the government announced on Thursday that the maximum stake would be reduced to £2 – rather than £100 every 20 seconds as now. The electronic casino games are known as the "crack cocaine" of gambling.
William Hill, which generates half its retail revenues from fixed-odds betting terminals, has long lobbied against the move. It warned that 900 of its betting shops could now become loss-making, with job losses likely.
Matt Zarb-Cousin, spokesperson for the Campaign for Fairer Gambling, said: "All MPs who receive gifts should have to declare them, even if they attend events as a guest of another MP.

"If the current rules don't require this then they need to be looked at."
A spokesperson for McVey said: "It is perfectly clear that Esther fully complied with all of the rules."