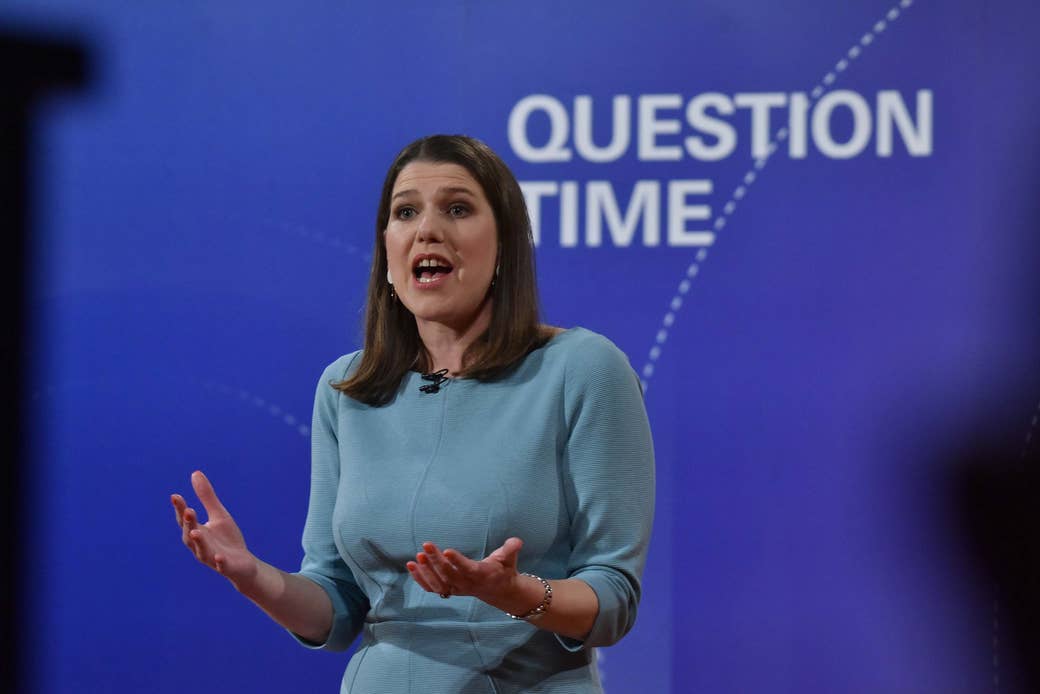 Jo Swinson had spent days preparing for her appearance on BBC1's primetime Question Time special on Friday night. Liberal Democrat HQ had pinned major hopes on the show after she was left out of a debate with her rivals Boris Johnson and Jeremy Corbyn earlier in the week. But her half-hour in front of a live studio audience proved to be a far more bruising experience than they could ever have anticipated.
Viewers winced as Swinson faced a series of stinging attacks over Lib Dem policy, her own voting record and the party's campaigning tactics, with barely any applause for anything she said. Of all the party leaders who took part — Corbyn, Johnson, and Scottish National Party leader Nicola Sturgeon — it was Swinson who faced the most anger.
When the show was over, Swinson's shellshocked team attempted to spin her performance: She showed "steel", they said, in the face of relentlessly tough questioning. Meanwhile, she was on the way back to London with her close aides, trying to make sense of what had just happened.
The next day, one Lib Dem politician claimed that, due to the audience being based on current party representation, there were "effectively" two Lib Dem voters in the room. A BBC source told BuzzFeed News there were roughly the same number of Labour and Conservative voters in the audience, and a smaller number of Lib Dem and SNP voters — although they would not say how many. There was also a slim majority of Leave voters over Remainers, apart from those who were too young to vote in the last election.

Swinson's allies insist that the politically engaged audience was not representative of voters at large — and emphasise that the real test is how she came across to viewers at home.
But Lib Dem activists have told us there is no doubt that the questions raised on the show accurately reflect the concerns being aired on doorsteps across the country.
Halfway through the general election campaign, Swinson finds herself at the head of a party that is sliding in the polls — despite competing against two main parties that have arguably moved to their extreme edges, leaving the centre ground wide open. Campaigners say now is the time for party bosses to take a long hard look at what is going wrong, before it is too late.
The credibility issue is key. Lib Dems in marginal seats are knocking on doors telling people that Swinson is aiming to win the election outright and if she can, she will revoke Article 50 — cancelling Brexit — so that people can put that behind them and focus on the issues that matter such as schools and hospitals. But then they hit an obstacle. "The voter says to us: 'But are you really going to win a majority, I thought the polls said you were a long way behind nationally?'" one campaigner explains.

And then there's the revoke policy itself — many people who voted Remain, no matter how strongly they want to stop Brexit, feel uncomfortable about simply wiping out the result of the 2016 referendum. "The voter says 'Wait, you want to cancel Brexit, what about the 17 million people who voted for it?'" says the campaigner. "Then it's game over: two minutes before, the person had heard of the Lib Dems and was interested in what they had to say. Now they're repeating lines they've seen on Tory leaflets.'"
And so, even before the bruising Question Time appearance, Lib Dem tactics had begun to change. Just two months ago, Swinson bounded onto the stage at her party conference declaring herself "your candidate for prime minister". Now senior figures in the party are publicly moving away from touting her as a potential PM and the fantastical idea that they can win hundreds of seats in this election. Instead, according to party officials, there is a renewed focus on how the Lib Dems are the only ones that can stop Boris Johnson winning a majority and enacting a damaging Brexit.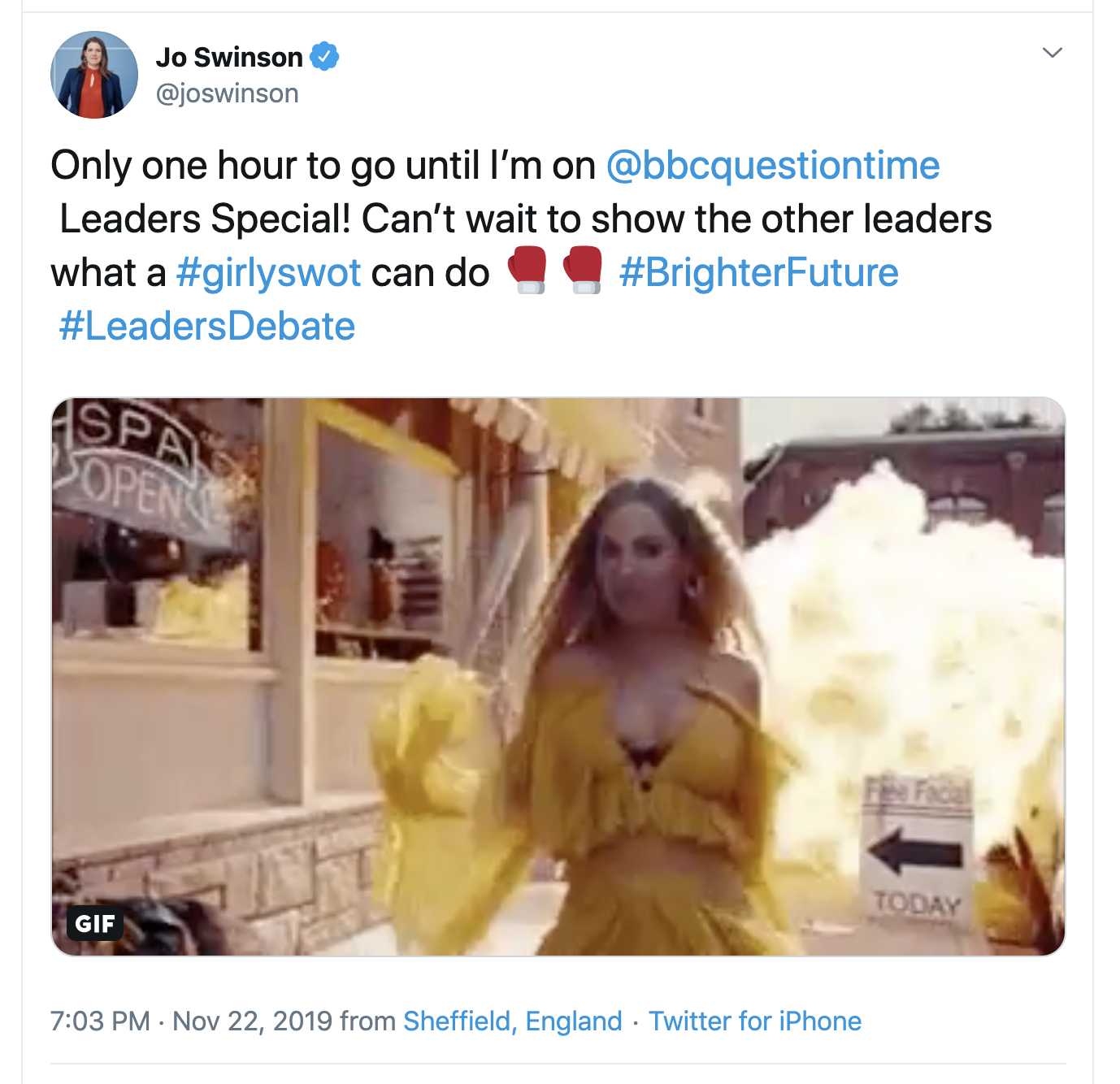 Campaign insiders insist this is not a major about-turn in the party's strategy, but there is clearly a recognition within Lib Dem HQ that things need to change; particularly that the party needs to be more credible about its chances if it wants to win over sceptical voters. The major challenge on the doorstep is a combined problem of the Lib Dems simultaneously claiming they can win a majority and also cancel Brexit.
This message is percolating back to HQ, according to activists. On Wednesday night, the party's deputy leader Ed Davey steered away from "revoke" and focused instead on how the Lib Dems would stop Brexit by preventing Johnson from getting a majority. "The most likely result, I think, looking at the figures, is probably a minority Tory government," Davey told BBC2's Andrew Neil Show. There was no talk here of Swinson being a candidate for prime minister.
Earlier in the day, former Lib Dem leader Vince Cable also poured cold water on the party's ambitions. "The point about revoking is in the very unusual situation where we would get over 300 seats, I mean I would love that to happen but it's not going to happen," he told ITV News. "So I think people can forget about that, we are the party of the People's Vote."
These comments provide a glimmer of hope to Lib Dem campaigners who are struggling to make their voice heard with wavering voters. "I'm hoping the message now will be we want to trim Boris Johnson's sails a bit, reduce his power in parliament so he'll have to have a second referendum," one activist said. "That seems a much better message in those marginal seats where you have people who are Tory-leaning but don't like Johnson much — we could be the more sensible balance on that."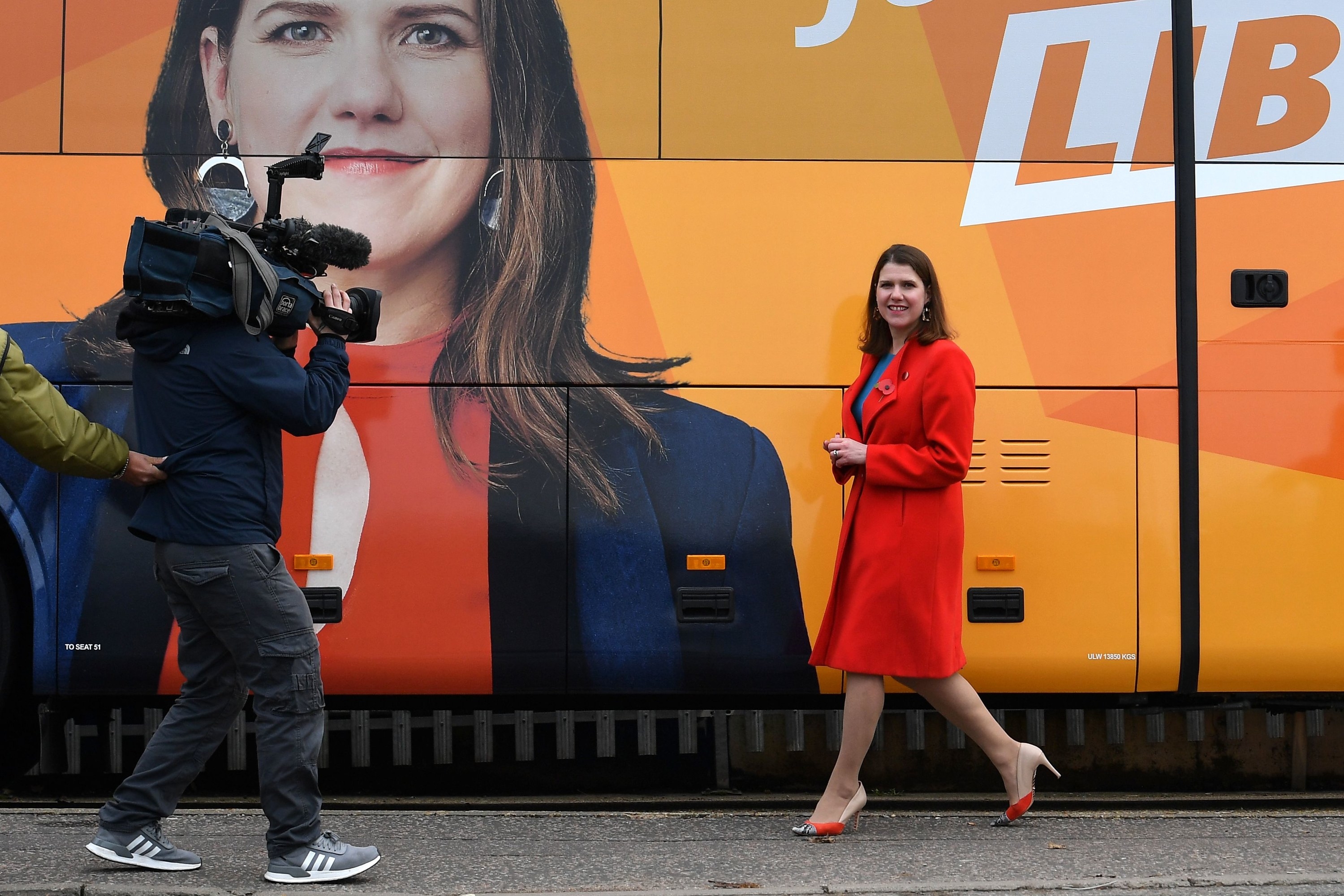 The revoke policy was born in a different political time: the Lib Dems' party conference in September, one week before Labour's conference when Corbyn appeared to be pivoting towards a more strong Remain stance. The Lib Dems wanted to get on the front foot and clearly designate themselves as the Remain party — but even back then, senior figures in the party including Norman Lamb and Simon Hughes argued against it. Sunderland councillor Niall Hodson told BuzzFeed at the time that it risked making the Lib Dems' once crystal clear Brexit policy — to hold a second referendum and campaign for Remain — harder to explain on the doorstep.

"We lost the swing from conference as soon as Labour did their conference," a party source told us. "That suggests Labour's Brexit message works not because it's exactly what Remainers want — but because it's far more credible. The other thing is that we aren't gaining ground with the Tory voters. They don't think Johnson is too bad and they're terrified of socialism, so they'd rather vote for Johnson than risk Corbyn."
Party insiders are now getting increasingly nervous about the Lib Dems' poll ratings, which have slipped from a high of 23% in September to a rating of 16% this week, according to YouGov. While Labour has unveiled a radical left-wing manifesto and the Conservatives continue to push their unrelenting "Get Brexit Done" message, the centrist Lib Dems appear to have been left behind.
Instead, many people do indeed appear to be jumping from Labour to the Tories, and vice versa, rather than choosing an alternative — partly because they know the Lib Dems are unlikely to win power. Swinson's problem was summed up at the Confederation of British Industry (CBI) conference last week when — after she had made a speech which was clearly the best received of all the party leaders — a questioner said that while he liked her and had voted Remain, his fear of a hard-left Labour government meant he would vote Tory even if it did mean a no-deal Brexit.
This is why the party was so exercised about Swinson being left out of the ITV leaders' debate, which was watched by more than six million people on Tuesday night. They believe she needs to be put on the same stage as Johnson and Jeremy Corbyn, just as former Lib Dem leader Nick Clegg did back in 2010, so that people finally take her seriously as a key political player.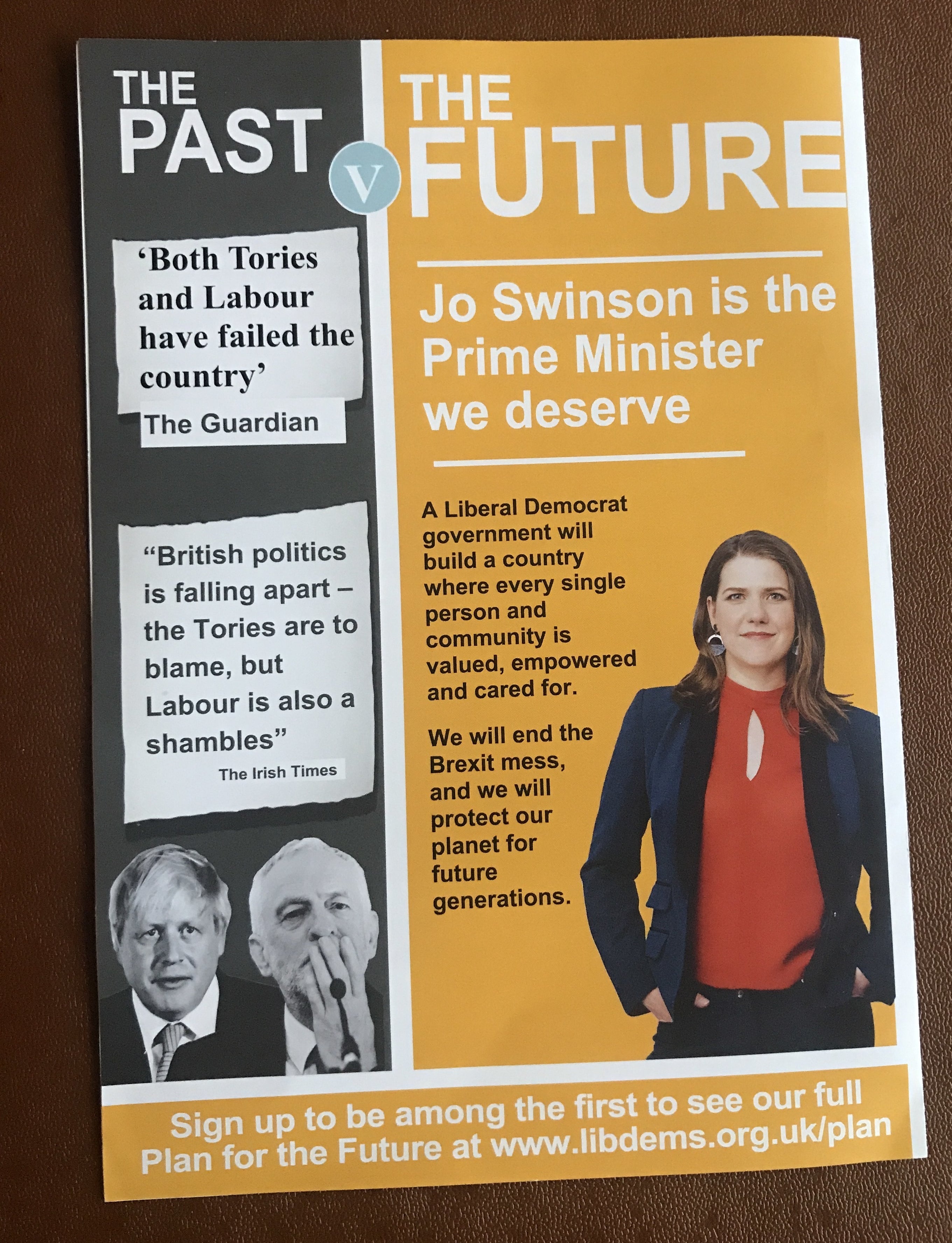 Polling analysis in the Times last week showed that voters like Swinson less the more they see her and that she is less popular than her party. But party insiders seem relaxed about this, despite the money spent on plastering her face on the side of the battle bus and all over glossy election leaflets. "She is a genuine contrast to Corbyn and Johnson, she is more trustworthy," one source says. "All she wants is a genuinely fair opportunity to show who she is."
Staffers are also happy with the coverage she is getting on TV and in newspapers, saying it is far more than both Cable and Tim Farron ever managed. And they insist there are no regrets in HQ about pushing Johnson for an early election.
Yet the reality is that outside the Westminster bubble, many voters still have no clue who Swinson is. "The only people who know who she is are the other local activists," said one party member who has been touring marginal seats. "She just doesn't have that public profile — if you're the leader of the third party and don't get into the TV debates, that's what will happen."
The decision by broadcasters to exclude Swinson from the head-to-head debate appears to have crystallised in people's minds that she was never going to be the winner of the election. In 2010 Clegg was able to get into the TV debates, against Gordon Brown and David Cameron, because the party won over 60 seats in the previous general election. This time round, broadcasters are looking at the result of the 2017 general election, which gave the Lib Dems just 12 seats (although they are now at 21 following a by-election win and multiple defections).
Allies of Swinson say it is wrong to base their decision on this election result, which they claim is down to Britain's flawed voting system, rather than the current popularity of the party. "First-past-the-post does not reflect the national popularity of the party, to use it is absolutely ludicrous," one says.
The Lib Dems took ITV to court, arguing that the "voice of Remain" had been excluded from the debate. But the legal challenge was thrown out last week, as judges said it was purely a matter for the "editorial judgment of ITV". Seeking a compromise, ITV offered Swinson and Scottish National Party leader Nicola Sturgeon in-depth interviews after the debate, which they did.
But party sources said that was not enough — most people will have long turned to another channel by that stage. What matters to the Lib Dems, crucially, is for Swinson to be given the same status as both Johnson and Corbyn so that people can see a direct contrast between them. This is not quite what happened in the Question Time special.
Instead Swinson stood up on her own in front of an audience on Friday who systematically took her apart; she never got a chance to highlight the differences between her and the two men.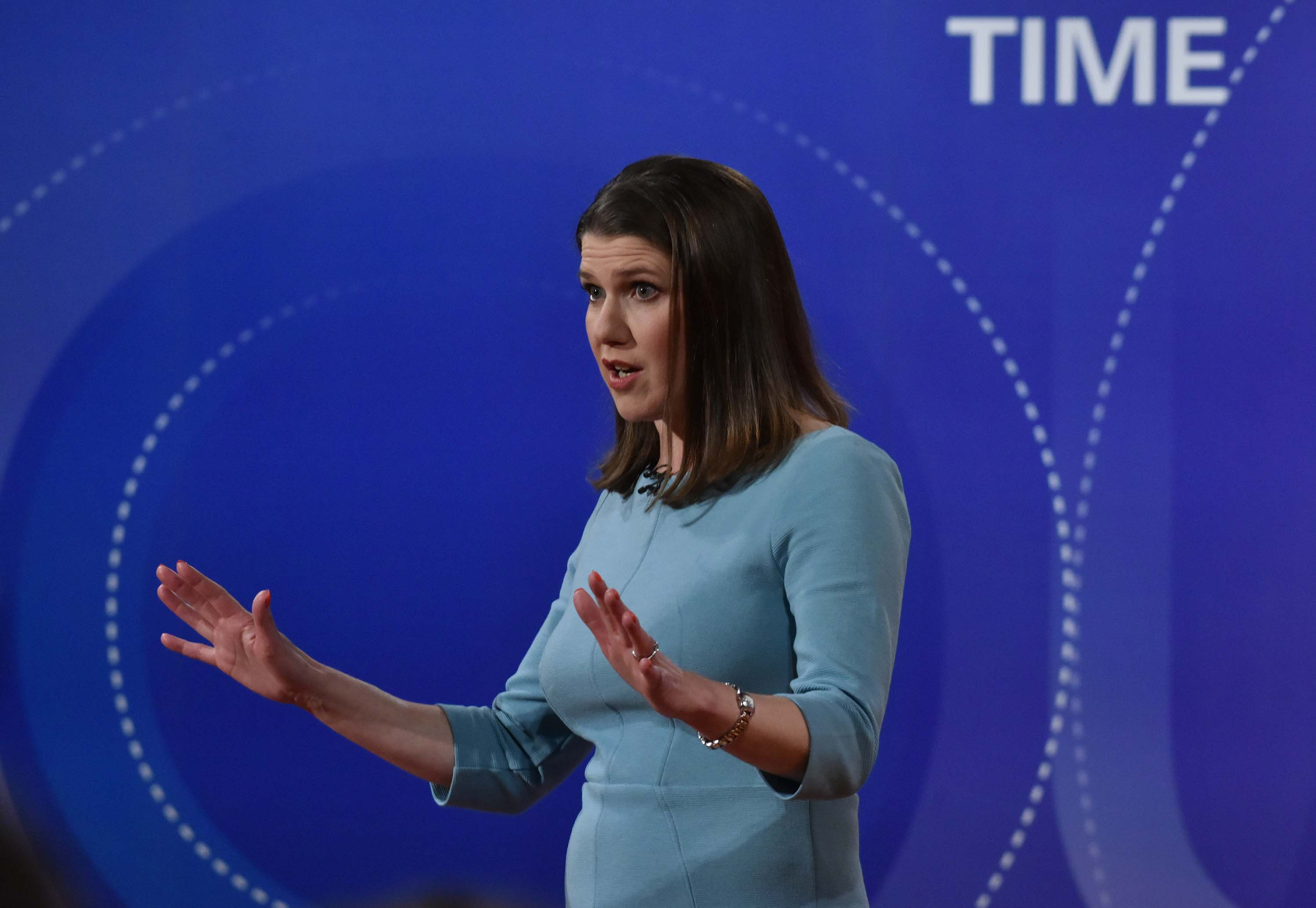 Audience members mocked Swinson for claiming she could become PM, and her "revoke" policy was criticised by both a Brexiteer and a Remainer. But there were other issues too that Swinson was forced to defend: not least her voting record when she was a minister in coalition with the Conservatives. Many former Labour voters who may be put off by Corbyn and his radical manifesto cannot bring them to vote for someone who backed the bedroom tax and other welfare cuts.

Swinson also faced fury over her party's broken promise to scrap university tuition fees, misleading bar charts in their election leaflets, and her decision to stand Lib Dems against pro-Remain Labour candidates in marginal seats such as Canterbury where the divided Remain vote could let in the Tories. Not one person raised their hand to say something positive.
But the Lib Dems will be hugely cheered by Corbyn's concession that he would adopt a "neutral stance" in a second referendum on Brexit, as it better helps portray the Lib Dems as the strongest pro-Remain party. Expect a new push on this message in the weeks to come: although with more language about a People's Vote and less about (whisper it) revoke. There are less than three weeks to go — but that's a long time in politics.