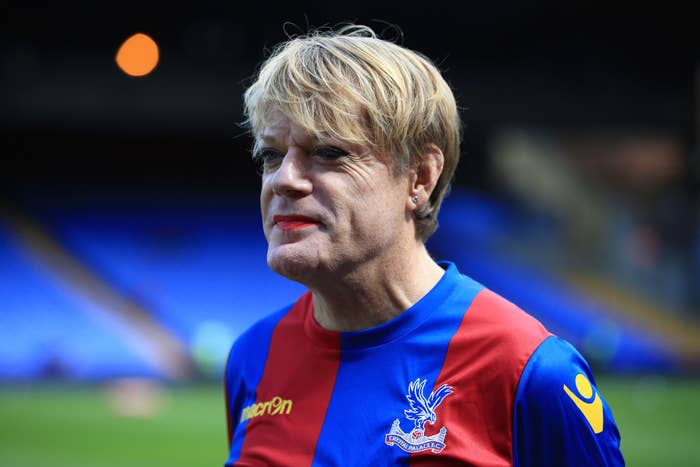 Comedian Eddie Izzard has told how he suffered "homophobic abuse" at last weekend's FA Cup final, despite being transgender, not gay.
The Crystal Palace associate director told students on his pro-EU tour that he was watching his team play Manchester United on Saturday when he was verbally attacked.
Izzard also said a man had recently been arrested near his home for screaming abuse at him.

Answering questions from students in Birmingham on Monday, Izzard said he had come out as transgender back in 1985 and tried to "make the case in the street while people were shouting 'What the fuck is that?' to me".
The 54-year-old said: "In fact they just arrested a homophobic guy for screaming abuse at me near where I live just the other day so it's still going on, I'm still living with this abuse.
"I went to the Palace game against Manchester United and someone [verbally] attacked me and was exceedingly horrible – he said I'm a disgrace to the Crystal Palace team. I was wearing a Crystal Palace shirt, he said 'You're a fucking disgrace', and I went … 'Hey what the bloody hell are you saying,' and all the other Palace fans came out and said 'Hey, back off, man'.
"And I just thought it was actually rather positive, because only one guy was screaming homophobic abuse at me rather than 20 or an entire section of an audience."
Proud and Palace, the LGBT fan group for Crystal Palace, said in a statement that they condemned the fan's actions. "The cup final was one of the proudest days in our club's history so to have it marred by the incident is deeply saddening," they said. "We are, however, cheered by the news that several Crystal Palace fans stepped in to support Eddie."
BuzzFeed News has contacted a spokesperson for Izzard for more information about the arrest near his home.

Izzard spoke to BBC Three in March about being transgender. "I've got boy genetics and girl genetics," he said. "We get obsessed by it in humanity. ... If you look at a tiger, you go, 'ooh, tiger!' – we don't go 'girl tiger' or 'boy tiger'.
"No matter what sex or sexuality, how you self-identity or who you fancy matters not one whit – what do you do in life? What do you make? What do you add to the human existence? That's what's matters."