The Labour leader asked Johnson, who is widely touted as a future Tory leader, why he was in favour of "state-sponsored tax avoidance".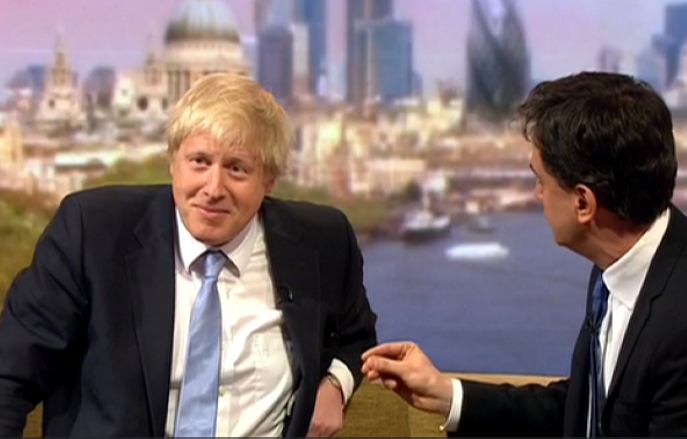 Miliband was talking about Labour's plan to scrap the "non-domicile rule" that allows some wealthy residents to limit the tax they pay on foreign income.
London mayor Johnson, who will almost certainly be elected as an MP on 8 May, said he was in "favour of the rich paying as much tax as is consistent with a successful economy".
But then he got a bit cross, first accusing Marr of giving Miliband an "easy ride" and then saying Labour did nothing about the issue when in power.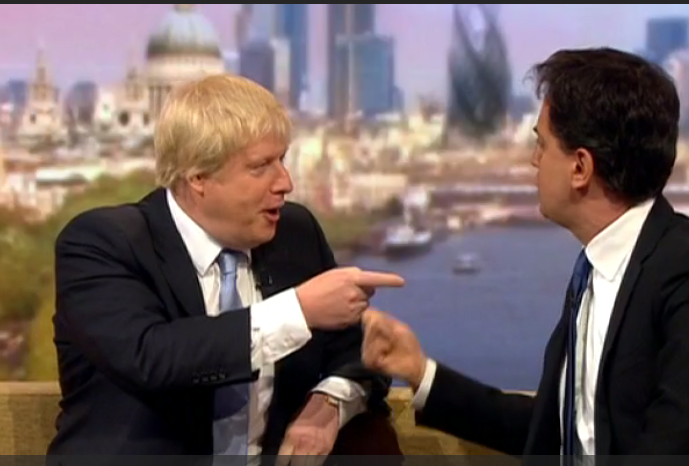 Marr then pressed Johnson on comments he made to the Sun on Sunday accusing Miliband of being a "backstabber".
Johnson told the newspaper" that Miliband "clearly stabbed his own brother in the back" and vowed to never do the same to his brother Jo, who is standing for re-election as the MP for Orpington, saying: "It's just not something that we do in our family."
He added: "If you become leader of the Tory party, I'd get rid of Lynton if I were you."
Marr declared the showdown "the best television of the week so far". But as the pair continued to bicker behind him, he said: "Alright, enough from both of you. Shut up now please, sorry."
Viewers pointed out that we could be seeing a bit more of Miliband and Johnson going head to head in future.