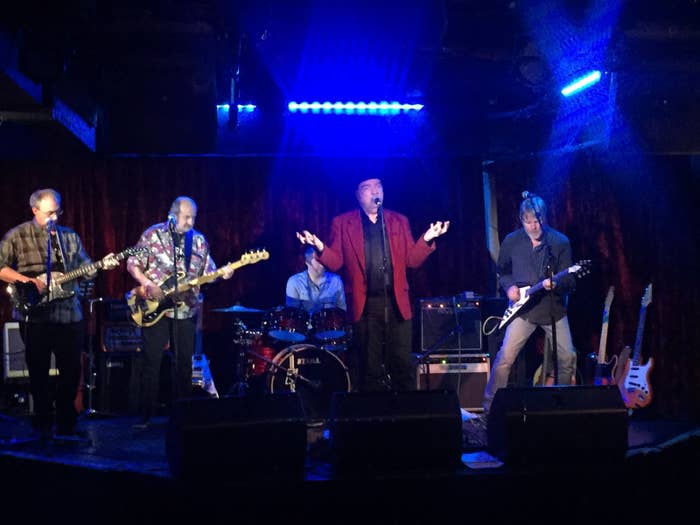 It's been almost a year since the general election that saw the Liberal Democrats tumble from power and lose dozens of seats. For five heady years, the party boasted several government ministers – including its leader Nick Clegg as deputy prime minister – and a coterie of special advisers and staffers.
Now there are just eight Lib Dem MPs left and most of the aides have moved on. So when a former minister decided to put on a gig in London last Friday, it seemed like the perfect opportunity for a little reunion.
Norman Baker was MP for Lewes, East Sussex, for 18 years before he was ousted last May. When the Tory-Lib Dem coalition was formed in 2010, Baker was handed the job of transport minister and then Home Office minister before he resigned in 2014. In his resignation letter he noted that a newspaper had referred to him as "the only hippy at an Iron Maiden concert". He told Clegg at the time he wanted to spend more time working on his music.
Baker is the trilby-wearing lead singer and chief lyricist in a retro pop-rock band called the Reform Club who have released two albums in the last three years: Always Tomorrow and Never Yesterday. Their unique brand of '60s-inspired psychedelia and mundane lyrics – "She told me that she came from Stoke / I asked her if she'd like to have a Coke" – have had many toe-tapping in the parliamentary press gallery (even if some journalists might not admit it).
BuzzFeed News joined an excited group of Lib Dems at The Borderline in Soho on Friday to see Baker's band in action. We had been promised some stardust – none other than Clegg himself had apparently bought a ticket to see his former colleague perform. But unfortunately the former deputy prime minister decided at the last minute to go on a family skiing holiday instead.
"He was genuinely quite looking forward to coming," one ex-staffer told me. Clearly the lure of the Alps just proved too strong. Clegg's former chief of staff Jonny Oates, now Baron Oates of Denby Grange, did show up but got his excuses in early. He could only stay for one song as he had to meet a long-lost friend.
We arrived at 8pm, about half an hour before the main event, and curiously there was no queue at the door. We had obviously bought our tickets early to avoid disappointment but it seemed there was no need: By the time the gig started, the 275-capacity venue contained around 35 people.
That didn't dampen spirits though – Baker and his band received a rapturous welcome and people started swaying and clapping as they kicked off with crowd-pleaser "Always Tomorrow". Wearing his trademark trilby and a red jacket over an all-black outfit, Baker proved an energetic frontman and engaged the crowd with a good deal of lively banter between songs. We learned a lot about his past as an Our Price regional director.
"Where are all the Lib Dems?" one bearded fan heckled at him at one point. Baker replied: "He's over there." That prompted some wry chuckles from my Lib Dem companions, perhaps tinged with a hint of sadness. Baker didn't shy away from politics during the gig. "We wrote this one before May 2015 but it's a good song to play afterwards," he said, introducing "Never Yesterday".
"But the road to the past is just another dead end / And so, my friend, think about today, never yesterday," he sang with feeling. The band also enjoyed belting out "Give War a Chance", an incredibly unsubtle takedown of Tony Blair. It begins: "I am an envoy for peace / But I've got war on my mind."
After a rather baffling blues section where Baker covered Nina Simone's "I Put a Spell on You", the crowd was getting restless. "Play 'Piccadilly Circus'!" shouted Phil Reilly, an adviser to Clegg and, coincidentally, a former Our Price shop assistant. "Yeah, it's coming, don't worry," Baker replied wearily.
This was the one they all wanted – an upbeat, breezy tour-de-force widely known in Westminster for its shaky video filmed in the heart of London, and its sage advice: "Don't get caught in the rain." Some of the crowd even stood up from the stools they had dragged on to the dancefloor to wave their hands in the air.
But soon enough, after almost two hours and having played virtually all of their tracks, the Reform Club's gig was over. Baker basked in the wild applause and cheers from the dozens of fans below. And with that, he was gone into the night, off to prepare for his next gig in Wolverhampton.