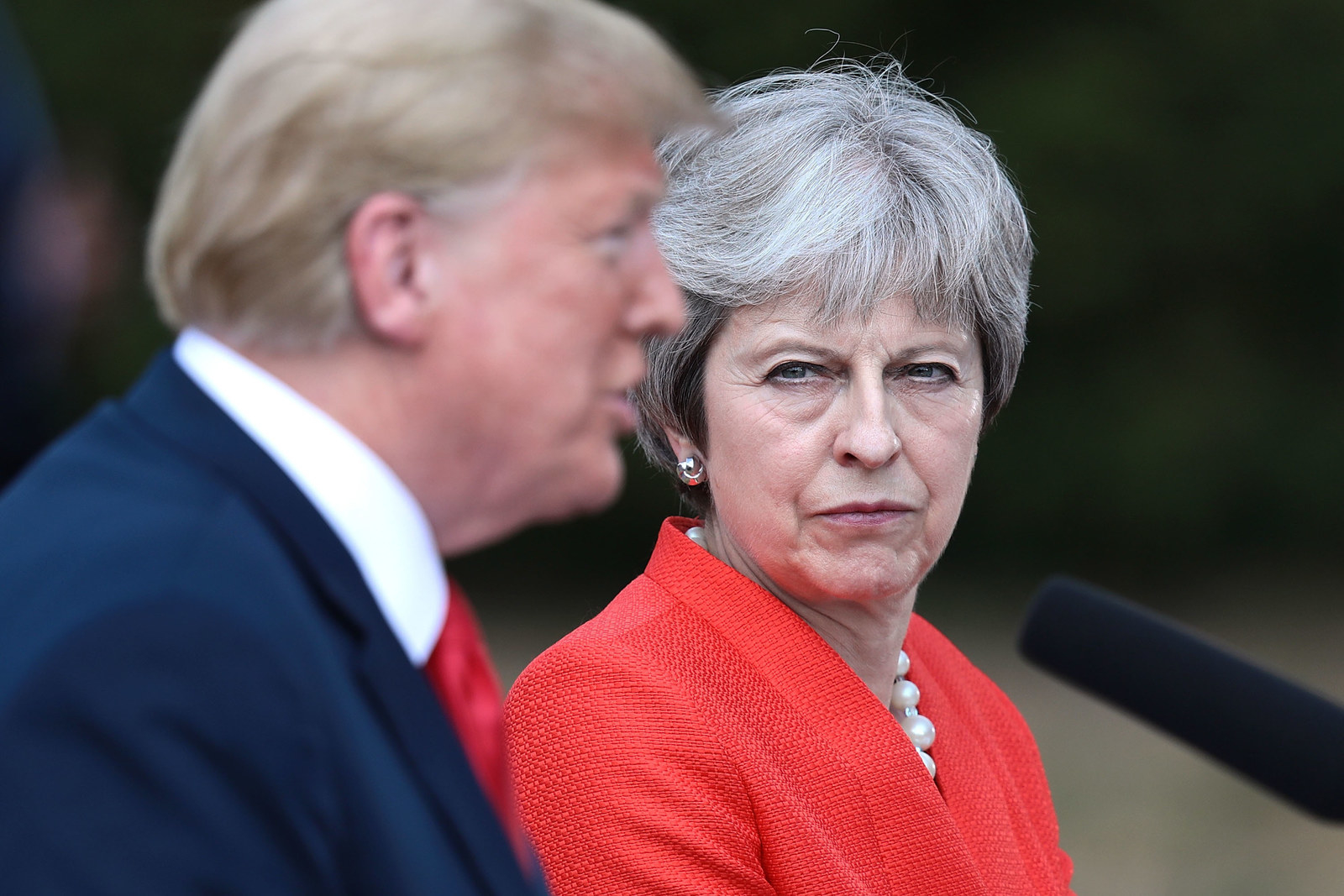 CHEQUERS, Buckinghamshire — "Boris Johnson, I think, would be a great prime minister." They weren't quite the words that Theresa May had hoped for from the US president as he stood beside her on his long-awaited visit to the UK.
But it was just one of countless awkward moments for May during a joint press conference at Chequers, the prime minister's official country residence, that lasted an excruciating 50 minutes.
The pair had emerged from the grand 16th-century manor house into the blazing sunshine, walking down a path past stunning gardens towards a group of UK and US journalists who had been waiting in the sweltering summer heat.
Photographers had already spotted the steps leading down to the joint podium and were hoping for that lucrative hand-holding shot – and weren't left disappointed as Donald Trump once again reached for May's hand on the way down.
In a storm of shutter clicks and a sea of hands holding up smartphones, Trump and May took their positions behind their lecterns – and so it began.
The PM tried her best to maintain a neutral expression as Trump bulldozed his way through questions from UK and US reporters. As ever, diplomacy took a back seat.

"He's been very nice to me. He's been saying very good things about me as president," Trump went on about Johnson, the former foreign secretary who caused May such turmoil by resigning over Brexit just a few days ago.
"I think he thinks I'm doing a great job. I am doing a great job, I can tell you, just in case you haven't noticed."
The president had been asked about his bombshell interview with the Sun, helpfully published the previous evening as he dined with the PM at Blenheim Palace, in which he not only threw lavish praise at Johnson but also warned bluntly that May's Brexit plan would mean a US–UK trade deal was off the table.
The interview loomed large over the press conference, no matter how often May tried to shake it off. The Brexit agreement struck at Chequers the previous week would deliver on the referendum result, she insisted.
Both the US and the UK are pursuing an "ambitious" trade deal with each other, she said, and the UK would also be free to strike trade deals with other countries around the world.
Meanwhile, Trump dismissed the newspaper's headline as "fake news".
Why didn't the Sun include all his positive comments about May, he complained. "I said that this incredible woman right here is doing a fantastic job, a great job, and I meant that," he said.
"I have gotten to know Theresa May much better over the last two days than I have known her over the last year and a half… Yesterday I had breakfast, lunch, and dinner with her and I said 'What are we doing tomorrow?', they said 'You're having breakfast and lunch with Theresa May, and you'll see her later on again.'
"I think she's a terrific woman and doing a terrific job." This was "the highest level of special" relationship, he said.
May stood there passively throughout this monologue, looking as if she wanted the ground to swallow her up. Sincere praise is one thing, but this seemed a bit much.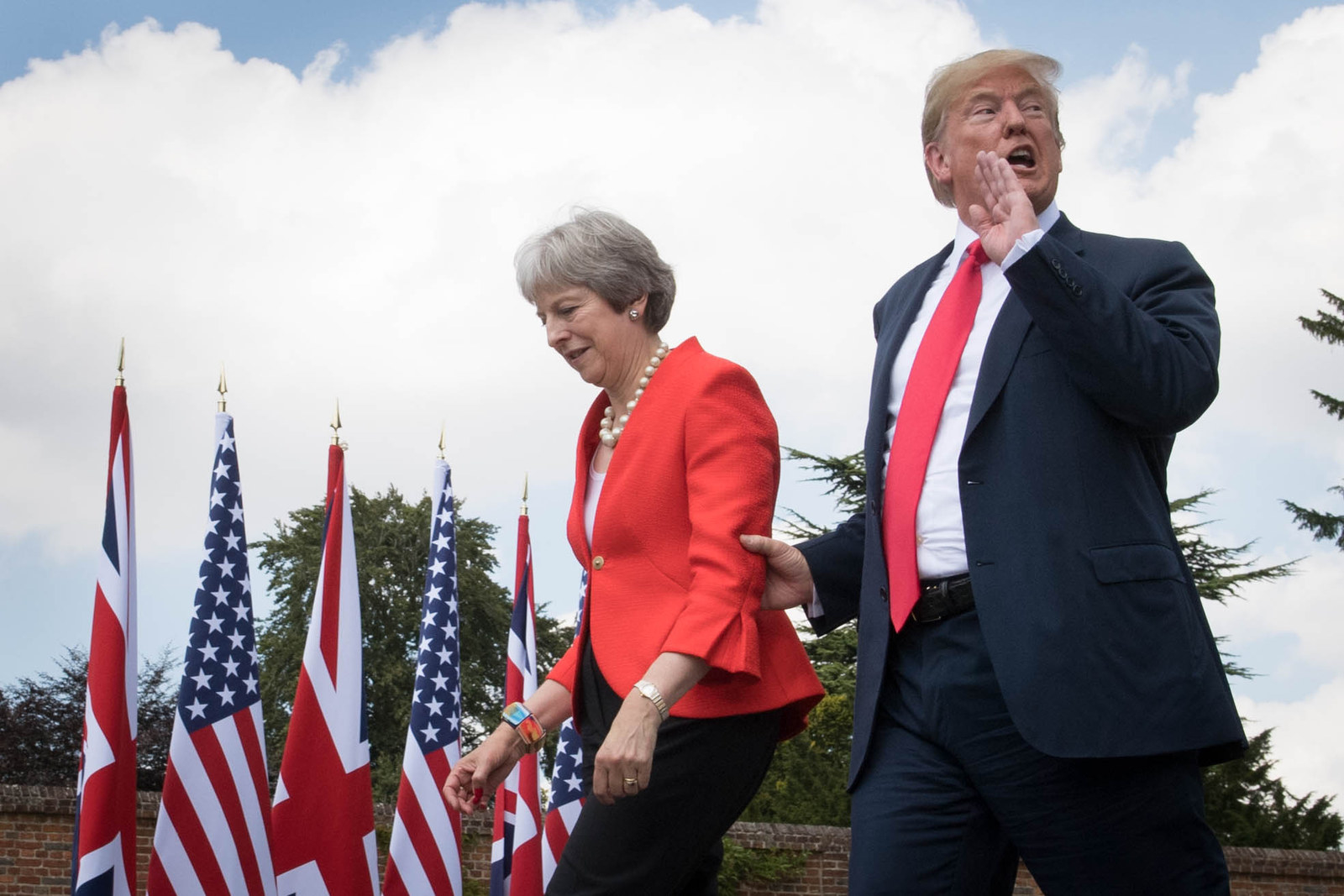 Trump's long and frank replies to questions, often uttered as a baffling stream of consciousness, only highlighted the personality clash between the two world leaders. This was not May's style at all.

She declared at the beginning of the press conference that they would take four questions each. And while she tried to deal with each one as quickly and efficiently as possible, it seemed Trump could have stood there all day long holding court.
He couldn't resist saying more about the advice he had given May over Brexit – a "suggestion" rather than advice, he insisted – which he claimed she had found "too brutal" but said "she might very well do that" in future.
She didn't look at him. This was mansplaining on the world stage.
While Trump repeatedly flung his arms wide to explain a point, and held his hands up to dismiss reporters' claims, May stood rooted to the spot, her face fixed with a tight smile, only turning her head to look at him.
For the PM, a woman who is no fan of the limelight, this was a press conference to endure.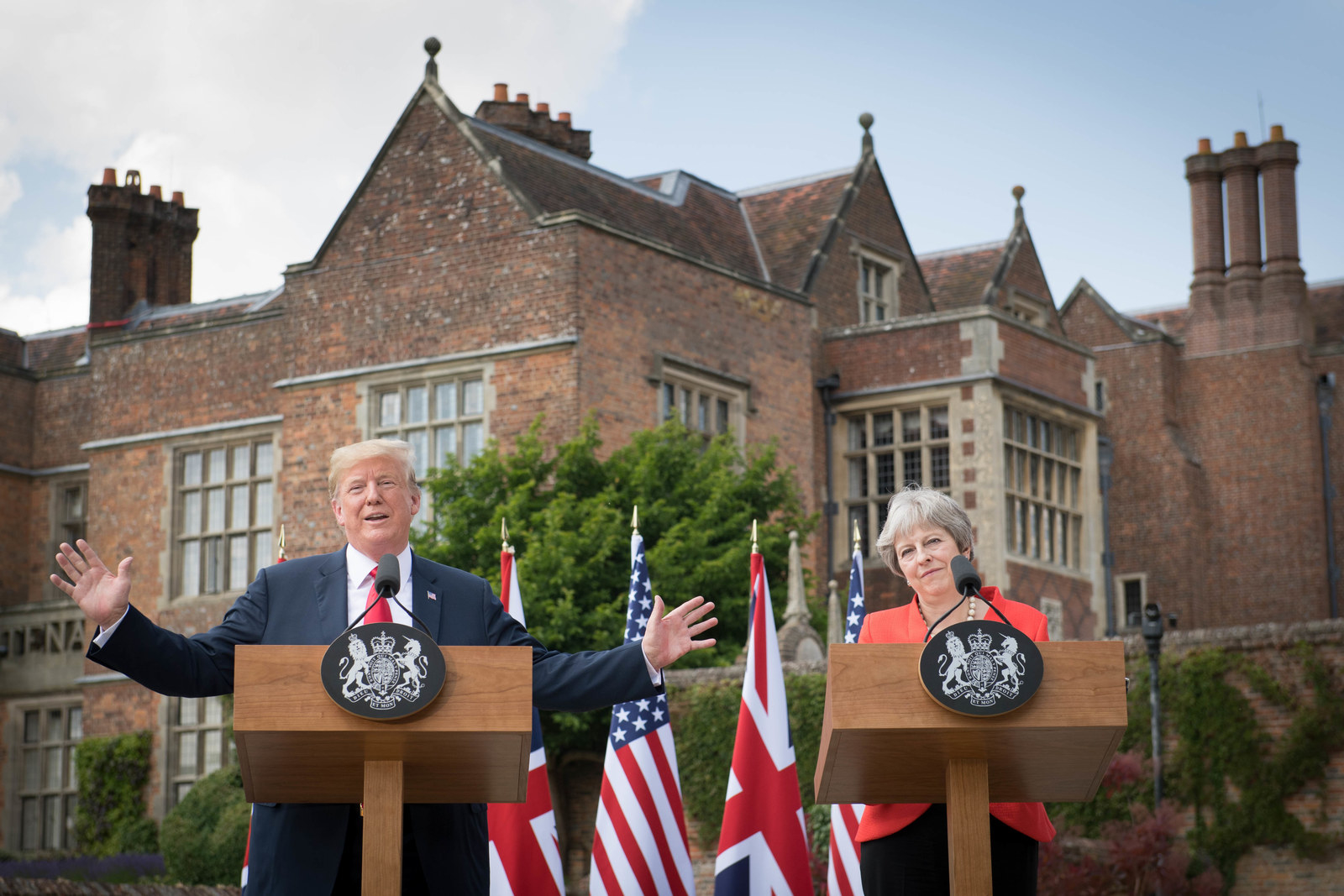 Later they were asked yet again by a US journalist about the Sun interview, and the PM pointed out that the newspaper's political editor, Tom Newton Dunn, was indeed sitting among the press.

"Did I say nice things about the prime minister?" Trump barked at him. "And we reported them, Mr President!" Newton Dunn shouted back.
"Where – on the internet?" Trump replied, and grumbled that they hadn't put that in the headline. But the president then made things really awkward for the PM by revealing what she had said to him when he attempted to explain his comments to her earlier that day.
"She said: 'Don't worry, it's only the press,'" he said gleefully, as she smiled apologetically at the assembled UK journalists.
Of course Downing Street was expecting some fireworks – this is Trump, after all – but by the end aides appeared to be happy that he was able to set the record straight about his respect for the PM and the importance of the US–UK relationship.

As for journalists, they were thrilled. "That was fucking brilliant," one British reporter said. "You couldn't ask for more."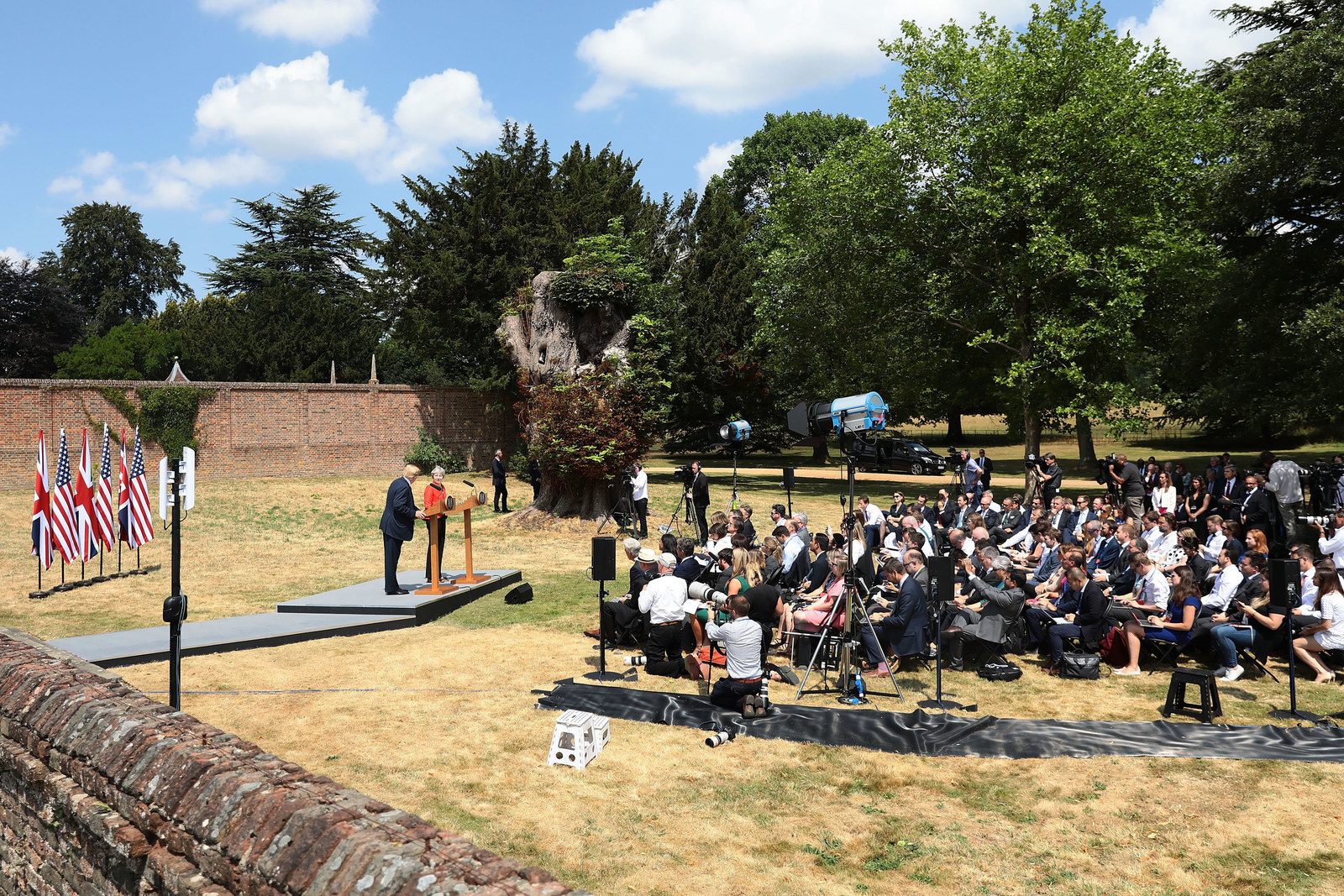 Bizarrely, the last few minutes of the press conference were dominated by the loud sounds of mooing cows in the next field, before May was finally able to put an end to it and usher Trump back towards Chequers.
Right on cue, officials from the UK and US – including UK foreign secretary Jeremy Hunt, the PM's chief of staff Gavin Barwell, US ambassador Woody Johnson, and US national security adviser John Bolton – applauded loudly from their assigned seats.
Trump and May went back inside the mansion briefly to say goodbye before the president headed straight to Marine One, where he took off for Windsor Castle and tea with the Queen. And the PM breathed a big sigh of relief.