Veteran Labour MP Dennis Skinner has been kicked out of the House of Commons chamber for calling the prime minister "dodgy Dave".
Skinner was ordered by Speaker John Bercow on Monday to withdraw the remark after David Cameron made a statement about his tax affairs and the Panama Papers.
But the Bolsover MP refused to withdraw it and again called Cameron "dodgy Dave" – leading Bercow to suspend him from the chamber for the rest of the day.
Skinner had initially asked the PM about his mortgage income and claimed that he had failed to answer a previous question about it. "Maybe dodgy Dave will answer it now," he said, prompting uproar from MPs.
MPs aren't allowed to be rude and insulting about their colleagues but it's up to the Speaker or one of their deputies to decide what is "unparliamentary language".
When Bercow asked Skinner to "withdraw that word and think of another", the MP asked: "Which word?"
Bercow replied: "I think he knows the word beginning with D and ending in Y that he inappropriately used. Withdraw."
But Skinner pointed at the PM and said: "This man has done more to divide this nation than anybody else. He's looked after his own pocket. I still refer to him as dodgy Dave. Do what you like."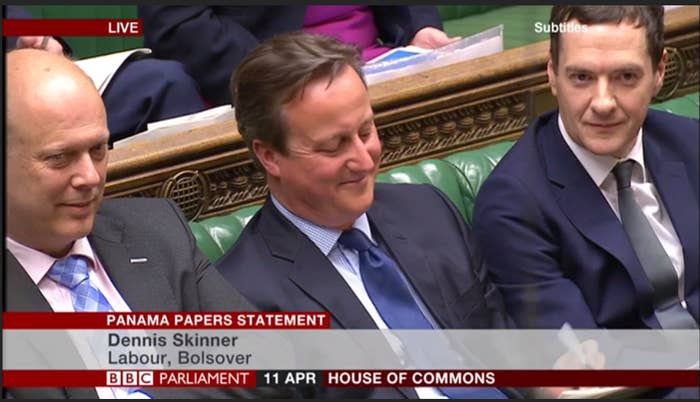 When Bercow gave him one more opportunity to withdraw the remark, Skinner replied: "Not a chance."
The Speaker replied: "Under the power given to me by standing order number 43, I order the honourable member to withdraw immediately from the house for the remainder of this day's sitting."
Skinner promptly left the chamber. He has been suspended from the Commons a number of times during his 46 years as an MP.