Diane Abbott: It's A "Smear" To Say Labour Has A Problem With Anti-Semitism
"It's something of a smear against ordinary party members," the Labour frontbencher said.
Labour frontbencher Diane Abbott has said it's a "smear" to claim the party has a problem with anti-Semitism, after an inquiry was launched by Jeremy Corbyn.
The shadow international development secretary, a long-time friend and ally of the Labour leader, sought to play down the row after Bradford West MP Naz Shah and former London mayor Ken Livingstone were suspended from the party.
Appearing on BBC One's Andrew Marr Show, Abbott said: "It's something of a smear against ordinary party members… It is a smear to say that the Labour party has a problem with anti-Semitism."
Marr asked her why, in that case, Corbyn had launched an independent inquiry into anti-Semitism and other forms of racism within the party.
Abbott replied: "There's issues about process because if there's nothing in the rules about anti-Semitism, racism and Islamophobia, we're going to make the rules explicit."
Marr asked: "So it's not a problem, it's just a process thing?"
She said: "Anti-Semitism is a problem across Europe – we saw what happened in Paris, we've seen the rise of the French National Front.
"Two hundred thousand people have joined the Labour party. You're saying because there have been 12 reported incidents of hate speech online that the Labour party is somehow intrinsically anti-Semitic?"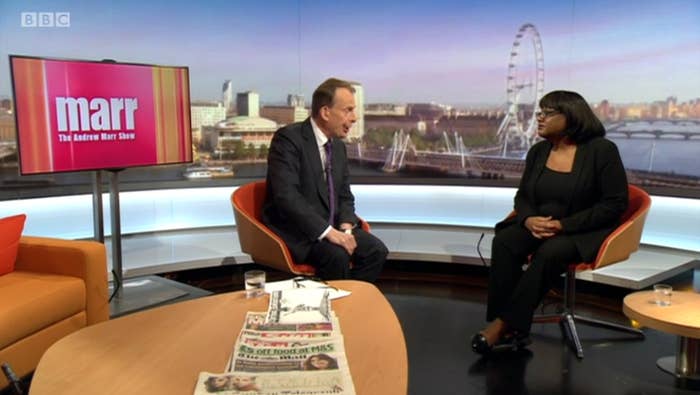 Abbott's comments follow a tumultuous week for Labour. It began with revelations about Shah sharing anti-Semitic Facebook posts and ended with Livingstone declaring that Hitler supported Zionism.

Also on the Andrew Marr Show, Israel's ambassador to Britain Mark Regev said he would "love" to meet Corbyn to discuss the matter soon.
"It is crucial for leadership to stand up and to condemn anti-Semitism in unequivocal terms," Regev said. "It is important that leadership is also not neutral or agnostic about anti-Semitism."
In an apparent reference to Corbyn, he added: "You have had too many people on the progressive side of politics who have embraced Hamas and Hezbollah. Both of them are anti-Semitic organisations.
"If you are progressive and you are embracing an organisation which is homophobic, which is misogynistic, which is openly anti-Semitic, what is progressive about that?"
An aide to Corbyn told BuzzFeed News that the Labour leader would be "happy to meet" Regev.