People Don't Believe MPs When We Get Death Threats, Chuka Umunna Says
And he said prime minister Boris Johnson was turning a blind eye to the "collateral damage" as he sought only to appeal to his core voters with his language.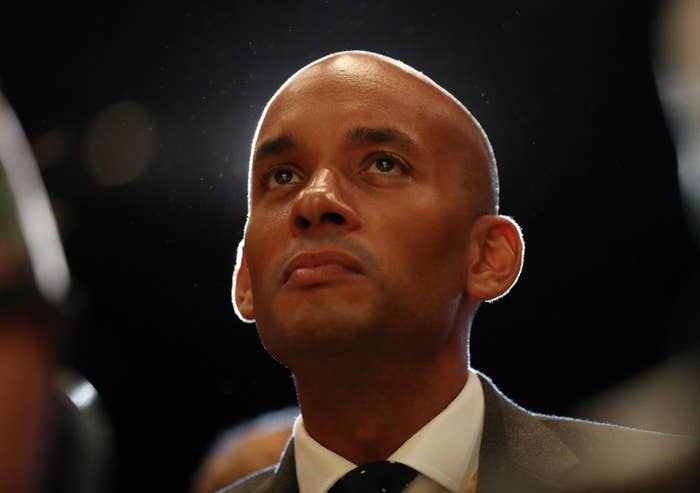 Politicians are repeatedly being threatened with murder and rape and many people now simply don't believe it, Liberal Democrat MP Chuka Umunna has said.
He warned that in an era of fake news and high tensions over Brexit, voters often see MPs as "robots" who are unemotional and incapable of personal suffering.
And he said prime minister Boris Johnson was turning a blind eye to the "collateral damage" of death threats as he sought only to appeal to his core voters.
It comes after a dark week for Westminster in which MPs, including some senior Tories, strongly criticised Johnson for his use of language such as "surrender" and "betrayal", warning that it was encouraging abuse towards politicians.
Umunna, who defected to the Lib Dems from Labour this summer, spoke to BuzzFeed News after an extraordinary day in parliament in which Lib Dem leader Jo Swinson, holding back tears, told of how she had reported to the police a death threat against her own young child.
"It gets you, when stuff affects your family, it really gets you," Umunna said. "People see politicians as in it for themselves, all they care about is their own political position and nothing else, so people tend to be quite surprised when we respond the way we do — particularly when the job impinges on your family circumstances and the rest of your life.
"I think the media do encourage this view that we're robots, that we don't care about anything, that we're unemotional, all we care about is the politics of something. Even when we get death threats, rape threats, even then people don't totally buy it."
Umunna said he had received multiple death threats himself, mainly from Brexiteers, which came to him via email, social media and through the post.

"I've constantly had threats," he said. "Brexit has heightened it. Any MP of colour, you are subject to different threats that others not of colour are not. That happens as soon as you're elected. But Brexit has changed everything, yeah."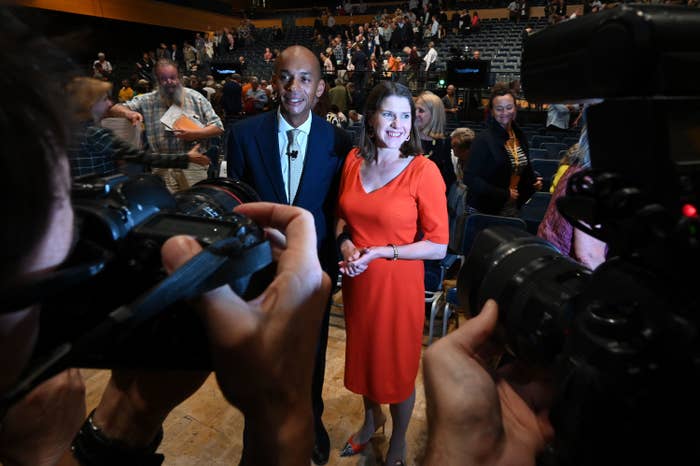 Johnson has denied inflaming tensions with his language, saying that banning the use of the word "surrender" would "impoverish debate".
The PM said the only way now to reduce the "heat and anxiety" is to "get Brexit done" — and he is set to double down on this message at the Conservative party conference in Manchester this weekend.
Umunna said Johnson's attitude was "completely governed by the politics of it and he just thinks as long as it is playing well to the 35-38% of voters who he's targeting, he doesn't really care if there's collateral damage".
He added: "He is subject to a lot of threats himself so his behaviour and lack of sensitivity in dealing with the issue was surprising."
The Lib Dems are discussing ways to force the PM to request an extension to Article 50 earlier than the current October 19 deadline, as set out under the Hilary Benn act, in order to "remove the threat" of no deal more quickly.
Umunna said failing to bring the deadline forward would be "very dangerous indeed": "In essence it would leave just eight sitting days to be able to ensure the law is enforced and complied with, and that's the letter and spirit of the law.
"We may end up in the Supreme Court again and have just a week to resolve this. I think it will play completely into [Johnson's] hands to leave it until then, he will try and take it to the wire and put the screws on parliament to agree a hard Brexit.
"Currently we have this sword of Damocles hanging over our heads, we have the capacity to remove this threat."
Meanwhile Umunna said he was confident of big gains for the Lib Dems in the looming general election, in which he is standing in the Cities of London and Westminster after shifting seats from Streatham where he was a Labour MP.
He expects Tory MP Mark Field, who in June grabbed a climate change protester at a Mansion House event, to continue to stand in the seat and insisted he would not fight a personal campaign.
"We are canvassing in parts of this constituency where the Tory vote appears to have collapsed and people are saying to us they will never vote for the Tories again," Umunna said.
"Labour voters are voting for us on the basis that we're the best bet of getting rid of the Tories, there is definitely something going on out there... I think the route the Conservatives have gone down, where they have remade themselves as a right-wing, populist, nationalist party goes down like a lead balloon here."
The Lib Dems came a distant third to the Tories and Labour in the 2017 general election in the central London seat but Umunna said the European election vote in the area proved the Lib Dems were on the rise.