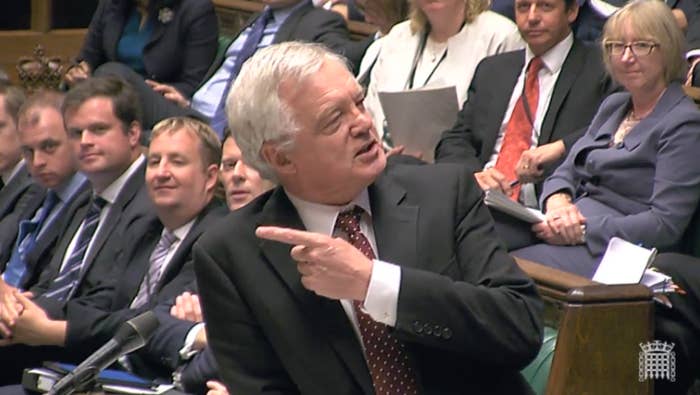 Brexit secretary David Davis has been jeered in the House of Commons for claiming that no one had said leaving the EU would be "simple or easy".

His Labour counterpart Sir Keir Starmer pointed out that in fact both Davis and his Tory colleague Liam Fox, the international trade secretary, had done just that.
Davis was seeking to update MPs on the progress of negotiations between Britain and the EU, as parliament gathered on Tuesday for the first time since the summer recess.
Critics say the talks are progressing much too slowly and the government needs to move faster if it hopes to secure a deal within the two-year framework set out by Article 50 of the Lisbon treaty.
Davis said: "At the start of these negotiations, both sides agreed that the aim was to make progress on four key areas – citizens' rights, financial settlement, Northern Ireland and Ireland, and broader separation issues.
"We've been doing just that."
He added: "Nobody has ever pretended this would be simple or easy. I've always said the negotiations will be tough, complex and at times confrontational – so it has proved."
Starmer said he understood that Brexit talks were "complex and difficult", but warned that "slow progress" was a "real cause of concern".
He said "too many promises" had been made about Brexit which "can't be kept".
Referring to Davis, he said: "He has just said that nobody was pretending it would be easy. They were pretending it would be easy!

"The international trade secretary [Liam Fox] promised that negotiating a deal with the EU would be 'one of the easiest deals in human history to negotiate'."
MPs laughed as Starmer also pointed out that a year ago, Davis had written:
"Within two years, before the negotiation with the EU is likely to be complete, and therefore before anything material has changed, we can negotiate a free trade area massively larger than the EU."
Davis had also claimed: "The new trade agreements will come into force at the point of exit from the EU, but they will be fully negotiated and therefore understood in detail well before then."
Starmer said the government had also released Brexit position papers this summer that were "riddled with further fantasies".
"The time for floating fantastical ideas is over," he said. "No more promises that can't be met. Brutal reality."