David Cameron On His Twitter Abuse: "You Have To Take The Rough With The Smooth"
The prime minister admitted to BuzzFeed that he sneaks a peek at his mentions from time to time.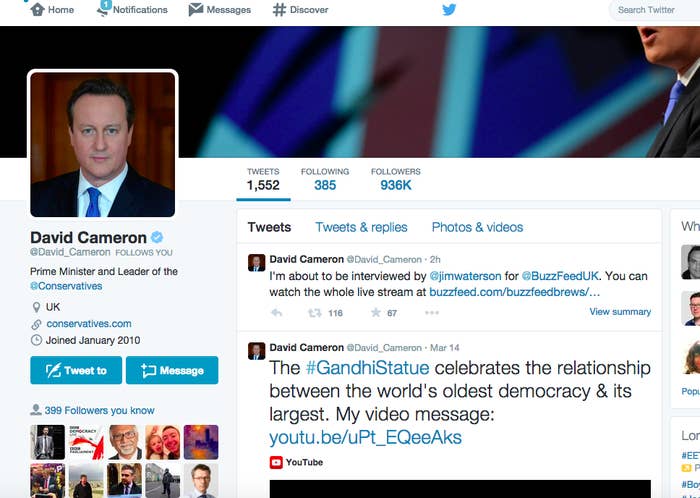 David Cameron has revealed how Twitter abuse is par for the course as prime minister.
He said he dismissed nasty comments on his @ feed as part of his high-profile job.
And he issued a warning to politicians to think before they tweet, standing by his comment in 2009 that "too many tweets make a twat".
In an interview with BuzzFeed Brews, he said: "I think when I said that – and it was not particularly advisable at the time – the point I was making is as politicians we are judged on what we say and we should always think very carefully before we say something and the danger of Twitter is you just loose off your opinion, often late at night."
Asked whether he ever checked his mentions, which often involve abusive comments, he said: "I have a little bit, yes. Well, you've got to take the rough with the smooth in this job.
"The point I was making with 'too many tweets...' was you've got to think before you speak in politics and there is a danger with Twitter.
"I think it's been borne out with events. Some people have got themselves into the most unbelievable trouble by tweeting a picture or tweeting some words without thinking first what they're doing."
Cameron said he was not a Snapchat user but used his iPhone to chat with friends and family.
He said: "I'm not a Snapchat user myself, no.
"I use Gmail and things like that. I've used email accounts for friends and stuff. I have an iPhone which is mostly friends and family, I have a BlackBerry which I use for work. BlackBerry is good for email."
But he warned that all new technology firms needed to make sure there was "not a safe space for terrorists to communicate with each other".
"Because the truth is, if there is, we're going to be at greater risk," he said.
The PM also revealed how he's set up filters on his devices in Downing Street to protect his kids.
"I've got three children of primary school age and they get to find out the code on your iPad pretty quickly," he said.
"I think having filters switched on is good. What we managed to achieve with the internet companies with stopping child abuse online has been genuinely groundbreaking."
He denied that his children had unfettered access to the internet.
"My daughter's got an iTouch," he said. "But everything is quite strictly controlled in terms of screen time – we have the filters on for things like my iPad I've got in Downing Street. This is a conversation every parent in the country is having with their children."