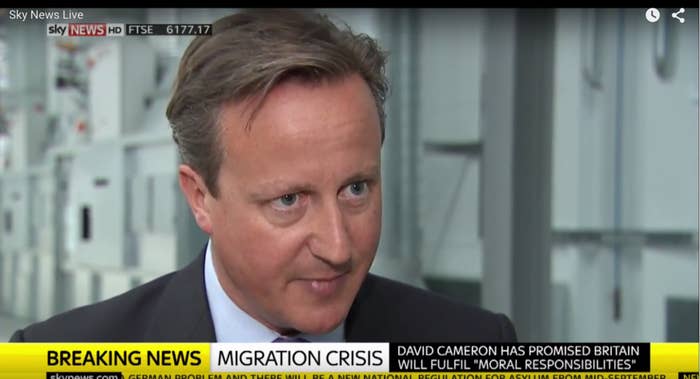 David Cameron has insisted that ministers "do care" about the growing refugee crisis, but refused to say how many more asylum-seekers Britain would take.
The prime minister was interviewed on Sky News as he visited a factory in County Durham. He said: "Anyone who saw those pictures overnight could not help but be moved and, as a father, I felt deeply moved by the sight of that young boy on a beach in Turkey.
"Britain is a moral nation and we will fulfil our moral responsibilities. That's why I sent the Royal Navy to the Mediterranean and saved thousands of lives, that's why Britain meets our commitment of 0.7% of our economy spent on aid – much of which goes to North Africa, goes to the Mediterranean, to help those countries.
"That is why Britain is the second-biggest bilateral donor in the world to those Syrian refugee camps and that is why, yes, we are taking thousands of Syrian refugees and we will continue to do that.
"As I said yesterday, we will keep that under review. But there's isn't a solution to this problem which is simply about taking people; we need a comprehensive solution, a new government in Libya, we need to deal with the problems in Syria."
Cameron said the people "most responsible" for the growing tragedy were Syrian president Bashar al-Assad, terror group ISIS, and the "criminal gangs that are running this terrible trade in people".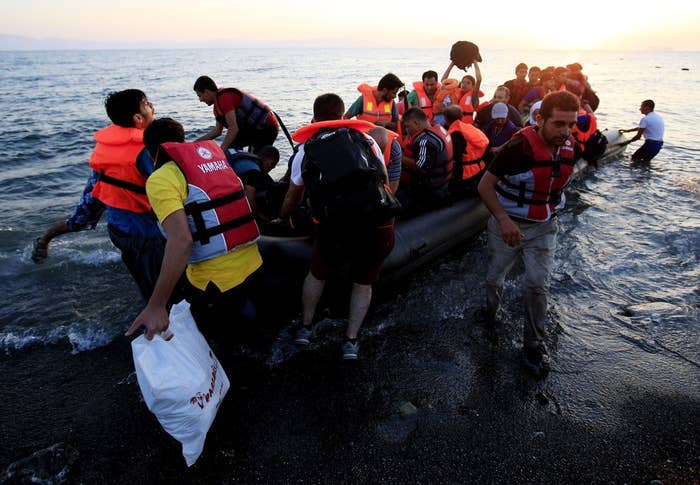 The Home Office says that since 2011, almost 5,000 Syrians have been given asylum in Britain. On top of that, the UK has taken 216 Syrian refugees under a specific "vulnerable persons" government scheme.
Cameron said: "We're taking thousands of refugees and we have always done that as a country, running our asylum system properly and giving a proper welcome to this country..."
He was asked why he would not commit to taking more refugees at this point.
"We keep it under review, we work with our partners, we are taking thousands of people and we will take thousands of people," he replied. "And what matters is when they come that they get a proper welcome and we look after them."
The Sky News reporter said: "You say you care. The accusation is you don't care enough."
Cameron said: "We do care because we sent the Royal Navy to the Mediterranean to save lives... We will do more, we are doing more."