Boris Johnson Tells "Crusty" Protesters He'll Never Surrender To "Hard Left"
The London mayor heaped the blame for the anti-Tory demonstrations on Jeremy Corbyn.
Boris Johnson has branded protesters outside the Tory conference "our crusty friends" and said the Conservatives will never surrender to "hard-left agitators".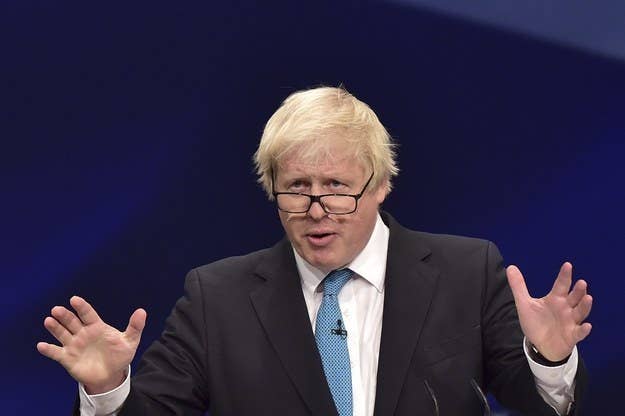 The mayor of London was pelted with balls in a protest against cuts to disability benefits as he entered the conference centre in Manchester on Monday. Anti-austerity demonstrators have been gathering at the entrance to hold up placards, shout, sing, and even spit at delegates and journalists.
Johnson laughed off his experience during his speech to a packed conference hall on Tuesday. He said: "As I came into the conference area yesterday we had to go through a kind of Khyber Pass with protesters on either side hurling eggs and water bombs, and spitting and things. Some of you may have had the same experience.
"Were we intimidated? No! Will we give up our plans to take this country forward? No! Will we surrender to the hard-left agitators – preposterously supported by Jeremy Corbyn – who believe in these tactics and who want to divide this society? No we won't."
He added: "In fact I drew only one conclusion from that event and that is that we need to do even more sport and encourage sport in schools, particularly ball games, because they managed to miss me with every single projectile, just as Labour has missed the lesson of that election in May."
Dubbing the protesters "crusty", he said 400,000 people had been lifted out of poverty in London since he had become mayor.
He said: "The point I make to our crusty friends outside the hall is that actually sensible one-nation policies in London have been disproportionately beneficial for the poorest." He insisted the Tories had – over the last eight years – cut crime, the murder rate, air pollution, deaths on the road, and deaths from fire in London. All these "evils" hit the poorest the hardest, he added.
Johnson's 30-minute joke-filled speech was a big hit in the conference hall, with applause, laughter and loud cheers throughout. Audience members included his brother and sister – Tory MP Jo Johnson and novelist Rachel Johnson – as well as David Cameron. Johnson, who is both mayor and MP for Uxbridge and South Ruislip, has long been touted as a successor to Cameron when he steps down before the 2020 general election.
He called on all "one nation Tories" to close the gap between the richest and poorest in society. And in an apparent swipe at moves to cut tax credits, he added: "We must ensure that as we reform welfare and we cut taxes that we protect the hardest working and lowest paid –the retail staff, the cleaners, who get up in the small hours or work through the night because they have dreams for what their families can achieve."