The Tube Is Still Packed Despite The Coronavirus Lockdown As London's Mayor And The Government Give Different Advice Over Construction Workers
Trains in London were overcrowded again on Tuesday morning after Boris Johnson ordered a lockdown. Now Sadiq Khan faces pressure to increase services.
London's tube network was still packed at rush hour on Tuesday morning — just hours after Boris Johnson ordered a full coronavirus lockdown across the UK. Many commuters appeared to be construction workers.
Overcrowding on the tube has been compounded by the decision by Transport for London to close some stations and run a reduced service. It means that people are being forced to crowd onto trains to get to work.
London mayor Sadiq Khan said the vast majority of construction workers need to stay at home. But communities secretary Robert Jenrick said construction workers can keep working on site.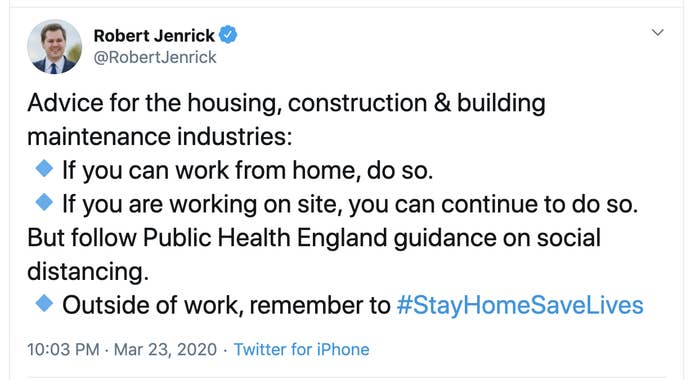 Khan told ITV's Good Morning Britain that he had made the point "quite forcefully" with Johnson in an emergency Cobra meeting on Monday.

He said he told the PM that "if construction is there for a safety reason, then I think that's critical and that should carry on — but actually a lot of construction isn't critical or essential. Anybody who's been on a building site ... it is so, so hard to be two metres apart."
It is understood that Khan also spoke to transport secretary Grant Shapps on Tuesday morning but was met with the same resistance on this issue.
The PM's spokesman said construction could continue if it complied with guidance from Public Health England and workers practised "safe social distancing", staying two metres away from each other.
Construction workers shared photos on Twitter of crowded building sites, warning that their health was being put at risk.
Khan said it was impossible to run more services because growing numbers of staff were off sick or self-isolating.
Transport for London said everyone "must follow the government and mayor's orders to stay at home and only travel if absolutely necessary".
TfL spokesman Vernon Everitt said: "Only critical workers should be using public transport and no one else. Ignoring these orders will put lives at risk.
"We will continue to run as much of a tube service as we possibly can so that those critical NHS staff and other workers can get to work, but as our staff themselves fall ill or have to self-isolate we are simply not able to run a full service.
"The majority of people are playing their part and avoiding travel, but more people need to stop travelling immediately to save lives."
The Transport Salaried Staffs' Association (TSSA), the union that represents transport workers, called for police to be deployed at all main London stations to make sure all passengers are critical workers.

TSSA general secretary Manuel Cortes said: "Sadly the situation on the London Underground has not improved. We urgently need British Transport Police and other officers at major stations across London's transport network to ensure only those with a valid reason to travel are doing so in this emergency.
"Ministers must come forward today with a package of measures guaranteeing the income of workers in the gig economy, the self-employed, and freelancers. That will go a long way to reducing the numbers who feel they have no choice but to travel to work."