MPs At A Sparsely-Attended PMQs Pleaded With Boris Johnson To Step Up Coronavirus Testing
"Why are we waiting so long for mass testing and why are social distancing measures merely just suggestions?"
The House of Commons chamber was sparsely attended for Prime Minister's Questions on Wednesday, as most MPs were told to stay away to slow the spread of the coronavirus. But Boris Johnson faced rising concern over his efforts to tackle the disease.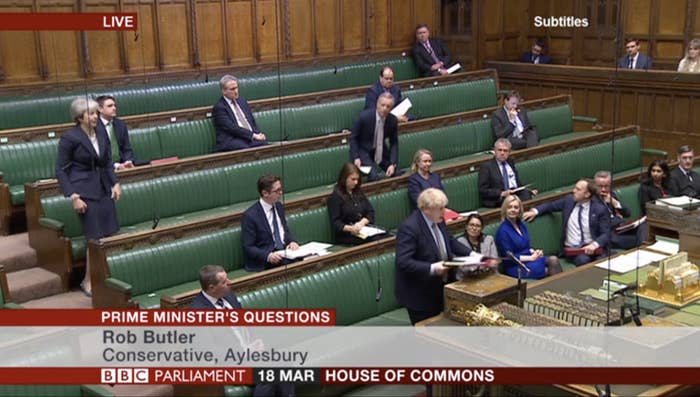 The PM was grilled over why the UK was not testing as many people for coronavirus as some other countries, and about the reported widespread shortages of protective equipment for NHS frontline workers.
Johnson announced that the UK would be moving towards 25,000 tests a day and insisted that healthcare workers would be a priority for those tests. He also insisted there were "stockpiles" of personal protective equipment, known as PPE.
The half-hour session, held every Wednesday, is usually the liveliest moment in the parliamentary week, with MPs standing in the aisles. But party whips ordered MPs to stay away, unless their names were on the order paper to ask the prime minister a question.
Labour leader Jeremy Corbyn pointed out that the World Health Organisation had said "test, test, test" — and said NHS workers must get these tests first to safeguard themselves and their patients.
"Sadly those workers have no idea if they are actually transmitting the virus themselves," he said. "Can the prime minister please explain why the government isn't prioritising testing of all healthcare staff?"
Johnson said these workers were a priority and said the UK was ahead of other countries in the number of tests it was doing.
Labour MP Rosena Allin-Khan, who is also an emergency doctor, made a heartfelt plea for more testing and protection for her NHS colleagues.
"My NHS colleagues on the frontline are already stressed with the pressure they face," she said. "Last night I visited my father in a care home and I'm acutely aware that I may have fed him for the very last time.
"We are in unprecedented times. I would like to know where was the forward planning for PPE for our NHS and care staff, where is the testing for medics, why are we waiting so long for mass testing and why are social distancing measures merely just suggestions?"
Johnson replied: "We have stockpiles of PPE equipment and we are proceeding in accordance with the best scientific advice, and it is the timeliness of those measures that is absolutely vital in combatting the spread. That is how you save lives."
The PM also came under pressure over government measures for workers and businesses who cannot earn money during the coronavirus crisis. Labour MP Chris Bryant called for sick pay to be doubled "so it's a sensible figure" and for a VAT holiday for sole traders.
Commons Speaker Lindsay Hoyle said he had worked with the party whips to limit attendance at PMQs to ensure "maximum safety" for MPs and staff.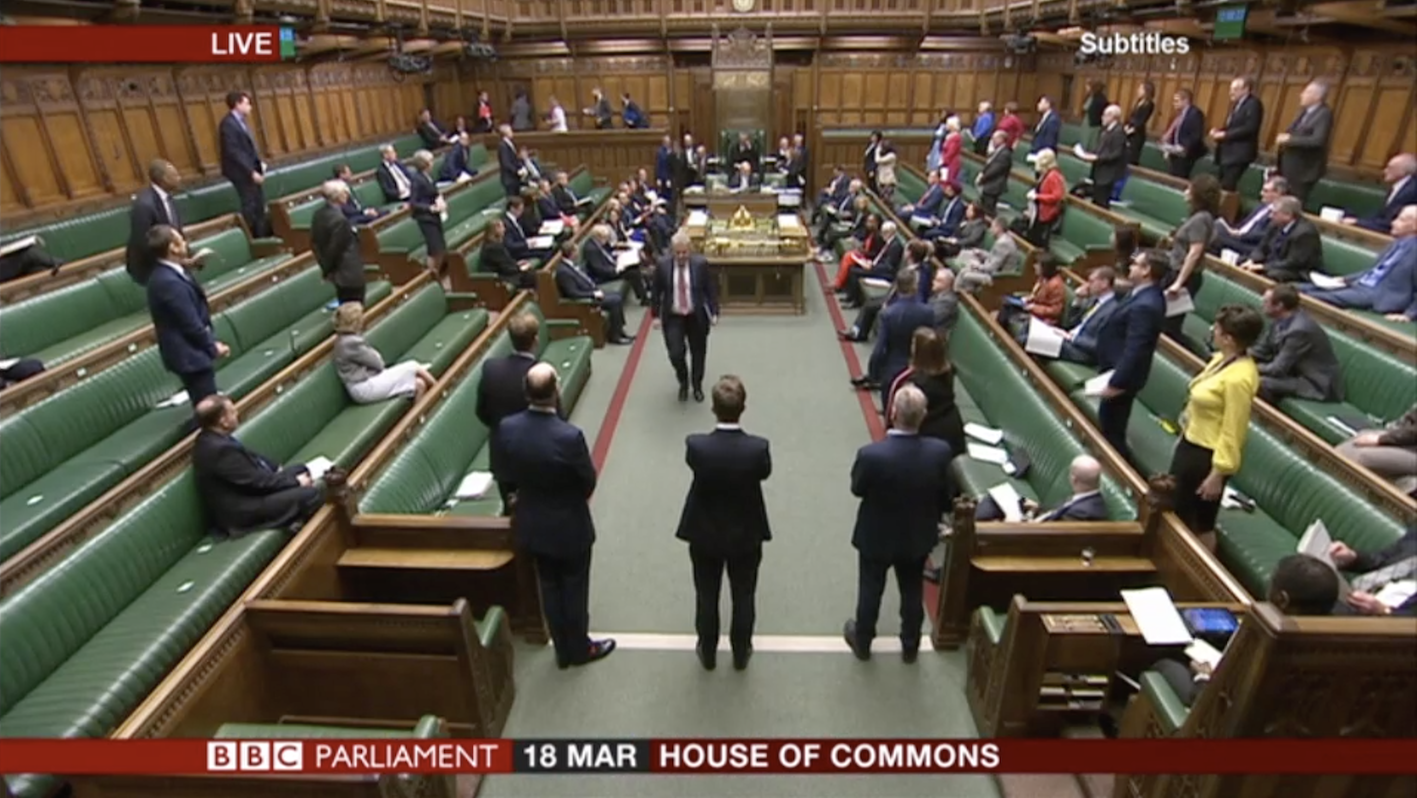 MPs have faced criticism for crowding into the House of Commons chamber this week, including for foreign secretary Dominic Raab's statement on the coronavirus on Tuesday.

That is despite the government calling for "social distancing" measures among the general public to limit the spread of the virus. Johnson said on Monday that everyone in the UK should now avoid unnecessary contact with each other.
The Commons chamber is usually packed for the weekly exchange between the prime minister and Labour leader. Here's how it looked last week.