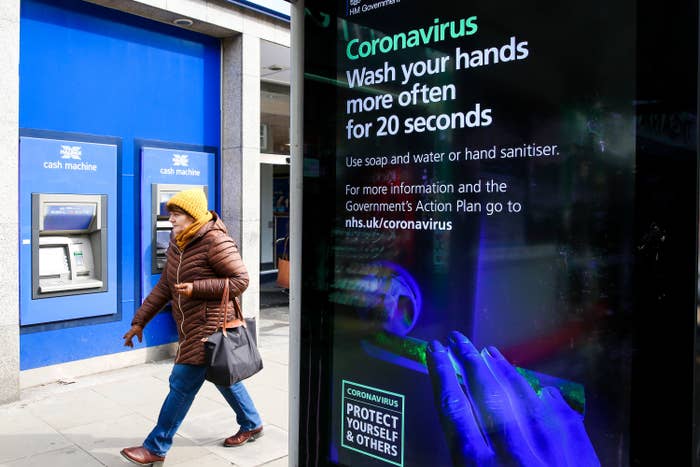 The UK government is stepping up a gear in its response to the coronavirus, after the country saw its biggest rise in cases in a single day.
Boris Johnson will chair a meeting of the emergency Cobra committee on Thursday afternoon, where it is expected that ministers and officials will agree to move onto the second stage of their plan — from containment to the "delay" phase.
It is not clear at this stage what this will mean in terms of new guidance and "social distancing" measures, but it is likely it will be targeted at elderly people and those with underlying health conditions who are most at risk from the virus.
The delay stage is aimed at slowing down the spread of the coronavirus in an attempt to prevent the NHS being overwhelmed during the peak winter flu season. Moving to this second stage is an admission that the virus is now being rapidly transmitted between people in the UK who have not travelled to hotspots abroad.
The Department of Health confirmed on Wednesday there had been 83 new cases since the day before, bringing the total to 456. Eight people in the UK have died.
One cabinet minister, not yet named, and junior health minister Edward Argar are self-isolating in case they have the virus; it comes after health minister Nadine Dorries became the first MP to contract the disease.
The World Health Organisation has declared that the coronavirus outbreak is a pandemic, which means the disease is spreading across multiple countries at the same time.
It is expected that the UK government will soon advise people who have only mild flu-like symptoms to stay at home for seven days. At present, that medical advice only stands for those with severe symptoms of flu.
Medical experts could also advise elderly people and those with chronic health conditions to take precautions and better protect themselves, for example by avoiding large crowds.
But the government has said there is no scientific basis on which to start cancelling big sports events and public gatherings, or close down schools. The UK's approach contrasts with the draconian measures taken by countries such as Italy, the worst-hit nation in Europe, which has ordered the whole population into lockdown and shut down bars, restaurants and most stores.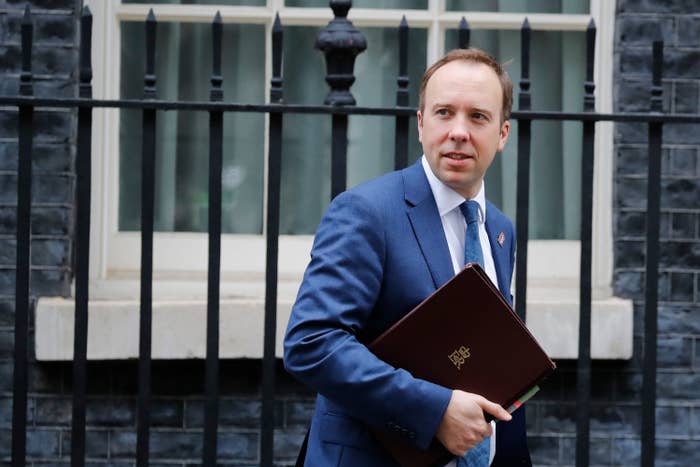 On Wednesday evening, health secretary Matt Hancock repeatedly defended Britain's approach, saying timing was crucial.
"Evidence of past epidemics shows that people do tire of these sorts of social distancing measures — so if you start them too early, they lose their effect," Hancock said in the House of Commons.
"So the social science and behavioural science are a very important part of the science we rely on."

BuzzFeed News reported this week how hospital doctors and Tory MPs were raising concerns about the government's "slow" response.
Shadow health secretary Jon Ashworth said: "Tonight 3,000 Atletico Madrid fans are allowed to arrive in Liverpool for the Champions League game — but if the game was in Madrid they wouldn't be allowed to go to the stadium because of Spanish social distancing.
"Can he just explain again, for the benefit of our constituents, the thinking around why we are not yet taking more stringent social distancing measures?"
Hancock said: "Different countries are in different stages of this, the point is we will do the right thing at the right time ... There are some countries that aren't fully following the science but I'm not going to criticise them because I think in responding to a pandemic like this, everyone is doing their level best."
Former health secretary Jeremy Hunt and SNP health spokesperson Philippa Whitford suggested in the Commons it was now time to move to the delay stage. Hunt said this was important "so that families up and down the country can start to prepare their loved ones for any precautions they might want to take".
London mayoral candidate Rory Stewart is among those who have seriously criticised the government's approach, saying schools should be closed now. Hancock was asked by Tory MP Aaron Bell what he made of "celebrities and politicians" who had been so vocal in their criticism.
"I've seen some of the noises off," Hancock said. "I commend everyone to base the decisions and judgments they're making on science rather than politics."