The journalists at BuzzFeed News are proud to bring you trustworthy and relevant reporting about the coronavirus. To help keep this news free, become a member and sign up for our newsletter, Outbreak Today.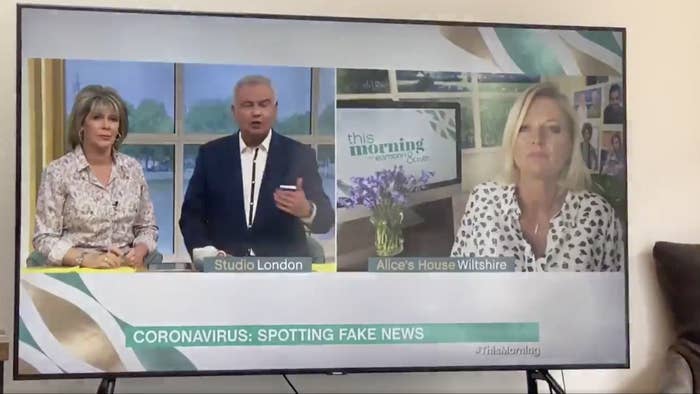 TV presenter Eamonn Holmes has sought to clarify his comments about a conspiracy theory linking coronavirus to 5G, after more than 400 complaints were made to the broadcasting watchdog.
Holmes was co-hosting This Morning on Monday when he suggested that people were right to question whether wireless communications infrastructure was spreading the virus.
The baseless theory has been comprehensively debunked by organisations, including Full Fact, which said there was "no evidence that 5G wifi networks are linked to the new coronavirus".
TV regulator Ofcom said 419 complaints had been made about his comments, as of 9.30am on Tuesday. An Ofcom spokesperson said: "We are assessing this programme in full as a priority."
On Tuesday's show, Holmes sought to clarify his comments by reading out a statement on the show saying there was "no scientific evidence" to support the claims that 5G was linked to coronavirus.
But he insisted "many people are rightly concerned and looking for answers and that's simply what I was trying to do, to impart yesterday".
Speaking during a segment on fake news on Monday, Holmes said: "What I don't accept is mainstream media immediately slapping that down as not true when they don't know it's not true.
"No one should attack or damage anything ... but it's easy to say it's not true because it suits the state narrative. That's all I'd say as someone with an inquiring mind."
He is among a number of high-profile figures to openly speculate about the link between 5G and the coronavirus. Earlier this month, a phone mast in Birmingham went up in flames after a local Facebook group was flooded with anti-5G comments.
After a clip was posted on social media, many people rebuked Holmes for his comments. His name started trending on Twitter in the UK.
Even Alice Beer, the consumer editor of This Morning who presented the "fake news" segment, said the conspiracy theory was "nonsense".
Later that day, Holmes insisted he had not spread misinformation, saying it was right to "listen and question".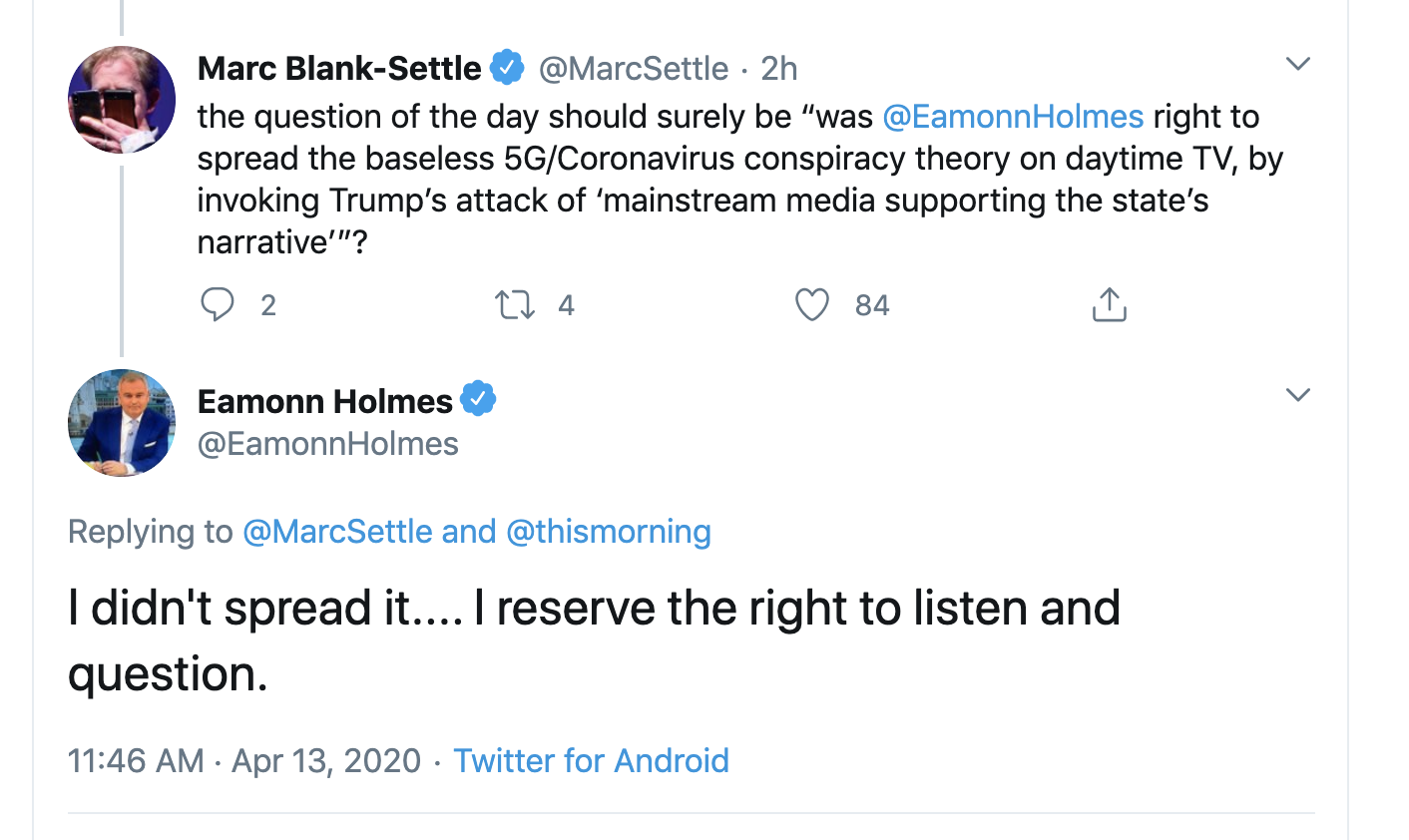 But on Tuesday's show, Holmes made a statement: "I want to clarify some comments that some of you may have misinterpreted from me yesterday around conspiracy theories and coronavirus and this involved the rollout of 5G.
"Both Alice Beer and myself agreed in a discussion on this very programme on fake news that it's not true and there's no connection between the present national health emergency and 5G and to suggest otherwise would be wrong and indeed it could be possible dangerous.
"Every theory relating to such a connection has been proved to be false and we would like to emphasise that. However many people are rightly concerned and looking for answers and that's simply what I was trying to do, to impart yesterday.
"But for the avoidance of doubt I want to make it clear there is no scientific evidence to substantiate any of those 5G theories. I hope that clears that up."