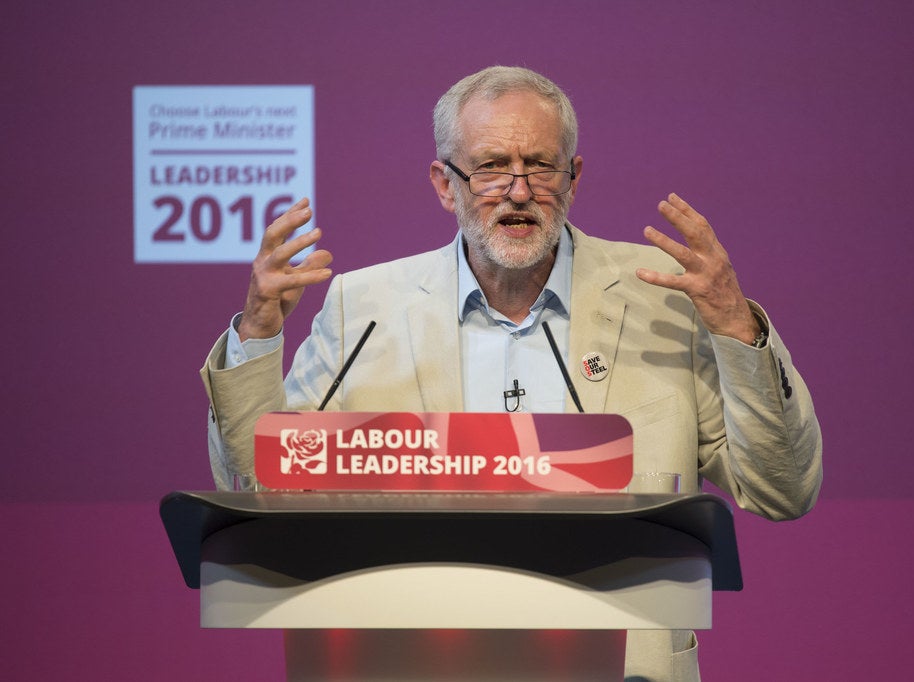 Jeremy Corbyn has been accused by his rival Owen Smith's team of travelling more miles in the first three weeks of his leadership campaign than he did during the two-month campaign to keep Britain in the European Union.

In a sign of the increasingly personal tensions between the two Labour leadership candidates, sources close to the Smith campaign told BuzzFeed News it proved Corbyn cared more about himself than the rights of British workers.
But Team Corbyn dismissed the claim as a "smear", saying it showed "how little Owen Smith has to offer".
Corbyn has spent the last three weeks whizzing around the country trying to drum up support for his bid to remain Labour leader, with rallies and events in Cardiff, Falmouth, Hull, Bristol, and Newcastle, among other places.
Smith's team has calculated that by Thursday evening – when the two candidates meet in Gateshead for their second hustings – Corbyn will have racked up 3,016 miles on the leadership campaign trail so far.
That compares to the 2,768 miles he travelled while campaigning for Remain over two months in the run-up to the EU referendum. His grassroots support group Momentum tweeted that figure in July when Corbyn was accused by critics of not doing enough to keep Britain in the EU.
A source close to the Smith campaign said: "Jeremy Corbyn has campaigned harder for his own job than for the thousands of jobs that depend on Britain's membership of the EU."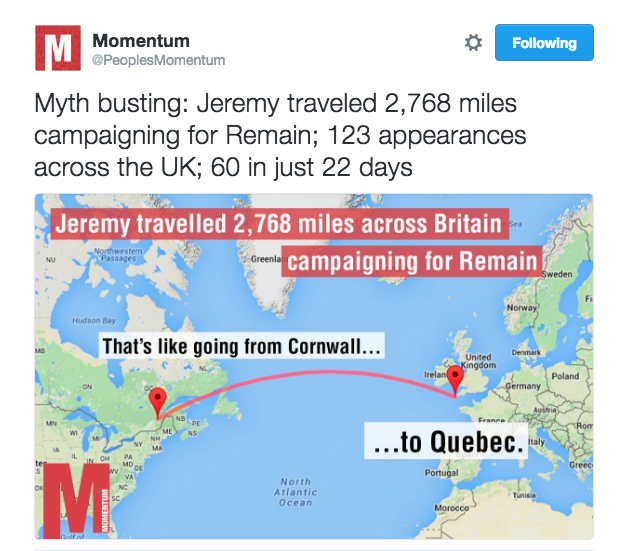 A spokesperson for the Jeremy for Labour campaign hit back: "These kinds of smears only show how little Owen Smith has to offer. Jeremy did 122 campaigning events to stay in the EU, considerably fewer than he will do for the leadership campaign and far more than Owen Smith did."
They said the EU referendum was a "completely different type of campaign", adding: "Jeremy did the bulk of the events, but the Labour In campaign had to balance a mixture of visits with different voices in the Labour party.
"In a leadership campaign, the candidate himself must travel the length and breadth of the country to lay out his argument. That is why Jeremy will be travelling around the UK to make the case for why when he is prime minister, the next Labour government will rebuild and transform Britain so that no one and nowhere is left behind."
Smith launched a challenge for the leadership after Corbyn lost a vote of no confidence from Labour MPs and a string of frontbenchers resigned amid fears over his electability.
Both men are chasing votes from Labour members in their battle for the party leadership on 24 September. Smith's team has called for a two-week extension to the contest following a court ruling that Labour cannot stop new members from taking part.
Smith was given a boost on Wednesday when trade union GMB endorsed him as leader, saying its members could not "afford for Labour to be talking to itself in a bubble for the next five years".
But Unite, Unison, the Communication Workers' Union, and Aslef are among the trade unions that have backed Corbyn.