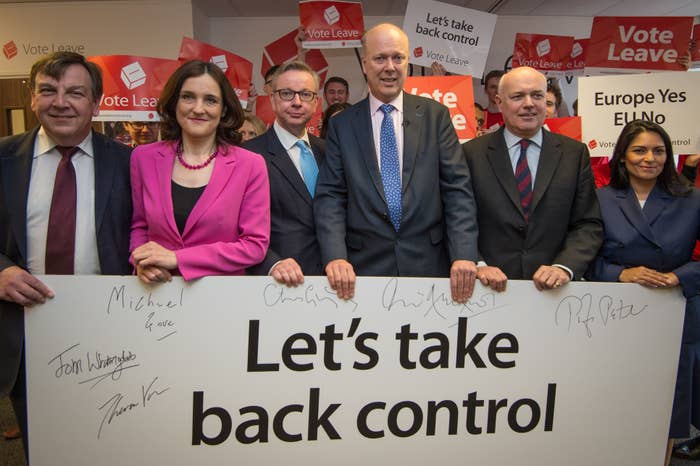 Ministers campaigning for Britain to leave the EU have been banned from accessing official government papers by Whitehall's most senior civil servant.
Cabinet secretary Sir Jeremy Heywood said ministers seeking Brexit would not be allowed any briefings or speech material on the EU.
Five cabinet ministers have broken ranks with David Cameron to campaign to take the UK out of the EU, including justice secretary Michael Gove and work and pensions secretary Iain Duncan Smith.
They have been joined by employment minister Priti Patel, who attends cabinet, London mayor Boris Johnson, who attends political cabinet, and several junior ministers.
In a letter circulated around Whitehall departments on Tuesday, Heywood made clear that it would "not be appropriate or permissible for the civil service to support ministers who oppose the government's official position by providing
briefing or speech material on this matter".
He added: "This includes access to official departmental papers, excepting papers that ministers have previously seen on issues relating to the referendum question prior to the suspension of collective agreement.
"These rules will apply also to their special advisers. In line with usual practice, departments may check facts for such ministers on request."
The guidance follows a decision by Cameron, who is campaigning for Britain to stay in the EU after securing a deal on reform last week, to suspend the principle of "collective responsibility" ahead of the referendum on 23 June.
That means ministers are free to take a different personal position from that of the government on the issue.
The document also makes clear that special advisers, who are political staff rather than civil servants, who want to work full-time for a campaign must resign their position for the duration of the referendum.
Matthew Elliott, chief executive of the Vote Leave campaign, said: "The civil service is institutionally pro-EU so it is no surprise that they are trying to make it as difficult as possible for ministers to campaign to leave. Civil servants often use EU law as a way to frustrate ministers from making sensible decisions. If we vote to leave we can cut the cost of Brussels and the cost of Whitehall waste that comes from EU bureaucracy."