You may have noticed this eye-catching Daily Express front page on Friday that claims 92% of people want Britain to leave the EU.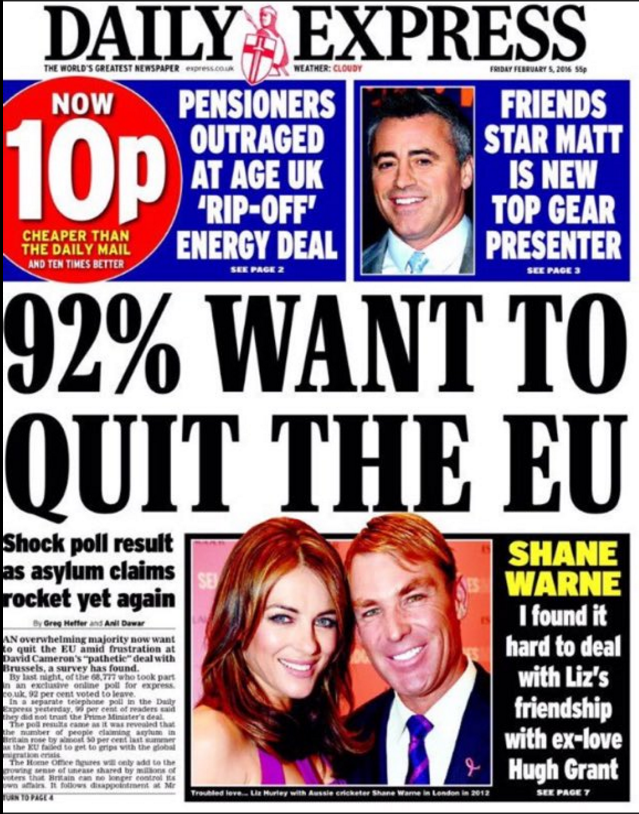 But read a bit closer – the poll was carried out by the anti-EU newspaper on its own website among its own readers:
AN overwhelming majority now want to quit the EU amid frustration at David Cameron's "pathetic" deal with Brussels, a survey has found. By last night, of the 68,777 who took part in an exclusive online poll for express.co.uk, 92 per cent voted to leave.
The survey contrasts with a YouGov poll for The Times on the same day that found 45% want to leave the EU.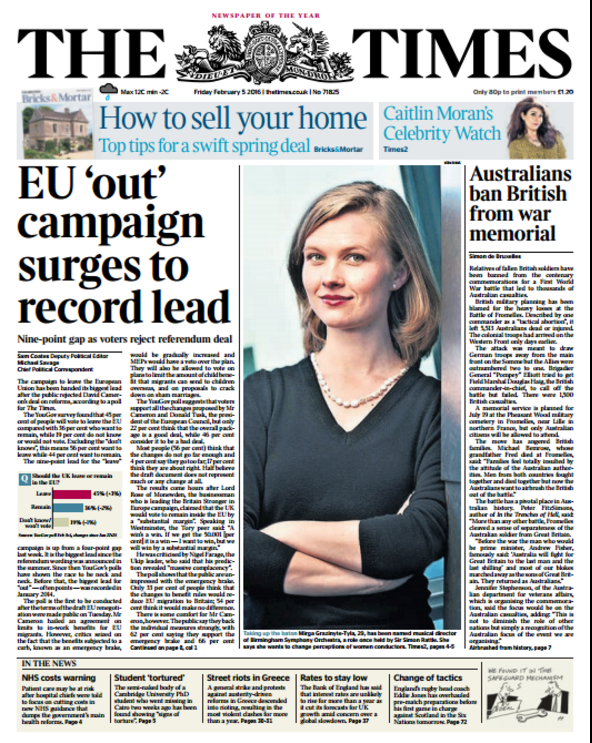 That's a record nine-point lead over those who want to stay in – but still falls rather short of the claims made by the Daily Express.
The YouGov survey found that 36% of people want Britain to stay in the EU, while 19% don't know or wouldn't vote.
It was the first YouGov poll on the subject since David Cameron agreed a draft package of reforms with the EU ahead of an in-out referendum expected in June, suggesting that lots of people weren't impressed with his efforts.
But experts have urged caution over the Times/YouGov survey, pointing out that it was carried out online and not by phone.
Matthew Goodwin, a professor of politics at the University of Kent, said people polled over the phone were much more likely to favour staying in the EU.
He told BuzzFeed News that when the YouGov result was factored into an "aggregate model" of polling – taking into account all opinion polls so far – the In campaign was actually ahead by two points.
"The reason for that is because we know the online polls present a somewhat different picture of the race than the telephone polls, which have around a 20-point lead for Remain," he said.
And let's not forget how wrong the polls were in the run-up to last year's general election – no one saw Cameron's outright victory coming.
"Everybody now is openly critical of polls – but the moment we have a single poll that pushes against the conventional wisdom, that poll is still flagged as being some kind of game-changer," said Goodwin.
He urged people not to put too much stock in a single survey, saying it was "just one source of evidence among many sources of evidence".
And he didn't have much time for the Daily Express poll. "You would have thought in an era where we have more data than ever, that journalists and national newspapers would be able to tell the difference between a nationally representative poll and a voodoo poll," he said.