Andy Burnham has said that infighting within the Labour party in the year since Jeremy Corbyn was first elected leader has made him "profoundly sad".
The shadow home secretary revealed the depth of his despair as he announced he was quitting the shadow cabinet to focus on his bid to become mayor of Greater Manchester.
In a speech to Labour's conference in Liverpool on Wednesday, Burnham said he was saddened that the achievements of Tony Blair's government had been "dismissed as if they were nothing" and that old friendships had been "strained".
And he defended himself from claims of flip-flopping, saying it was not "inconsistent" to give "exactly the same loyalty" to all four of the Labour leaders under whom he served – Corbyn, Blair, Ed Miliband, and Gordon Brown.
Burnham was privately criticised by some fellow Labour MPs this summer for staying on the front bench while many of his long-time friends and colleagues walked out in protest at Corbyn's leadership.
The former health secretary was elected Labour's candidate for mayor of Greater Manchester in a local party contest last month. Given the strong support for Labour in the region, he is clear favourite to be elected to the job in May 2017 and will probably quit as MP for Leigh if he wins.
Burnham told the conference: "I can tell you all first today that I have asked Jeremy to plan a new shadow cabinet without me, although I will of course stay until it is in place.
"It has been my privilege to represent our great party these last 10 years. But, at times, the last 12 months have made me profoundly sad.
"Sad to hear the achievements of our Labour government, in which I was proud to serve, being dismissed as if they were nothing; sad that old friendships have been strained; sad that some seem to prefer fighting each other than the Tories."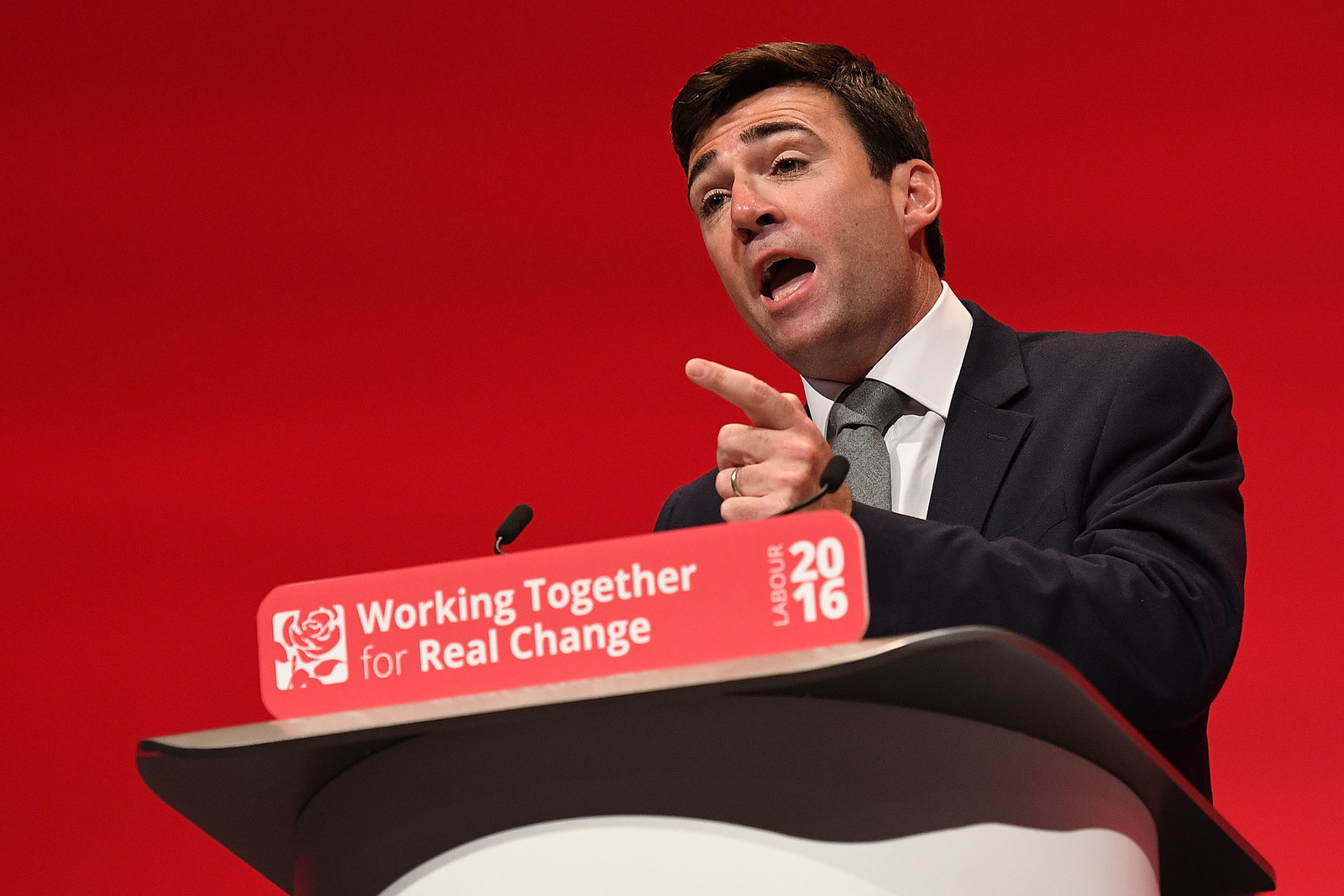 Burnham added: "I have given my all to this party and always put its interests above those of factions and personalities. And I have given exactly the same loyalty to all four of the Labour leaders I have served.
"Some say that makes me inconsistent. But you know what, conference? I have an old-fashioned belief – that a Labour government of any kind is a million times better for my constituents in Leigh than any Tory government and that is more likely to happen if Labour is united.
"So let us unite – let's have an end to divisive talk about deselections, but, in return, let's have more respect for the democratic will of you, our members. This city has reminded us all of the immense power of true solidarity. Let's learn from it. Let's turn the page and turn our fire on the Tories."
In contrast to Corbyn's strong defence of immigration, Burnham also said Labour needed to face up to the fact that "millions of lifelong Labour supporters voted to leave the EU and – let's be honest – voted for change on immigration".
He said many Labour voters had "a problem with people taking them for granted and with unlimited, unfunded, unskilled migration which damages their own living standards".
"And they have an even bigger problem with an out-of-touch elite who don't seem to care about it," he said. "If Labour now argues for the status quo, it will look like we have abandoned them too."
His speech was greeted with a standing ovation in the conference hall. It follows punchy speeches on Tuesday from London mayor Sadiq Khan and Labour's deputy leader Tom Watson, who both highlighted the need for Labour to win power.
However, it was met with criticism by Liberal Democrat chief whip Tom Brake, who said: "Only Andy Burnham can resign halfway through his own speech.
"I believe in politics there are weathervanes and signposts. Andy Burnham is the weathervane in a gale. He has had more views on immigration than I've had hot dinners.
"For a man who has spent his life facing both ways on this critical issue, his speech today takes the biscuit."