Labour Condemns Government Plan To Take Child Refugees "By End Of Year"
Downing Street expects the first children to arrive "by the end of this year" – but Yvette Cooper said this wasn't good enough.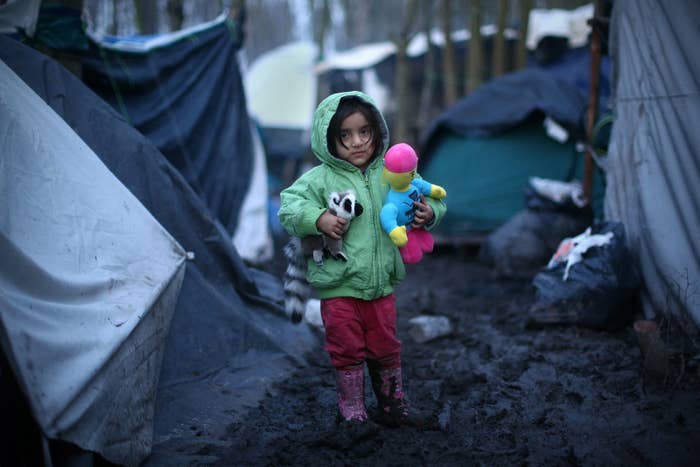 A senior Labour MP has accused the government of "dragging its feet" over child refugees after Downing Street suggested that the first youngsters would not arrive in the UK until Christmas.
The prime minister's spokesman stated on Monday: "It is a new scheme so we need to work with councils to get it up and running and that is why we expect we will have the first children arriving by the end of this year."
Yvette Cooper, chair of Labour's refugee taskforce, demanded an urgent clarification from the government in the House of Commons on Tuesday.
She said: "To have only the first children by the end of the year is simply not enough. Seven months may be a very fast time for a bureaucrat, it is a very long, long time for a child.

"We hear the warm words, we hear the commitment, yet at the same time Number 10 seems to be dragging its feet."
Immigration minister James Brokenshire insisted it might not take that long. "We do intend to make progress during the course of this year and therefore the first children will arrive before the end of this year – but that does not mean it will take seven months."
The government bowed to pressure last week and agreed to resettle some child refugees from Europe amid growing unrest from Tory MPs. But so far they have refused to say how many children Britain would be helping and over what time frame.

In a separate debate on Monday night, Labour called on the government to urgently accept over 150 children from the Calais refugee camp who have family connections to Britain. The party also challenged ministers to take 300 children most at risk in Greece and Italy before the new school year in September.
Shadow immigration minister Keir Starmer said: "Citizens UK has identified 157 children in Calais with family connections here. The challenge for the government is surely to take all those in Calais with valid legal claims for reunification.
"This is the time for action, not words. We also challenge the government to take 300 children most at risk in Greece and Italy before the start of the next school term. There is an urgency to this situation."
Last month, Tory MPs voted down a plan – spearheaded by Labour peer and Kindertransport refugee Alf Dubs – to accept 3,000 child refugees stranded in Europe.
But Dubs tabled a fresh amendment to the immigration bill calling for a "specified number" to be allowed, rather than 3,000. That plan has been accepted by the government.
Brokenshire said the resettlement scheme would only apply to children in camps in France, Greece, and Italy who were registered in the EU before 20 March. Talks are underway with those countries as well as charities and councils before final plans are announced.
"An arbitrary quota is not the correct approach," Brokenshire said. "It has no regard to existing pressures currently faced by local authorities who last year alone took charge of 3,000 unaccompanied asylum-seeking children who had made their way here."
Tory MP Sir Gerald Howarth, a former minister, warned that accepting child refugees from Europe was "cruel" and "dangerous". He said: "The policy is cruel because it will encourage desperate, tragic parents to send their children across the inhospitable seas of the Mediterranean in search of a better life."
He said ministers had been forced into a U-turn by Tory MPs "who have felt it necessary to parade their compassion".
"I do not believe the amendment to be a compassionate move," he added. "It sends out a very dangerous signal, encouraging parents to dispose of their children and put them at risk on the high seas, which is deeply dangerous."