Boris Johnson has resigned as foreign secretary, warning that the dream of Brexit was "dying, suffocated by needless self-doubt".
Johnson's dramatic decision on Monday came just hours after David Davis quit as Brexit secretary, saying the UK was giving away "too much, too easily" to the European Union.
In an astonishing day at Westminster that has left the Conservative party reeling and the government's Brexit strategy in doubt:
-- Johnson will be replaced as foreign secretary by Jeremy Hunt, who has been health secretary for the last six years.
-- Matt Hancock, the culture secretary, was promoted to the health secretary job to replace Hunt.
-- The double departure of the two most prominent Brexiteers in cabinet amounts to the most treacherous moment in Theresa May's premiership. But she vowed to stay on and fight any potential leadership challenge.
In a letter to the PM, Johnson said Britain appeared to be "heading for a semi-Brexit", with much of the economy still locked in the EU system but with no UK control over that system.
He said it was wrong to accept "huge amounts" of EU law without being able to influence those laws being made. "In that respect we are truly headed for the state of colony," he claimed.
"Brexit should be about opportunity and hope," he added. "It should be a a chance to do things differently, to be more nimble and dynamic, and to maximise the particular advantages of the UK as an open, outward-looking global economy.
"That dream is dying, suffocated by needless self-doubt."
In response, the PM said she was "sorry – and a little surprised" that he had decided to resign following their "productive discussions" at Chequers.
She wrote: "During the EU referendum campaign, collective responsibility on EU policy was temporarily suspended. As we developed our policy on Brexit, I have allowed cabinet colleagues considerable latitude to express their views.
"But the agreement we reached on Friday marks the point where that is no longer the case, and if you are not able to provide the support we need to secure this deal in the interests of the United Kingdom, it is right that you should step down."
Johnson had been under mounting pressure from Brexiteers in the Conservative party to take a stand against the deal forged at Chequers on Friday, which many believe is a "softer" direction of travel on Brexit.

He told the Chequers meeting that defending the PM's Brexit plan was like "polishing a turd".
But Johnson's decision to quit comes in an important week for foreign affairs – just days before he was due to attend the NATO summit in Brussels and meet US president Donald Trump on his first official visit to the UK.
Meanwhile, ministers held an emergency Cobra meeting on Monday about the death of British citizen Dawn Sturgess who was poisoned by nerve agent Novichok.
A Downing Street spokesperson said: "This afternoon, the prime minister accepted the resignation of Boris Johnson as foreign secretary. His replacement will be announced shortly. The prime minister thanks Boris for his work."
Asked if the prime minister would fight any formal challenge to her leadership, the spokesperson said simply: "Yes."
On Monday evening, May addressed a crowded gathering of backbench Tory MPs, where she was greeted with cheers and banging of tables.
One Tory who attended the meeting said the atmosphere was generally supportive, although there were some grumbles from MPs about the Chequers plan. Despite their disagreements, most agreed that the party would be punished at the ballot box unless they present a united front, the MP said.
"The room really heard that and understood that," he added.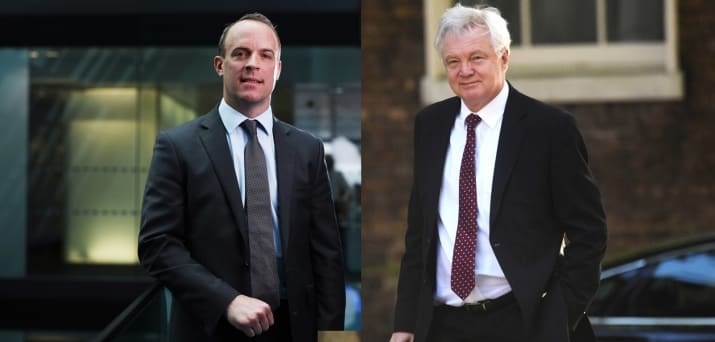 Johnson's replacement has not yet been announced. Davis has been replaced as Brexit secretary by Dominic Raab, who in turn has been replaced as housing minister by Kit Malthouse.
Brexit minister Steve Baker also resigned on Monday and will be replaced by Chris Heaton-Harris.
Two parliamentary private secretaries also resigned – Johnson's aide Conor Burns and Chris Grayling's aide Chris Green.
Fellow Tory MP Simon Hart was not impressed, tweeting at Green:
Labour's deputy leader Tom Watson said Johnson's resignation showed that the government was in "meltdown".

"The country is at a standstill with a divided and shambolic government," he said. "The prime minister can't deliver Brexit and has zero authority left."
A senior Tory MP told BuzzFeed News: "This is the Brexit mob's last hurrah."
In recent weeks, Downing Street insiders had said the prime minister could survive the departure of one of the big-name Leavers, but not both at the same time.
However, another Tory source said May's advisers had anticipated the possibility of a walk-out and planned for it.
BuzzFeed News understands that the foreign secretary had told friends recently that he wouldn't resign, regardless of May's softening of her Brexit strategy.
Pro-Brexit Tory MPs welcomed the move from Johnson.
Davis told LBC Radio that he felt "regret" at Johnson's resignation. He said he personally had to quit because he could not be "the champion of the policy that I didn't believe in".
He added: "I don't think it's central to foreign secretary, but there you are."
But Davis insisted May's role as party leader and PM was safe: "I would be surprised if one [a leadership contest] is precipitated and if there is, I suspect she'd win it. I don't think it's a survival issue at all."
May was faced with a barrage of heckles and laughter from Labour as she arrived in the House of Commons on Monday afternoon to answer questions on her Brexit plan.
She thanked Davis and Johnson for their service but insisted it was "the right Brexit deal for Britain".
The PM faced anger from pro-Brexit Tory backbenchers Peter Bone and Andrea Jenkyns who warned that their local activists and constituents had serious doubts about the direction of travel.
But May stood her ground, telling Bone: "This is not a betrayal." She said the UK would end free movement, end the jurisdiction of the European Court of Justice and stop sending "vast amounts of money" to the EU.