Boris Johnson Had A Lot Of Advice For The PM On Brexit. She Wasn't Listening.
Theresa May was busy answering questions from a committee during his resignation speech. What unfortunate timing.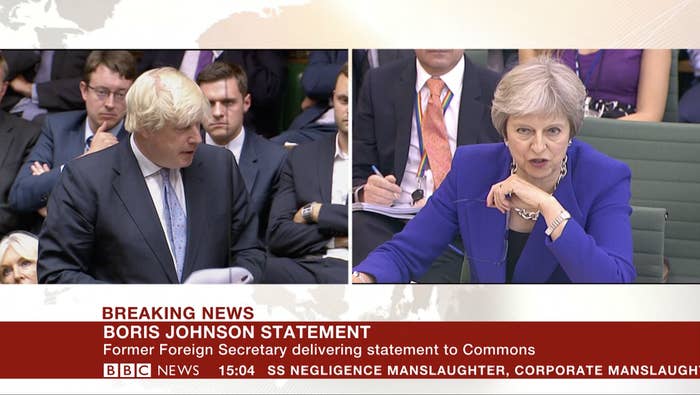 Boris Johnson had planned his big resignation speech to the last detail – he would sit close to where Geoffrey Howe made his own famous speech, surround himself with adoring Brexiteers, and address a packed House of Commons chamber just after Prime Minister's Questions.
But he didn't reckon on the number of urgent questions granted by the Speaker, followed by a frankly non-urgent ministerial statement which pushed his speech back to mid-afternoon.
It meant that prime minister Theresa May had the perfect excuse to miss his words of wisdom: She was addressing the liaison committee, the Avengers-style supergroup made up of all the select committee chairs.
"It is not too late to save Brexit!" Johnson said in the Commons. "We have time in these negotiations; we have changed tack once, and we can change again.
"The problem is not that we failed to make the case for a free trade agreement of the kind spelled out at Lancaster House – we haven't even tried!"
Meanwhile the PM was telling the committee why her Chequers deal – not the one forged at Lancaster House 18 months ago – was the right one for the country.
Johnson's 12-minute speech followed his resignation as foreign secretary nine days ago, when he warned that the UK was giving away "too much, too easily" to the European Union.
He chose a spot three rows down, near the middle aisle – just one spot away from where Howe delivered his own bombshell resignation speech in 1990 amid differences with then-PM Margaret Thatcher over European policy.
That was widely seen as the catalyst for a leadership contest which led to Thatcher's resignation a few weeks later.
Johnson was flanked in the chamber by allies Nadine Dorries and Conor Burns, while former cabinet ministers David Davis and Michael Fallon sat behind him, and his minister brother Jo Johnson watched from the front bench.
But after being hotly anticipated all week, his speech fell rather flat with some MPs and commentators.
Allies of course took a different view and loudly cheered Johnson as he finished his speech by calling on the PM to take "a positive and self-confident approach that will unite this party, unite this House, and unite the country as well".
Never one to miss an opportunity, Liberal Democrat MP Tom Brake promptly raised a point of order – saying that perhaps Johnson instead should have made a personal statement to say sorry to jailed British Iranian citizen Nazanin Zaghari-Ratcliffe.

"Would it have been in order for instance for a member or minister to have sought to make a personal statement to apologise for endangering a British citizen detained abroad?" Brake said.
"To apologise for repeating financial claims about NHS funding that had been comprehensively demolished by an independent respected authoritative body?
"Or to explain what involvement they had in an election campaign which has been heavily fined for breaking election rules?"
Johnson hurried out of the chamber during this, followed by his loyal group of friends. Meanwhile the PM went on answering her questions, happily oblivious to what was happening in the Commons.