Boris Johnson Has Warned Donald Trump Not To Destroy Iran's Cultural Sites
Trump has said that 52 heritage sites could be "HIT VERY FAST AND VERY HARD".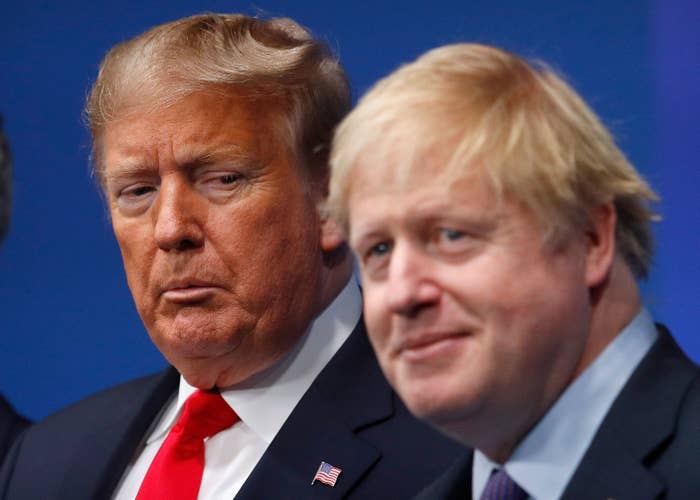 Boris Johnson has warned Donald Trump not to order attacks on Iranian cultural sites — noting he would be breaking international conventions.
The US president has threatened to hit areas of important historical value in Iran if the country retaliates over the killing of military commander Qassem Soleimani.
On Monday, the British prime minister's spokesperson said: "There are international conventions in place that prevent the destruction of cultural heritage."
Pressed on whether this would be a war crime, he said: "You can read the conventions for themselves — it's the 1954 Hague convention for the protection of cultural property in the event of armed conflict."
It comes after Trump tweeted on Saturday that if Iran was to strike any Americans or US assets, the US had targeted 52 Iranian sites that would be "HIT VERY FAST AND VERY HARD".
Speaking to reporters on Air Force One a day later, Trump said: "They're allowed to kill our people. They're allowed to torture and maim our people. They're allowed to use roadside bombs and blow up our people. And we're not allowed to touch their cultural site? It doesn't work that way."
Tensions between the US and Iran are soaring after Trump ordered a drone strike on Friday against Soleimani, who commanded Iran's Islamic Revolutionary Guard Corps' Quds force.
Huge crowds turned out for his funeral in Tehran, where Iran's supreme leader, Ali Khamenei, led prayers and Soleimani's daughter Zeinab warned the US it faced a "dark day": "Crazy Trump, don't think that everything is over with my father's martyrdom," she said.
Johnson spoke to Trump in a phone call on Sunday night. Asked whether he had personally asked him to show restraint, the PM's spokesperson said: "I think you can see from the PM's own statement and from the E3 [UK, France, Germany] statement, we are urging restraint on all sides."
In his statement after the call, Johnson said: "General Qasem Soleimani posed a threat to all our interests and was responsible for a pattern of disruptive, destabilising behaviour in the region.
"Given the leading role he has played in actions that have led to the deaths of thousands of innocent civilians and western personnel, we will not lament his death.
"It is clear however that all calls for retaliation or reprisals will simply lead to more violence in the region and they are in no one's interest. We are in close contact with all sides to encourage de-escalation."
The PM's spokesperson declined, however, to directly condemn Trump for his inflammatory tweets over the weekend, including this one on Sunday warning of a "disproportionate" retaliation against Iran.
The PM also spoke to the prime minister of Iraq on Monday to urge him to ensure UK troops can remain in the country as part of an international coalition to fight ISIS. There are currently 400 British Army personnel in Iraq.
"We urge the Iraqi government to ensure the coalition is able to continue its vital work in countering this shared threat," the spokesperson said.
Johnson will hold a meeting with foreign secretary Dominic Raab, defence secretary Ben Wallace, and senior civil service officials in Downing Street on Monday afternoon, ahead of a wider National Security Committee meeting on Tuesday.
The government is also expected to make a statement to MPs on Tuesday.