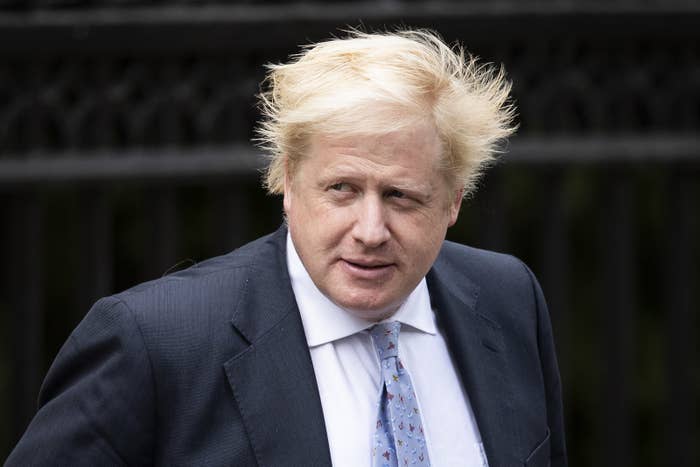 A senior Conservative Muslim has condemned Boris Johnson for comparing women in burqas to "letter boxes" and "bank robbers".
Mohammed Amin, chair of the Conservative Muslim Forum, said Johnson's choice of language was "very unfortunate" and would be seized upon by the far right.
Speaking to BuzzFeed News, Amin called on Johnson to apologise and keep quiet for the next 12 months as it would make Britain "a better place". He also pointed out that Johnson had been in direct communication with Steve Bannon, Donald Trump's former chief adviser, and "knows exactly" what he is like.
Amin was among many critics of Johnson's column in the Daily Telegraph on Monday, in which the former foreign secretary argued against a ban on face veils in public places but also said that face veils were "absolutely ridiculous".
"If you tell me that the burka is oppressive, then I am with you," Johnson wrote. "If you say that it is weird and bullying to expect women to cover their faces, then I totally agree — and I would add that I can find no scriptural authority for the practice in the Koran.
"I would go further and say that it is absolutely ridiculous that people should choose to go around looking like letter boxes."
He said women should remove their face coverings at his MP's surgery and that schools and universities should demand the same if a student turns up "looking like a bank robber".
Amin said: "Boris' article today will be seen by the ordinary British Muslim as a senior British Conservative — very senior, a man who until recently was foreign secretary — basically slagging off Muslims. There's no other way to put it.
"He forgets how much his words can hurt people as individuals and how much they can feed divisive narratives in our society. I'm afraid that is exactly the effect his words will have."
Amin said he had no quarrel with Johnson's argument that Islam does not require women to wear burqas and niqabs.
But he warned: "His comments will be seized upon by others from the far right, for example, who are continuously trying to press the narrative that Islam is not a normal part of British society.
"Boris is an educated man, he should know better. Only a couple of weeks ago he was having a meeting in London with Steven Bannon — he knows exactly what Steve Bannon is like and what kind of person he is and I've no idea what Boris is getting up to."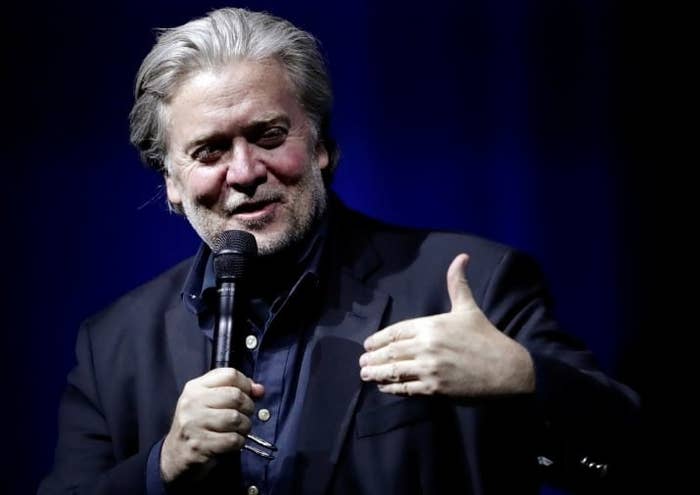 BuzzFeed News reported last month that Bannon was in private contact with Johnson while he was in Britain on a recent visit. It is unclear exactly what the two men discussed but a source who spent time with Bannon said: "I'm sure they weren't discussing the cricket scores."
Amin said Johnson was well aware of the impact of his words and knew "how his writings will be understood". He added: "He could apologise and he could take a Trappist vow and just stay silent for the next 12 months and it would make the country a better place."
Conservative peer Sayeeda Warsi, the former Tory party chair who has called for an independent inquiry into allegations of anti-Muslim sentiment within the Conservative party, accused Johnson of "dog whistle" politics.
She also hit at Conservative bosses for failing to get a grip on allegations within the party.
Meanwhile, David Lammy was among a number of Labour MPs who tweeted their own fury at Johnson's article, calling him a "pound-shop Donald Trump".

Another Labour MP, Jess Phillips, accused Johnson of breaching the Equality Act.
And Miqdaad Versi, assistant secretary general of the Muslim Council of Britain (MCB), accused Johnson of "pandering to the far-right".
In a statement, the MCB said Johnson's comments were "particularly regrettable in this current climate, where Islamophobia and anti-Muslim hatred is becoming worryingly pervasive with disappointingly little action from the current government".
Liberal Democrat foreign affairs spokesperson Christine Jardine said: "Mr Johnson's irresponsible comments mocking women who wear a burqa are abhorrent. He has proven himself to be a xenophobe.
"This desperate pitch to stay in the news completely disregards the women who are facing daily discrimination on our streets."
The prime minister's official spokesperson declined to comment directly on Johnson's "letter box" comparison but said: "The long-standing government position on this is clear, that we do not support a ban on the wearing of the veil in public.
"Such a prescriptive approach would be not in keeping with British values of religious tolerance and gender equality."