4 Things Boris Johnson Said About Brexit At Prime Minister's Questions That Weren't Really True
Terminological inexactitudes in action.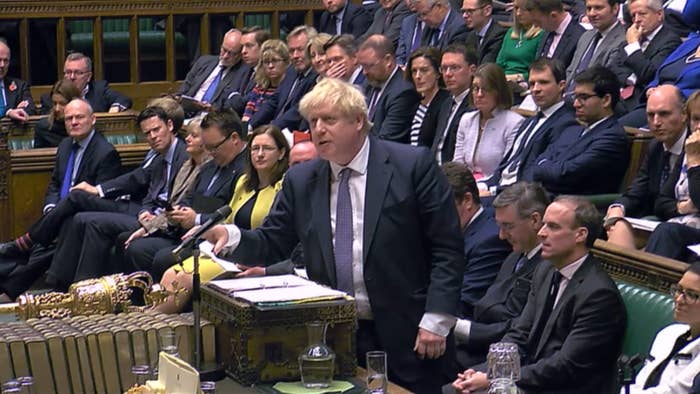 Boris Johnson stood up at Prime Minister's Questions on Wednesday, just hours after MPs rejected his timetable to ram his Brexit deal through Parliament by Oct. 31.
The PM faced questions from all sides over the next steps for Brexit, as he looked set to break his promise on getting Britain out of the European Union by Halloween.
But there were a number of things he said that raised eyebrows in the House of Commons — because they simply weren't true.
He said his Brexit deal got through Parliament last night.
Pointing to Labour, Johnson said: "They said we couldn't get a new deal, Mr Speaker, and we did! Then they said that we'd never get it through Parliament, and they did their utmost to stop it getting through Parliament, and we got it through Parliament last night!"

But he didn't. The deal didn't get through Parliament. The second reading of the European Union (Withdrawal Agreement) Bill was approved by MPs. But there were still several stages to go before it became law — not least, the detailed committee stage in which MPs planned to table a number of highly controversial amendments.
He said there would be no checks between Northern Ireland and Great Britain after Brexit.
"There will be no checks between Northern Ireland and Great Britain, and there will be no tariffs between Northern Ireland and Great Britain because we have protected the customs union," Johnson said.
In fact, there will indeed be checks if his deal becomes law. His own Brexit secretary Steve Barclay said so on Tuesday, when he appeared before the House of Lords EU committee.
"Just to be clear, the exit summary declarations will be required in terms of Northern Ireland to GB," Barclay said.
The PM's official spokesperson later told journalists there would be a "minimal administrative process" and denied these were checks.
"The Scottish Parliament has no role in approving this deal — on the contrary, it is up to the members of this Parliament to approve the deal," the PM told the Scottish National Party's Westminster leader Ian Blackford.
But the withdrawal agreement bill lists a number of provisions in which a "legislative consent motion" is required from Scotland and Wales.
He said that Parliament, not him, had requested a Brexit extension from the EU.
"Alas we cannot now know what the EU will do in response to the request from Parliament — I stress it wasn't my request — to ask for a delay," Johnson told Tory MP Ken Clarke.
It was actually his request. The PM sent three letters to the EU on Saturday night — but the important one was a letter from him asking for a "further extension" under Article 50.
There might have been no actual signature — and it was a photocopy — but the letter was from, you guessed it, "the Prime Minister of the United Kingdom of Great Britain and Northern Ireland".