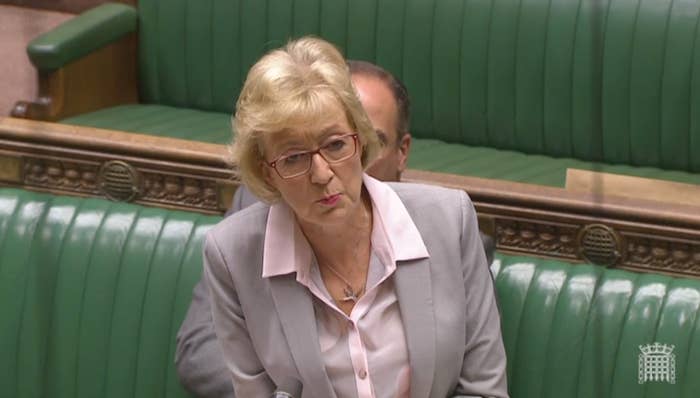 The government has come under fire from its own MPs after ignoring a Labour motion to pause the rollout of its controversial new benefits system.
Senior Tory MP Sir Edward Leigh bluntly warned ministers: "The road to tyranny is paved by executives ignoring parliaments."
His words were cheered by Labour MPs, who were furious at the government's actions on Wednesday night. Their opposition day motion on universal credit was passed by 299 votes to nil, after Tory MPs were ordered to abstain on the issue, in a symbolic victory.
Commons leader Andrea Leadsom was heckled with shouts of "disgrace!" as she defended the move on Thursday, pointing out that the motion was not binding on the government despite being passed.
Her Labour counterpart Valerie Vaz said the abstention was "disrespectful to the House", which is "where we make the law", and "not a school debating chamber".
And the SNP's Pete Wishart said: "I don't know what's going to be next – it might be the refusal to answer questions from the despatch box, maybe they'll even try and abolish all these inconvenient voting opposition parties."
Leigh, who has been an MP for 34 years, urged ministers to think carefully about their tactics. "It may be in the future that there is a minority Labour government," he said.
"They may produce policies which we think are deeply contrary to our personal liberties. We may muster a majority in parliament against it. What happens then if a future Labour government says 'I'm sorry, you set the precedent, this is only an expression of opinion, we're going to ignore parliament'?"
He concluded: "Parliament does matter. If we as Conservatives live by the sword now, our Conservative values in the future might die by the sword."
His words were greeted with cheers from Labour MPs, with cries of "Well said!"
Tory MP Peter Bone also raised concerns about the government's tactics, saying ministers should have to respond to a Commons defeat with a statement within 12 weeks.

Sarah Wollaston, the chair of the health select committee, was the only Tory MP to vote against the government – saying she had major concerns with the six-week wait faced by new claimants.
Earlier in the day, ministers had offered an olive branch to sceptical Tories by announcing that the universal credit helpline – which currently costs up to 55p a minute from mobile phones – would be free within a month.
It is historically rare for the government not to vote down opposition day motions, yet the minority Tory government has done so on a number of occasions since the election.
But Leadsom insisted that no precedent was being set. "Different parties, different members, will look on a case-by-case basis whether they will be voting on motions or not," she said.
"This government is very clearly listening to parliament and has very clearly taken action as a result of concerns raised in this House."
She said the rollout of universal credit already included a number of pauses built into the timetable.
The prime minister's spokesperson denied the government had been disrespectful by abstaining. "I think what would be disrespectful would be not taking part in the debate," she said.