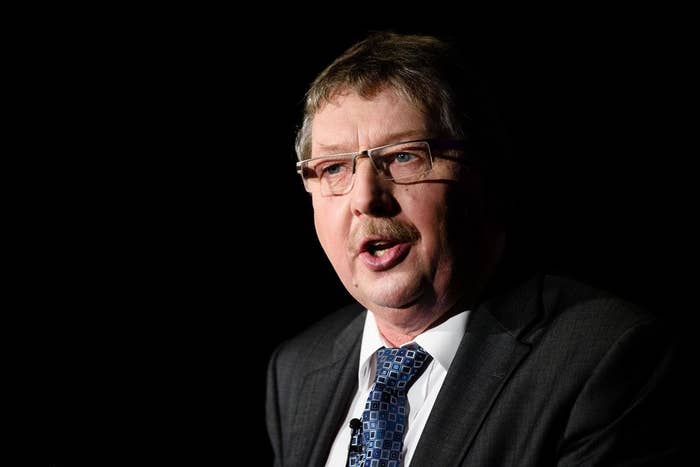 Northern Ireland's Democratic Unionist Party has moved to distance itself from one of its MPs after he was filmed apparently agreeing with a man who told him: "Get the ethnics out".
Sammy Wilson, MP for East Antrim, was walking around a market in Carrickfergus as part of a BBC Spotlight programme about the EU referendum.
Journalist Conor Spackman described on Tuesday how a man approached Wilson and the pair had a conversation that was caught on microphone.
Wilson told the man he was filming for "a programme on the BBC about should we stay in the European Union or get out of it".
The man said: "I'd say get out of it. Between you and me, get the ethnics out too." Wilson appeared to reply: "You are absolutely right, you know."
Spackman then wrote to Wilson asking him to explain what he meant by the remarks. In response, the MP asked if the BBC was "having a laugh".
Wilson added: "I am not prepared to spend any more time being interviewed, giving you explanations or responding to what anyone would regard as a disgraceful request to facilitate your biased political slant to this programme."
In a statement provided to BuzzFeed News on Tuesday, a DUP spokesperson said: "Sammy Wilson is reported to have made comments this morning about ethnic minorities.
"The DUP values everyone who comes to Northern Ireland and makes a contribution to our society. Ethnic minorities are vital to our biggest and best companies never mind our Health Service.
"'Get the ethnics out' is a disgraceful phrase. We disassociate the party from the comment made by a member of the public."
BuzzFeed News has approached Wilson for comment.