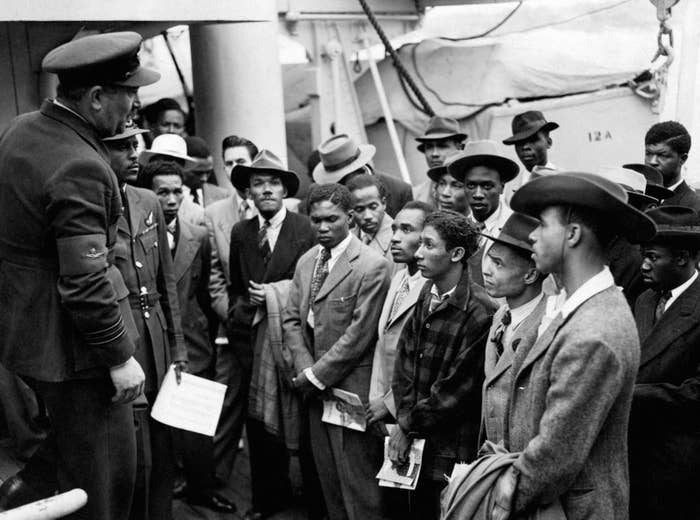 Ministers have admitted that some British residents from the "Windrush generation" may have been wrongly deported – but have no idea how many.
Home secretary Amber Rudd faced fury from MPs in the House of Commons after she was unable to say how many people who arrived in the UK as children from Commonwealth countries up to 70 years ago had been deported in error.
It came after immigration minister Caroline Nokes told Channel 4 News that some had "potentially" been wrongly deported. "I'm very conscious that it's very much in error and that's an error I want to put right," she said.
Rudd said she was "not aware of any specific cases of a person being removed in these circumstances" and would speak to the high commissioners of Commonwealth countries in London later this week to find out. She also asked MPs to raise any specific evidence with her.
"I am concerned that the Home Office has become too concerned with policy and strategy and sometimes loses sight of the individual," Rudd admitted. "This is about individuals."

Labour MP David Lammy, who has coordinated a letter from 140 cross-party MPs calling on the prime minister to take urgent action, said Rudd should consider her position as home secretary.
In a bid to play down the growing row, a spokesperson for prime minister Theresa May announced she would be meeting fellow Commonwealth leaders later this week to discuss the problems, and insisted that "no-one with the right to be here will be made to leave".

Reports had suggested that May had rejected a request from the 12 Caribbean leaders to discuss the matter, but Downing Street said she had only been made aware of the request on Monday morning.
Diane Abbott, Labour's shadow home secretary, said: "It is an absolute scandal that the Home Office doesn't even know how many people they have wrongly deported.
"Theresa May must apologise for this mess which has taken place as a direct consequence of the hostile environment she created. As home secretary, she removed the rules protecting Commonwealth citizens and as prime minister she has completely ignored the issue.
"The Windrush generation must have their rights as British citizens confirmed, any who have been deported must be invited back to the UK immediately and those who oversaw their deportations must be held to account."
The 1971 Immigration Act gave Commonwealth citizens living in the UK indefinite leave to remain, but the right to free movement between Commonwealth countries also ended from that date.

The Home Office did not keep records of those granted leave to remain, meaning that those who have not applied for passports could struggle to prove they have the right to live here.
The Guardian has reported how Home Office officials have requested to see four pieces of documentary evidence for every year spent in the UK. Nokes, the immigration minister, said this went too far and the Windrush generation should be reassured that they do not need to provide all these documents.
She told BBC2's Daily Politics: "We're saying work with us, help us build up a picture of your life in the UK and we will do our bit, working with HMRC [HM Revenue and Customs], the DWP [Department for Work and Pensions], to establish those records which may not be available at first-hand to the individuals concerned.
"I think I've been very clear how sorry I am about this whole situation, these are people who we have welcomed to our country, who we relied upon after the second world war to help rebuild. So of course I'm sorry, I'm sorry for all of the individual heartbreaking cases, and we have to do better."
A number of senior Tory MPs and ministers have tweeted their support for the Windrush generation, including housing secretary Sajid Javid and foreign affairs committee chair Tom Tugendhat.
In Lammy's letter, MPs call for an immediate guarantee of the status of all Commonwealth nationals and for an "effective, humane" route to the clarification of their immigration status.

"What is going on is grotesque, immoral and inhumane," Lammy said. "It is a stain on our nation's conscience and the prime minister must act urgently to right this historic wrong.
"After World War Two we invited the Windrush generation over as citizens to help rebuild our country, and now their children are being treated like criminals."
The row comes as May meets Commonwealth leaders in London as they gather for their annual summit.