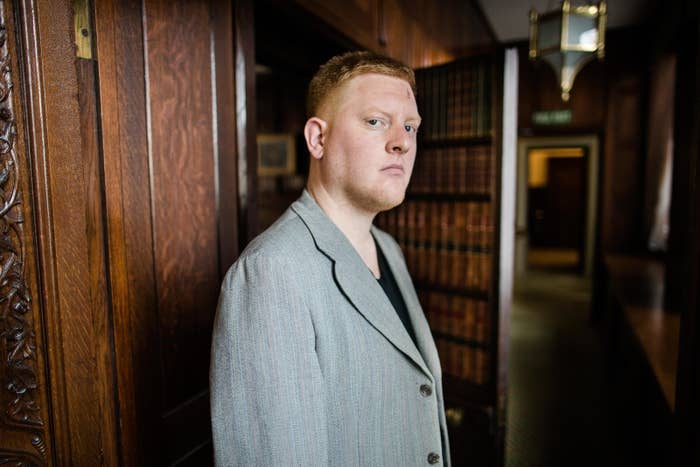 Labour has launched an investigation into new MP Jared O'Mara after he allegedly called a woman an "ugly bitch" earlier this year.
But O'Mara will not be suspended from Labour during the investigation, despite demands from opposition parties.
O'Mara, who was elected MP for Sheffield Hallam in June, has "categorically denied" claims by one of his constituents, Sophie Evans, that he called her an "ugly bitch" in March.
On Monday he resigned from the Commons equalities committee after it emerged he had posted misogynistic and homophobic comments online more than a decade ago.
He insisted then that such behaviour was in the past and that he had been "through a journey of education". But the fresh claims from Evans saw fellow Labour MPs calling for an investigation.
In a statement, Labour party spokesperson said: "The party is investigating Jared O'Mara MP in relation to comments and behaviour which have been reported from earlier this year."
BuzzFeed News understands that the whip will not be removed from O'Mara during this probe, meaning that he remains a Labour MP.
Jess Phillips, MP for Birmingham Yardley, had told BuzzFeed News earlier on Tuesday: "I think the NEC [National Executive Committee] needs to investigate and assess if he would have made it through a vetting process if they had known – and if not, how we go forward in cases like this."
She said she was "deeply worried" and "certain that without demonstrations of change, sorry is not enough".
Former shadow cabinet minister Chris Leslie told BBC2's Daily Politics had also called for an investigation, saying: "I think any allegations have to be explored and put to people.
"We have a system in the House of Commons – if people within our political party fall out of the conduct that is expected, then there are consequences that flow from that."
Evans told the BBC about the alleged encounter with O'Mara in a Sheffield nightclub in March. "There were some transphobic slurs in there, but he called me an ugly bitch," she said. "I just thought 'wow, he's not a very nice man' and just forgot about it.
"I knew that he was involved in politics but I had no idea at the time he was running for MP for Sheff Hallam, which is my constituency."

In a statement posted on the Guido Fawkes website, Evans claimed that O'Mara had said: "I wouldn't touch you with a manky woman's cock, you ugly bitch."
Evans also dismissed O'Mara's claims that he had changed his behaviour since posting abusive comments online in the early 2000s. "Fair enough for him to have said that about 15 years ago, but he won't even acknowledge something that happened seven months ago," she told the BBC.
"He never apologised to me or my friends that were involved in the situation. He has called us liars in the press, he has been on radio and called us liars. I just find it very, very hard to believe that he has changed."
Asked whether she believed Labour should launch an investigation, Evans told BuzzFeed News: "I hope they do. It's taken four months for them to acknowledge what he said to me."
Evans said she had not formally reported the incident but added: "I have been trying to make myself heard since June."
In a statement, O'Mara said: "The allegation made against me is categorically untrue."
He apologised for his historic online comments at a meeting of the parliamentary Labour party on Monday evening. Afterwards, he told Huck Magazine: "Overwhelmingly people accepted my apology, accepted my sincerity and remorse, they accepted I have been through a journey of education.
"I've stood down from the women and equalities select committee too – I think it's the right thing to do. I don't think I can continue on that committee when I feel so deeply ashamed of the man I was."
In 2004, O'Mara wrote a series of posts on a Drowned in Sound forum, saying singer Michelle McManus only won Pop Idol "because she was fat" and how it would be funny if jazz star Jamie Cullum was "sodomised with his own piano".

He also posted a string of extreme homophobic comments including references to "fudge packers" and "poofters".
Equalities minister Justine Greening had written to Labour leader Jeremy Corbyn calling for an urgent investigation and for the whip to be withdrawn from O'Mara in the meantime.