A Jewish Labour Group Has Been Accused Of "Running To The Daily Mail" With Stories
The latest row over anti-Semitism threatens to overshadow Labour's party conference.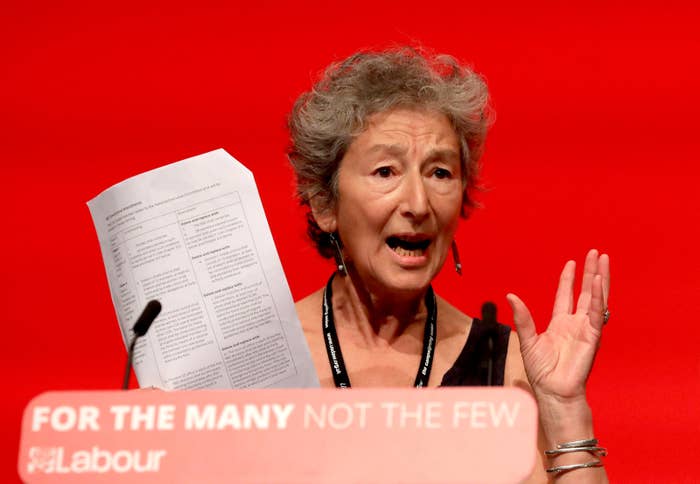 A major row has broken out between Labour activists over the best way to handle allegations of anti-Semitism after the Jewish Labour Movement was accused of "running to the Daily Mail and the Daily Telegraph with stories".

Naomi Wimborne-Idrissi, a Labour delegate for Chingford and Woodford Green, was cheered as she made the accusation at the Labour conference in Brighton on Tuesday.
The Jewish Labour Movement is backing changes to Labour's rulebook – brought in by the party's governing body, the national executive committee – that explicitly state for the first time that "prejudicial" conduct includes anti-Semitism.
But Wimborne-Idrissi, founding member of another group, Jewish Voice for Labour, said: "I must say the person who moved it from the Jewish Labour Movement would have a bit more credibility if his organisation did not spend so much of its time running to the Daily Mail and the Daily Telegraph with stories."
The row came hours after Israeli-American author Miko Peled reportedly told a fringe event, chaired by Wimborne-Idrissi, that people should be allowed to question whether the Holocaust happened – leading to swift condemnation by shadow ministers Tom Watson and Jonathan Ashworth.

The damaging divisions over how to handle anti-Semitism threatened to overshadow the conference on Tuesday. On Twitter, the Jewish Labour Movement promptly denied Wimborne-Idrissi's claim over its links to certain newspapers.
Mike Katz, national vice-chair of the Jewish Labour Movement, told the conference: "Come on, is it really okay for a member to say they've got a sincerely held belief that women are inferior to men, or that the Holocaust didn't happen? No, of course not.
"We want to see anybody saying that kicked out on their ear. Following Jeremy's [Corbyn] clear leadership, this rule change is something the whole party, like the NEC, can unite behind, showing we have – from the very top of the party down – zero-tolerance for anti-Semitism, for Islamophobia, for racism, for homophobia, misogyny, for any hate."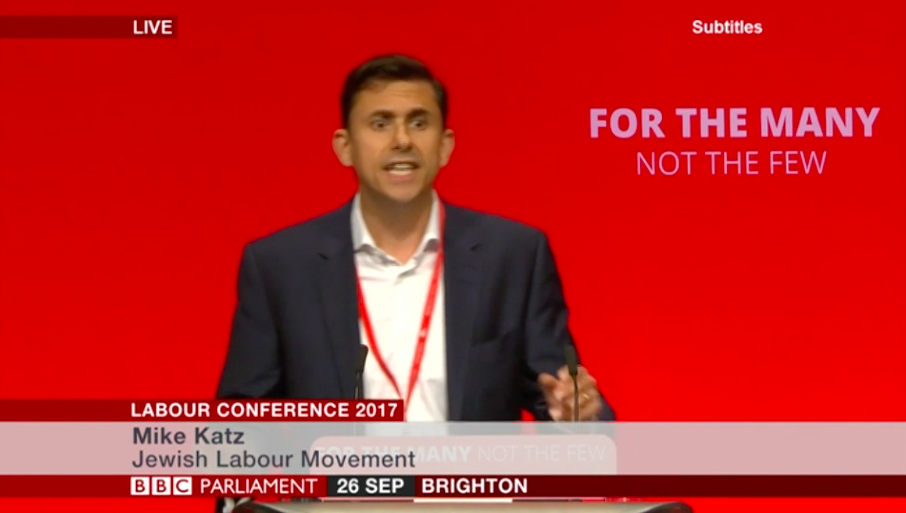 Kate McCann, a senior political correspondent at the Daily Telegraph, reacted to Wimborne-Idrissi's claim on Twitter.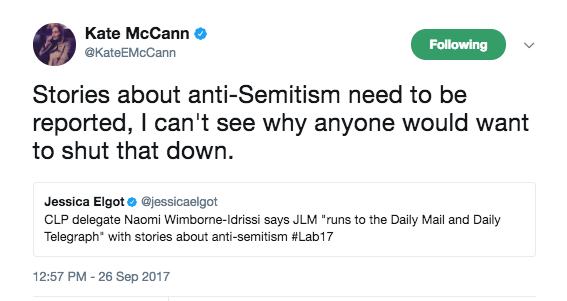 And Jason Groves, political editor of the Daily Mail, also responded.