On May 3, a police dog named Thames went missing for seven days in the Tararua Ranges, a series of tall mountains on New Zealand's North Island.
Despite a week of searching to no avail, Thames' handler Mike Wakefield and experienced volunteer searcher John McCann did not give up. On May 10, they found the lost pooch!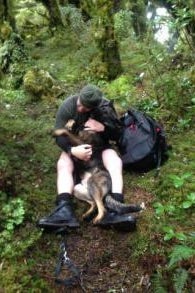 It was a fresh paw print in the mud that gave the search party the tip-off, the New Zealand Herald reported.
"I whistled and called but he ran off as if to say come this way before running back and giving me a big lick," Westfield told the Herald. "He wolfed down half of my salami which is a treat for him. I gave him a cuddle and we had a big play. I was just lost for words."
Thames reportedly looked a bit thinner than he had before having to forage for food for a week, but the 4-year-old German shepherd had enough energy to give his handler an enthusiastic greeting and trudge the four hours out of the range.
People from around the world have been tweeting their happiness at Thames' safe return, giving New Zealand Mother's Day and a visiting Prince Harry a run for their money.
Someone even made an illustration!
Thames went for a check up at the vet, and was given a week off of work before he returns to police the streets alongside Wakefield, the New Zealand Police said in a statement.
Welcome home, Thames! 🎉 🎉🐕 🎉 🎉
Looks like there are no comments yet.
Be the first to comment!