1. Swift relationships and proposals run in the Kardashian family. There were just 90 days between Kris Humphries proposing to Kim and them marrying because she wanted to look "young and at her best" in the photos.
2. Caitlyn and Kris Jenner married after five months of dating, while Khloé Kardashian and Lamar Odom met and married within a month.
3. And, what's more, while Kim's "72 day marriage" to Kris Humphries was mocked relentlessly, her maternal grandmother MJ Shannon actually holds the record for the shortest relationship – her first marriage in 1952 lasted only two months.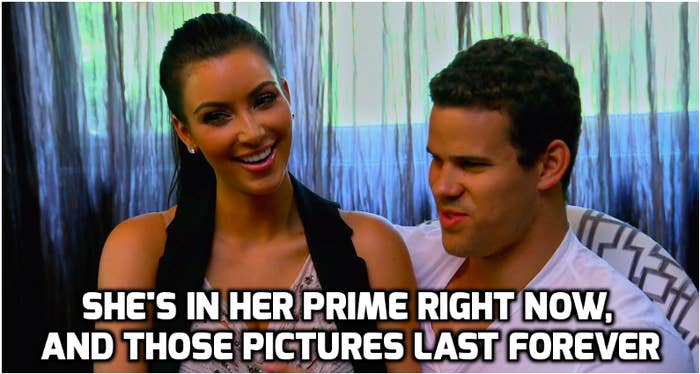 4. Kris Jenner and Robert Kardashian Sr. split after she had a three month affair with a man ten years her junior. To this day, she can't explain what compelled her to cheat, but says that announcing their divorce to her children remains "the single biggest regret" of her life.
5. After the divorce, Kris moved in with the man she cheated on Robert with. But within months she walked in on him having sex with another woman, and the relationship ended.
6. A couple of months after that, Kris and Caitlyn were set up on a blind date, became inseparable and got engaged three months after Kris and Robert's divorce was finalised. In fact, Caitlyn asked Robert for his blessing before proposing to Kris.
7. However, at the start of their relationship, Kris warned Caitlyn: "Never trust me" – words which were relayed after Kris's affair became a main plot-point of Keeping Up With The Kardashians in 2012 after her memoir detailing the relationship was released.
8. Kris eventually reconciled with the guy she'd had an affair with during an episode of KUWTK which saw them meeting by chance during a tennis lesson and going for a secret drink. Kris revealed that doing so had just confirmed to her how much she loved Caitlyn – who called her an "idiot" for even meeting up with Todd when she found out.
9. Out of all the kids, Kourtney took Kris and Robert's divorce the hardest. In fact, she wore black for five straight years after they split.
10. And Kourtney's anger at her mother's affair has actually lasted decades – after she gave birth to her own kids, Kourtney said she couldn't comprehend how Kris could've destroyed her family by cheating.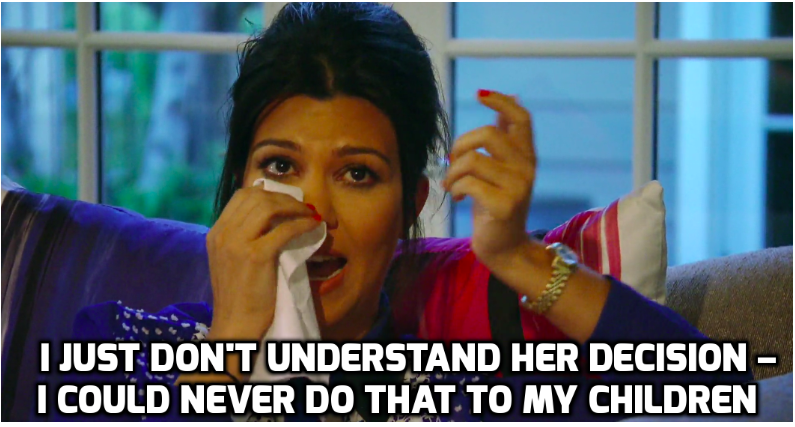 11. You're probably very much aware of Kim's two incredibly public marriages, firstly to Kris Humphries and now to Kanye West. However, she's actually been married three times.
12. Kim eloped to Las Vegas with Damon Thomas when she was just 19 and the marriage lasted three years. The divorce papers included first-person testimony from Kim in which she alleged that Thomas had been physically and emotionally abusive, claiming he'd forced her to quit her job, hit her and threw her across the room and once tried to choke her. The marriage was officially dissolved in February 2004.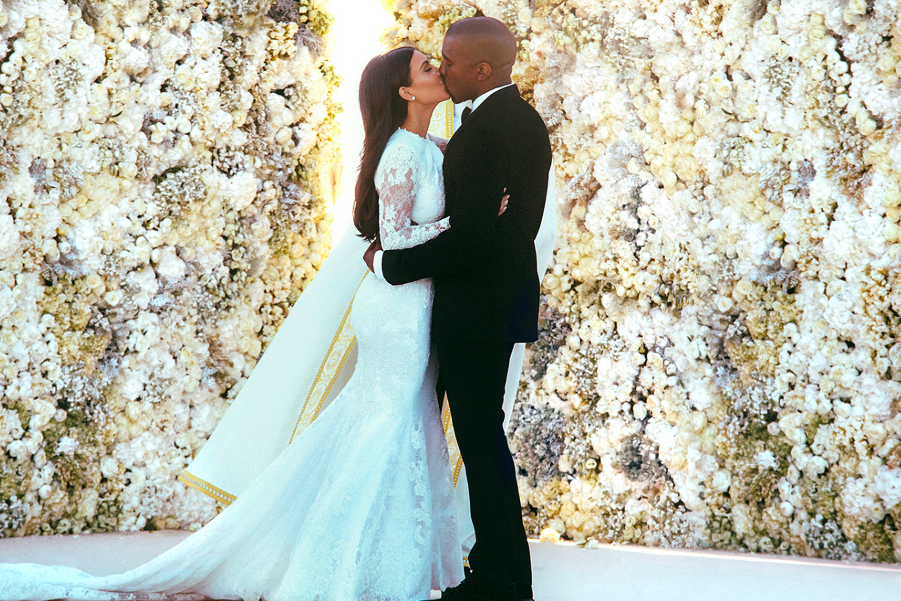 13. None of Kim's family liked Kris Humphries when they got engaged. Khloé was actually briefly uninvited from the wedding after she questioned his intentions.
14. The night before the wedding, Kris Jenner even asked Kim: "Do you want out? You're not yourself."
15. And, during the ceremony, Khloé was heard whispering to another guest: "I give it six fucking months."
16. Khloé's prediction ended up being pretty close to the truth, since it turned out that Kim and Kris hadn't spent more than a full week together before getting married, and she realised the relationship was over during the honeymoon.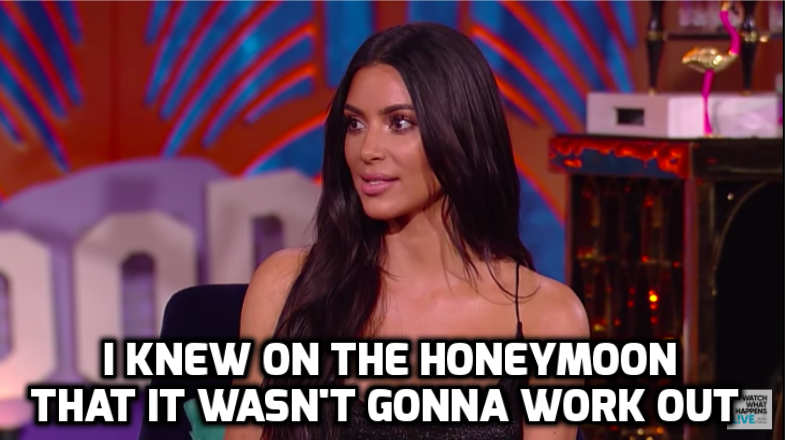 17. There may have been many jokes about Kim and Kris Humphries' marriage lasting only 72 days, but the divorce proceedings actually dragged on for two years.
18. In fact, Kim was just two months away from giving birth to North West – her daughter with Kanye – when the divorce was granted. Had it not been finalised by the time she gave birth, Kris would have been the presumed legal father – and Kanye wouldn't have been able to issue a voluntary declaration of paternity either.
19. Kourtney Kardashian and Scott Disick were actually broken up when they conceived their first child, Mason. In fact, they'd been apart for a full six months before a drunken hook-up in Miami after which Kourtney missed a birth control pill. Who knows if they'd ever have got back together otherwise.
20. Scott's alcohol and substance abuse has been well documented on KUWTK, but when Kourtney was recently asked how she'll explain some of the troubling scenes to their three kids, she responded: "I'll just say none of it's true."
21. Scott and Kourtney also got secretly engaged, but called the whole thing off before telling anyone. During an episode of KUWTK, Scott revealed: "I asked her to marry me. It was really weird. I don't think we told anybody. It was somewhat cute and then we just got scared about the media and this and that, and we were like: "Let's just put the ring aside and we'll talk about it another day." We never spoke about it again."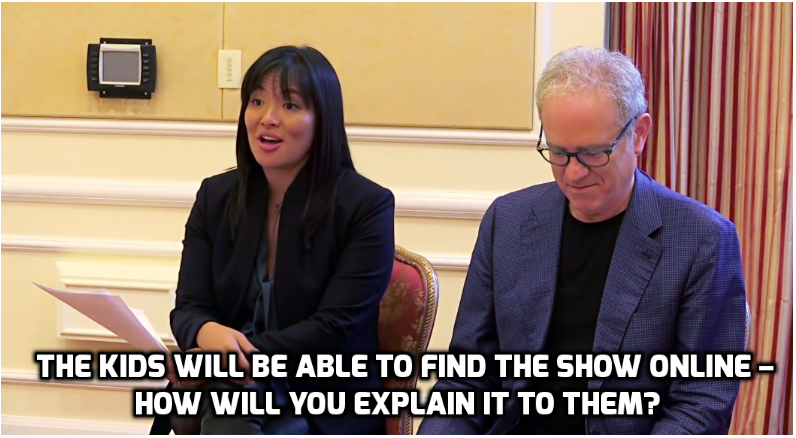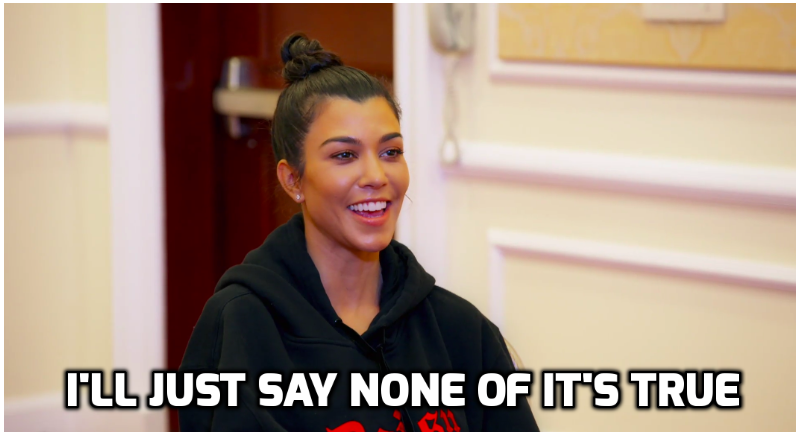 22. In 2010, Khloé revealed that she lost her virginity aged 14 to a man four years her senior. She admitted that she felt pressured into having sex and after months of feeling "disgusted" with herself, broke off the relationship and didn't have sex again for three years.
23. When Khloé and Lamar decided to get married within a month of meeting, Kris Jenner was tasked with organising their wedding in just ten days, which involved calling in all kinds of favours. Luckily, Vera Wang is a good family friend and was able to supply a couture wedding dress at last minute.
24. Caitlyn Jenner, however, was the only family member who wasn't informed of Khloé's engagement. Khloé argued that she didn't want to tell Caitlyn until she had an engagement ring to "make it official." But the plan backfired when Caitlyn found out about the engagement on the evening news.
25. The fallout between the pair over the situation was so severe that Caitlyn ended up calling Khloé an "asshole," while Kris revoked Caitlyn's invitation to walk Khloé down the aisle. Luckily the argument was resolved, Lamar got down on one knee in front of the whole family and Caitlyn did walk Khloé down the aisle.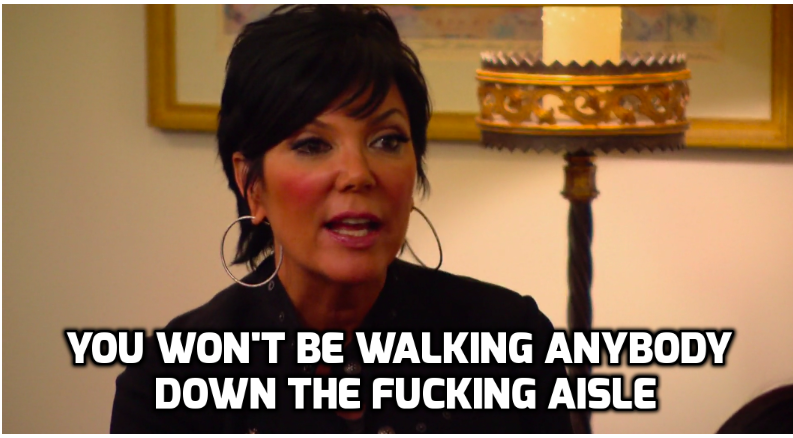 26. Kim's first boyfriend was none other than Michael Jackson's nephew, TJ Jackson.
27. In fact, Kim's 14th birthday party was held at Michael Jackson's Neverland ranch. Years later she revealed that the party involved "baby elephants and chimpanzees in overalls".
28. And to this day, Kim has a box filled with mementos from their relationship. Among the saved items are prom photos, a fake chicken foot used as a prop in a Michael Jackson video, chocolate from Neverland, a confidentiality agreement and the box her chicken nuggets were served in during their first date.
29. Kim wasn't the only Kardashian to have dated a member of the Jackson family, however. Kourtney dated Taryll Jackson between 1999-2004, and he was her last boyfriend before her relationship with Scott Disick began in 2005.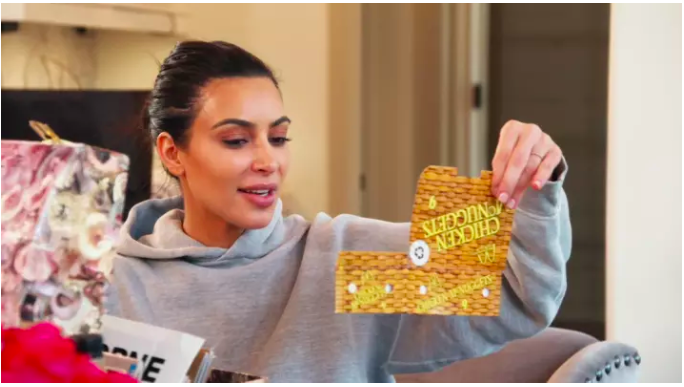 30. Prior to marrying Kris Humphries and then Kanye West, Kim was convinced that her ex, Reggie Bush, was "The One." In fact, when asked about the relationship in 2008, Kim said: "This is it for me. Reggie has been my support system and he's such a good guy. After we get married, we'll have kids. Hopefully I'll be pregnant within two years."
31. Khloé kept her marital issues with Lamar a secret from her family for over two years. She first caught him taking cocaine at their home in 2011. From that point until they split in 2013, Lamar was both using drugs and being unfaithful.
32. Khloé only opened up to her family as she struggled to decide whether or not to end the marriage. In fact, the pair were in the middle of divorce proceedings when Lamar was found unconscious in a Nevada brothel in 2015. Khloé halted the proceedings in order to make all of his medical decisions.
33. Once he was fully recovered she revealed that it was her "dream" for them to reconcile. However, after he was photographed drinking alcohol, Khloé re-started divorce proceedings and they were finalised in December 2016.
34. To this day, Lamar says his biggest regret was "having multiple affairs with different women." Reflecting on the marriage last year, he said: "I wish I could have kept my dick in my pants."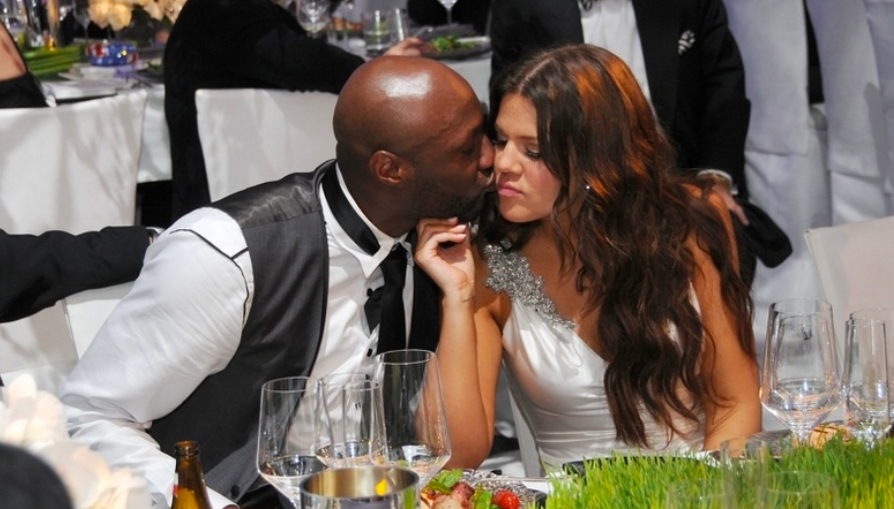 35. Kanye has, by his own admission, been obsessed with Kim since they were first introduced back in 2004. Their first conversation was a phonecall that lasted eight solid hours.
36. In fact, Kanye was prompted to get his first ever cell-phone after learning that Kim was dating and planned to marry Kris Humphries. He began sending her unflattering photos of former basketball players alongside messages saying: "This is your future."
37. And, in his song "Cold," released in 2012, Kanye rapped: "And I'll admit I had fell in love with Kim/Around the same time she had fell in love with him."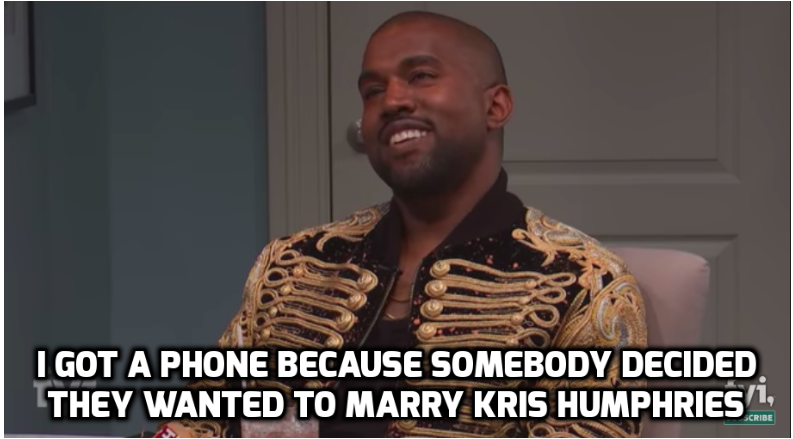 38. Kimye were once king and queen of grand gestures - For their first Valentine's Day together, Kanye sent Kim 1,000 red roses. And for her 34th birthday, Kanye forked out $70,000 for a Hermès Birkin bag that he then had North decorate with paint and handprints. For Kanye's birthday in 2016, Kim rented an entire island for them and their kids.
39. And rather than having place cards at their wedding, Kim and Kanye had a team of Italian stone masons engrave the names of their guests into a marble table.
40. One hour before the wedding was due to take place, Kanye took such a dislike to the bar that had been installed for the reception that he chopped the whole thing in half and asked for two pieces of wood to be nailed onto the front. Once finished, he stood back and declared: "Now it's art."
41. However, since Kim was robbed at gunpoint in Paris, the grand gestures of their relationship have changed.
42. In fact, the Paris robbery was also the reason for Kim and Kanye expanding their family. After the incident, Kim felt compelled to have another child so that if anything were to happen to her, her kids would have each other.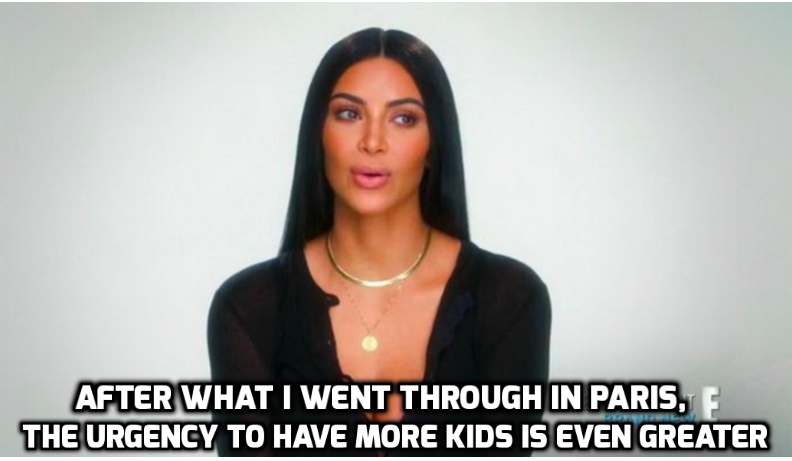 43. Kanye's wedding present to Kim was a specially commissioned painting of her in a thong with "My Queen Kim" down the left-hand side of the canvas and "Perfect Bitch" on the right.
44. He's also incredibly passionate about Kim's nudity. He once described her naked body as "a Renaissance thing, a painting, a modern version of a painting".
45. And, finally, Kanye believes that Kim not showing off her figure would be like "Adele not singing".