This Celeb's Reasoning For Cheating On His Girlfriend Is Kinda Fucked
Lewis Bloor revealed Marnie Simpson made him feel "insecure," so he felt compelled to cheat in order to make their relationship work.
You may recall that, two weeks ago, Geordie Shore's Marnie Simpson dumped her former TOWIE boyfriend, Lewis Bloor, after she found out that he'd cheated on her while she slept during a romantic holiday together.
Marnie was sent a stream of direct messages from a girl who claims that she and Lewis did "everything but" have sex while Marnie slept in the same hotel.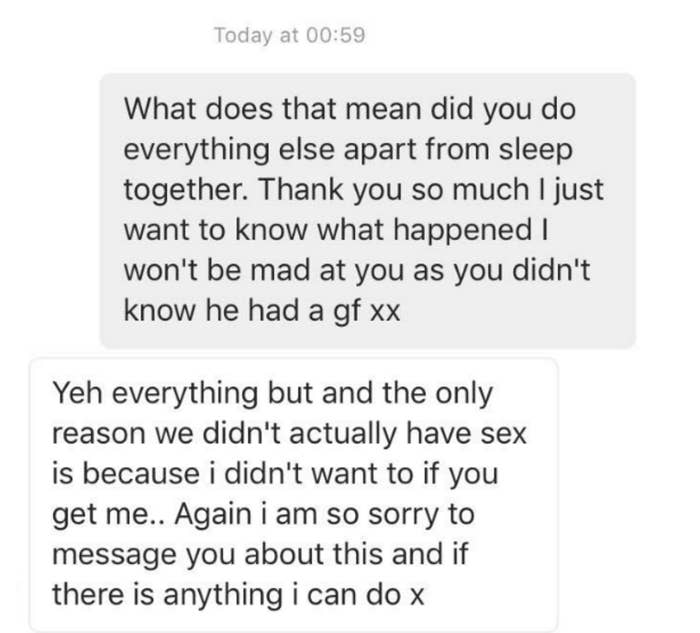 Marnie unceremoniously dumped Lewis, posting a Snapchat story in which she said she'd smashed up her home in anger and had felt "every emotion possible".
Well, now Lewis has had his say on the matter, confirming that he did cheat on Marnie because he'd felt "insecure" about the fact she'd appeared to flirt with another guy.
Speaking to The Sun, Lewis explained:
Marnie and I were getting ready to go for a night in Barcelona and suddenly her phone went off and she became really excited that this boy was in the city too. I was like, "Who the fuck is this geezer?" So I say we have to go and meet him. We met this guy who was very good looking and I was standing there, very observant. I could tell there was some kind of history as they wouldn't stop flirting. As we said goodbye Marnie said she wanted to give him a hug. So I was like, "Fuck this," and was absolutely fuming.
Later that evening, Marnie explained that she and the guy had had "a thing" in the past. Lewis said that the revelation left him feeling emasculated, and that he felt compelled to hook up with someone else in order to be able to continue with their holiday.
He said:
My logic was: "I don't want to forget about this relationship just yet." So I did something to feel a little more manly I suppose – how pathetic is that? But it's true, just because I felt like I was being mugged off. I didn't do it to spite Marnie, I did it because I felt very jealous and insecure and that it would allow us to continue with the holiday. Crucify me all you want.
He went on to say that by 5am he couldn't sleep, and thought "Fuck this, I don't want to be in this relationship," so went down to the beach where he met two girls.
Lewis said:
I couldn't sleep, Marnie was asleep in the hotel, and I'm thinking, "Fuck this, I don't want to be in this relationship." So I went down to the beach as the sun was coming up, and there were a couple of girls down there who I got talking to and I ended up kssing one of them. We went back to their room and we ended up kissing in bed, but that was it.
The next day, he decided he would try and give things another go with Marnie.
Lewis said:
I woke up the next day and thought, "Right, I'm in Barcelona with Marnie, we do get along, we do have a good relationship so far, and everyone has history," so just decided to continue as we are.
He concluded by saying he feels insecure and intimidated by Marnie, who is "powerful and attractive".
He said:
She's deeply in love with me and I am with her. It's so hard being with someone who is so attractive and such a powerful woman, and when you have any insecurities they come out.
Lewis's revelations come just days after Marnie admitted she's still in love with him and was considering taking him back.
She told Star:
I'm really confused about where things stand with Lewis. When I saw him last week I was so angry I screamed at him. He's apologetic and I know there are reasons why he cheated. It's hard to say if I'll take Lewis back because I don't know if I'm strong enough to forgive him. I do still love him even though he's hurt me.
What happens next is anyone's guess, but it looks like there is more drama to come.
Spokespeople for Marnie and Lewis have been contacted.