We at BuzzFeed News are proud to bring you a range of stories, from the serious to the lighthearted. To help keep it all free, become a member.
Sarah Hyland has confirmed that her wedding to fiancé Wells Adams is officially on hold due to the coronavirus crisis.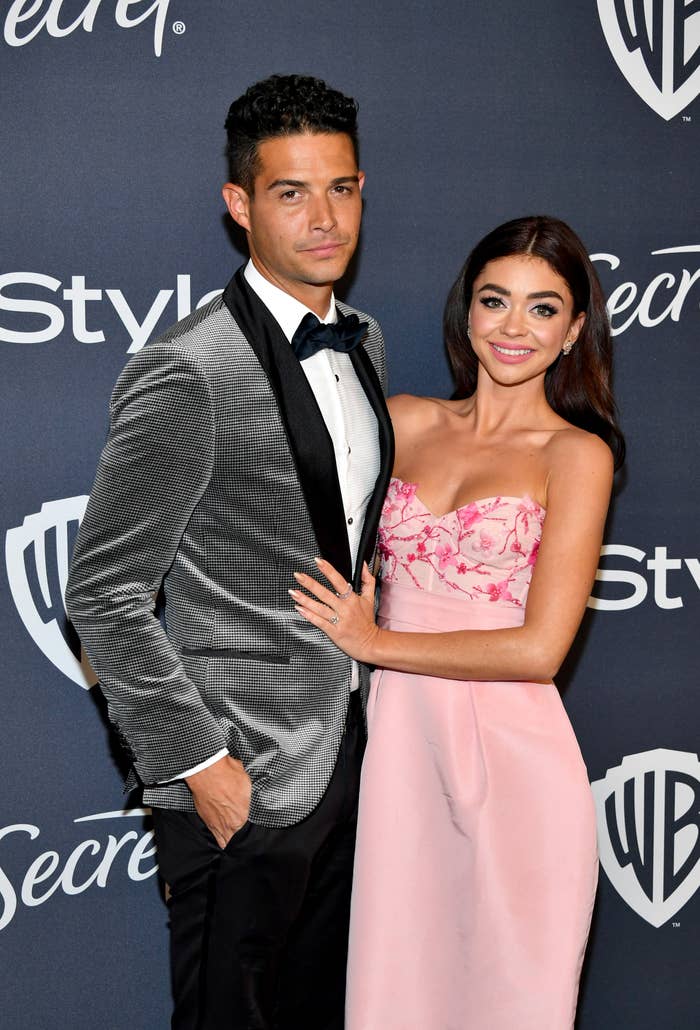 The Modern Family and Bachelor stars have been dating since 2017 and got engaged during a vacation in Fiji last July.
Sarah was over the moon with the proposal — in fact, she posted so many photos and videos in the days and weeks afterwards that one commenter called her "obnoxious" — so it seemed as though it would only be a matter of time before she opened up Pinterest and began planning the elaborate nuptials.
However, the coronavirus crisis struck just six months after their engagement, and the pair have now decided to postpone any planning until the situation has improved.
"We have no plans as of right now," she said. "We've put all planning on hold."
"All of my family is on the East Coast, so for them to fly out...and just ages [of the guests] and of course with my health risks, we want to be as safe as possible."
Sarah's comments come a month after Wells hinted that they'd stalled their wedding planning, telling Access Hollywood: "What's the point of even trying to get something solidified with everything being so up in the air?"
However, Wells went on to say that he and Sarah had definitely ruled out getting married over Zoom, adding that if the pandemic "lasts really really long", that they would consider doing "a small backyard thing" with a handful of friends and family.
But for Wells, the postponement might actually turn out to be a good thing. In fact, shortly after the pair got engaged, he revealed that he wanted to spend some time enjoying the moment rather than thinking about weddings.
"We're, like, a month into being engaged and I've never been engaged before and I assume I'm never going to be again," he told Entertainment Tonight. "I kind of want to just enjoy this little time."
"Also, Sarah is going to be, like, Pinterest boards and vision boards and a lot of Elmer's glue is going to be involved," he added. "So I think we're just holding off on that."
Here's hoping they get their dream wedding soon.