Orlando Bloom Fixed His Tattoo Fail After Misspelling His Son's Name, And Blamed Pinterest For The Mistake
"Finally dot it right!"
Last week, Orlando Bloom unveiled a brand new tattoo dedicated to his 9 year-old son, Flynn.
Sharing a snap of the tattoo on Instagram, Orlando explained that the lines and dots are Morse code spelling out Flynn's name, while the numbers above it represent the date and time of his birth.
The only problem is that people were quick to notice that the Morse code was wrong.
And BuzzFeed thoroughly investigated the situation, discovering that this is how "Flynn" is spelled using Morse code.

And that this is what the tattoo actually said.

Here are the two spellings next to each other. The correct spelling's on top, Orlando's tattoo is below and the red arrow points to a dot that should be there but wasn't.
Well, after seeing the comments on his Instagram post, it seems that Orlando has amended his mistake.
He posted a brand new photo of his updated tattoo, in which the missing dot is visible!
And, in the caption of the post, he revealed that the mistake was down to Pinterest.
"••-••-••-•---•-• finally dot it right! How do you make a mistake like that? #pinterestfail (read the small print) 😂" he wrote.

The tattoo artist himself even posted about the fail on Instagram, revealing that he'd learned his lesson and would "never fully trust what [his] clients find on Pinterest" again.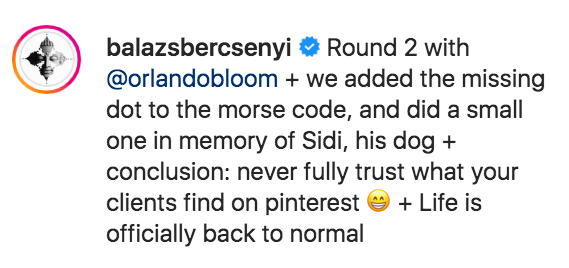 Phew! All's well ~tat~ ends well.