Lana Del Rey is receiving backlash after defending her new album artwork in a bizarre Instagram comment highlighting the people of colour in the image.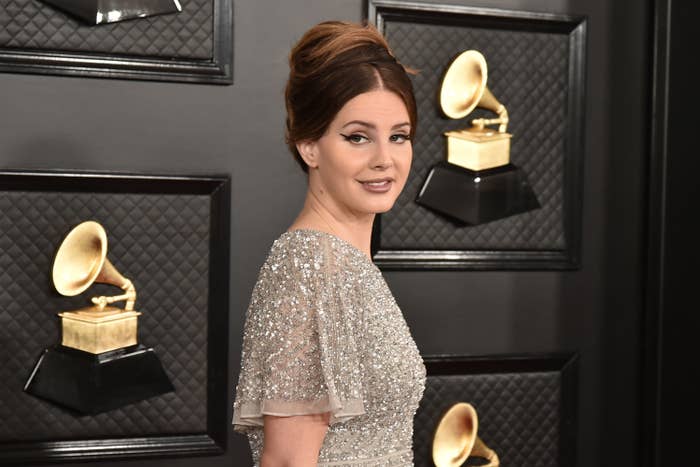 The controversy began after Lana shared a photo of the artwork for her upcoming seventh album, Chemtrails Over the Country Club, alongside a caption describing it as "beautiful music" amid "turmoil and upheaval."
However, Lana quickly followed the post with a second, lengthy comment which appeared to address criticism over the lack of diversity in the photo.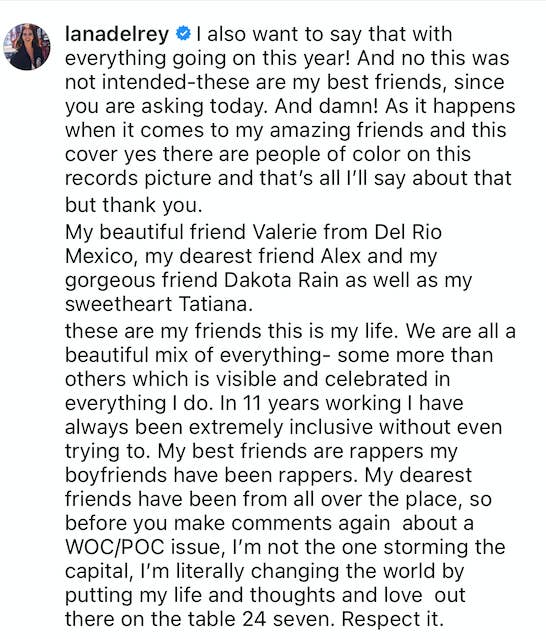 "I also want to say that with everything going on this year!" she began. "And no this was not intended — these are my best friends, since you are asking today. And damn! As it happens when it comes to my amazing friends and this cover yes there are people of color on this record's picture and that's all I'll say about that."
"We are all a beautiful mix of everything," she continued, "Some more than others which is visible and celebrated in everything I do. In 11 years working, I have always been extremely inclusive without even trying to."
"My best friends are rappers, my boyfriends have been rappers," she concluded the post. "My dearest friends have been from all over the place, so before you make comments again about a WOC/POC issue, I'm not the one storming the capital [sic], I'm literally changing the world by putting my life and thoughts and love out there on the table 24 seven. Respect it."
However, fans instantly took issue with the comment and accused Lana of centring herself and "white fragility" in a conversation about diversity as opposed to learning from the criticism she'd received.
"Nah nice failed attempt at manipulative gaslighting and centreing white fragility," one follower wrote. "Everything that doesn't centre whiteness and white nonsense 24/7 365 days a year is rAcIsT aGaInSt wHiTeS right?"

"I know she's not racist or a Trump supporter but she's so ignorant and turns violent when POC criticise her instead of listening and it's so irritating," another person said.
"Lana, POC friends are not something to parade around and say, 'Look! I'm not racist!' What was the point in even saying all this bunch of nothing?" said another.
"I love you so much but why did you say this?" another fan asked. "No one was checking you. Do you realise how tone deaf it is to say 'rappers' when you were talking about ethnicity???"
"This isn't it," another person said. "Having Black and Brown friends, and putting them on your album cover doesn't absolve you from examining your own intenalised racial biases."

And many more fans were simply begging her to delete the comment.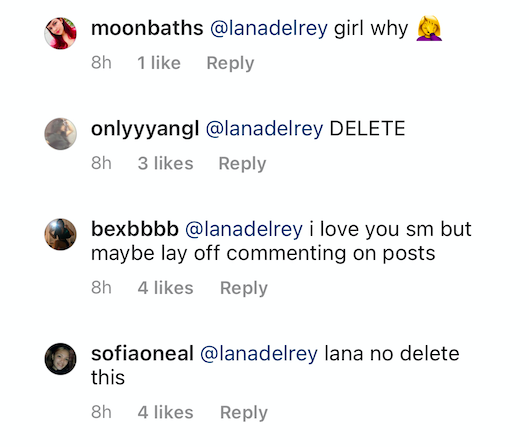 Back in May, Lana was forced to defend herself against accusations of racism after making controversial comments about other artists, including Cardi B, Kehlani, and Nicki Minaj.
In response to criticism for only specifically referencing women of colour in her post, Lana initially doubled down on her comments by saying that "making it about race says more about you than it does about me".
However, in a video posted days after the criticism first began, Lana said she "definitely isn't racist".