Kylie Jenner's New Photos Of Stormi Prove She's The Most Popular Thing On Her Instagram
She seems to have well and truly gone back on her word.
Back in June, Kylie Jenner received criticism for appearing to crop her daughter, Stormi, out of this selfie.
However, she shut everyone down by responding to this comment, revealing that she had decided to stop sharing photos of Stormi on social media.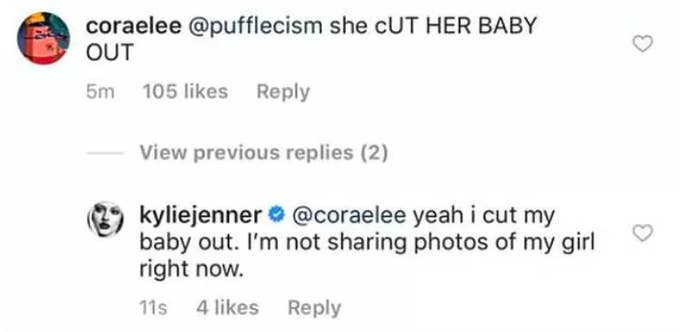 And she really followed through — Kylie went on to delete from her social media every single image of Stormi in which her face was visible.
At the time, people were quick to praise Kylie for deciding to shield her daughter from the limelight.
But it was also an interesting decision, since Kylie's Instagram posts about motherhood are some of the most popular not just on her page, but in Instagram's history.
However, it now seems that Kylie has gone back on her word and has broken her rule of keeping Stormi off social media.
Last week, Kylie shared not one but two gorgeous photos of herself with Stormi.
And true to the pattern of her previous Stormi photos, these two images were liked more times than anything posted on Kylie's Instagram for the past two months. In fact, the second photo swiftly racked up 11.9 million likes, making it the fifth-most liked photo on Instagram ever.
Now, at first, it was easy to assume that the photos were shared to mark Kylie's birthday, since she posted them on the eve of her 21st, and even referenced her big day in the caption on the first image.

Of course, within minutes of Kylie posting the videos, people couldn't resist taking to social media to gush over how adorable Stormi is.
So what does it mean? Is Stormi now a mainstay on Kylie's page? Only time will tell.