Here Are All The References To Stormi In Kylie Jenner's New Makeup Line
There are so many cute Stormi-related details in the line.
If you didn't already know, Kylie Jenner confirmed earlier this month that she has given birth to her first child.
Given the success of Kylie's makeup line, many people theorised that the announcement of the baby's name would coincide either with a new collection or a product named after her.
Well, a day after the announcement, Kylie revealed in an Instagram post that her baby girl was named Stormi.
And now Kylie has revealed that her daughter's moniker has inspired an entire new collection in her cosmetics line.
In her Instagram story, Kylie revealed that she's launching "The Weather Collection," inspired by Stormi.
Announcing the new products, Kylie said: "I worked on this pretty much my entire pregnancy. Right after we chose Stormi's name, her name really inspired me. I spent a lot of time on this collection and put a lot of detail into it."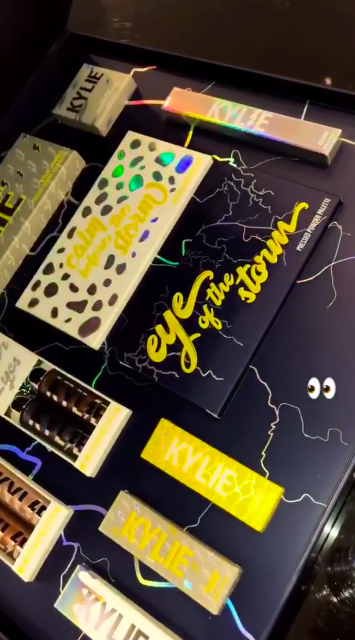 And it's clear that Stormi's name actually inspired many details of the collection – everything from the lipsticks having lightning bolts carved into them to the packaging featuring thunderous clouds.
But the really cute detail is the fact that the collection features two palettes inspired by her baby's name – one called "Calm Before the Storm," and the other "Eye of the Storm."
And even sweeter is the fact that the names of the shades in the "Eye of the Storm" palette appear to be inspired by her new arrival, too.