Over the past year, Kim Kardashian has been on a mission to ~get in shape~ after she was left devastated by her appearance in some paparazzi photos taken while she was on vacation.
She enlisted the help of a female weight-lifting personal trainer and has documented her fitness journey through daily Instagram posts from the gym.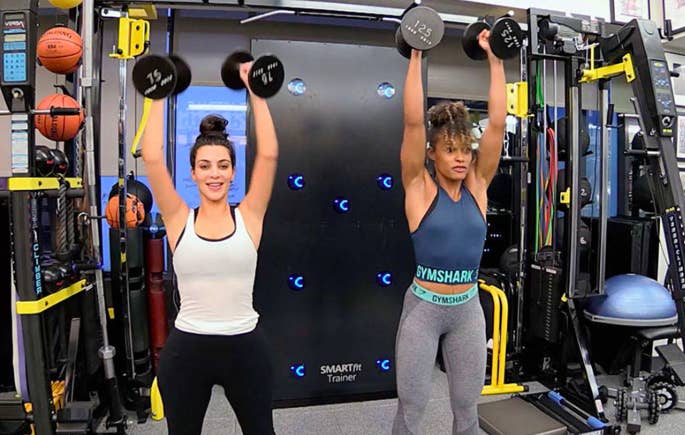 Well, last night Kim showed off the results, attending a charity event in a pair of skin tight PVC trousers. And, over the course of multiple Instagram stories, Kim showed her family members freaking out over her weight loss. However, many of the comments in the story have led to outrage on social media. Here's what went down.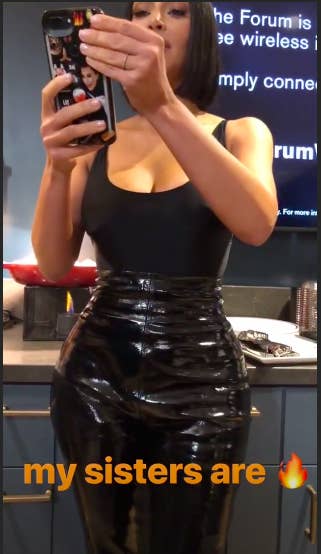 Things began when Kim shared a video of Kendall telling her: "I'm really concerned, I don't think you're eating. You look so skinny!"
Kendall then held up her purse and told Kim: "You're as tiny as my purse!"
Then Khloé told her: "I've never seen a human being look so good. You are a walking Facetune doll."
Kim shared some close ups of her body from every angle...
Before filming Khloé showing off the results of her post-baby workouts. Kim told her: "You actually do look skinny," to which Khloé responded by pointing at Kim and saying: "I've never seen a skinnier person in my life."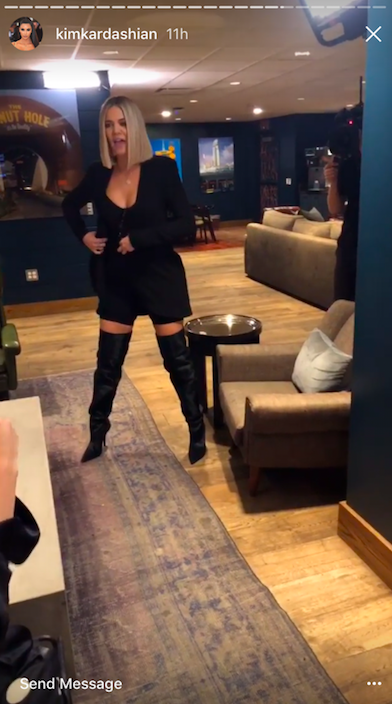 And then we saw a conversation between Khloé and her best friend Malika, in which they speculated that Kim had been surviving on "celery and oxygen."
Khloé went on to highlight Kim's waist, saying she looked "anorexic" there, and that her arms were "pin thin."
However, the story didn't go down too well with Kim's followers, with many of them taking to Twitter to express how angry they were after viewing it.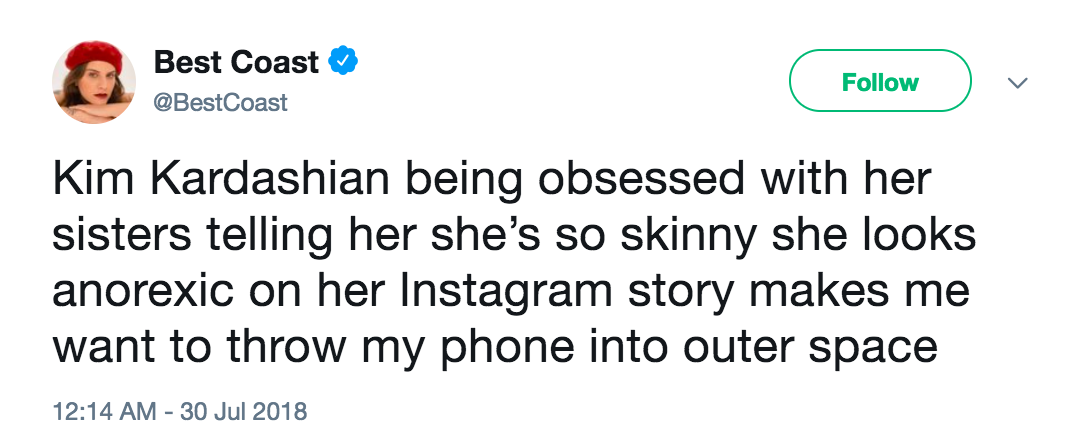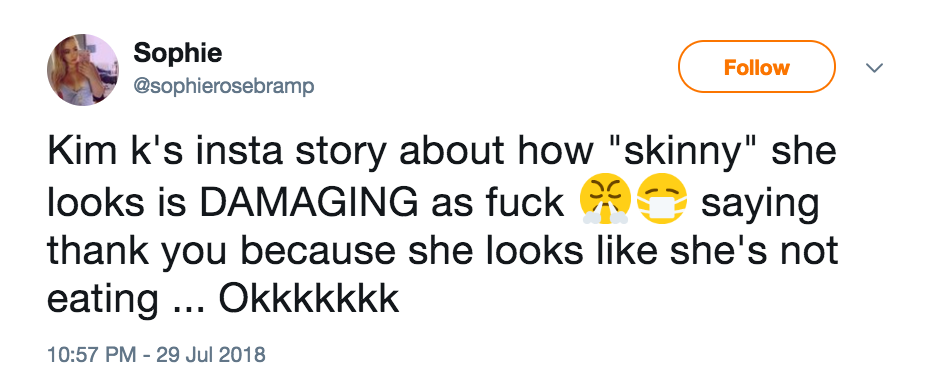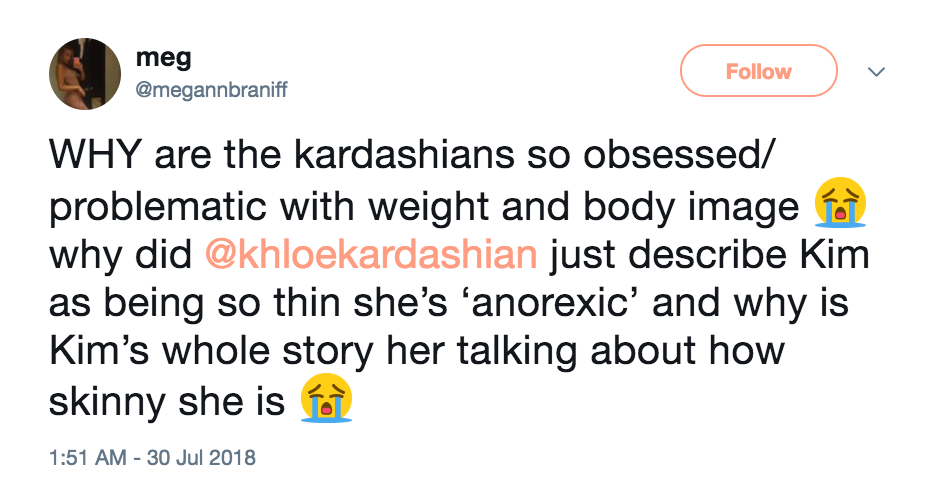 Some said the stories had made them feel uncomfortable.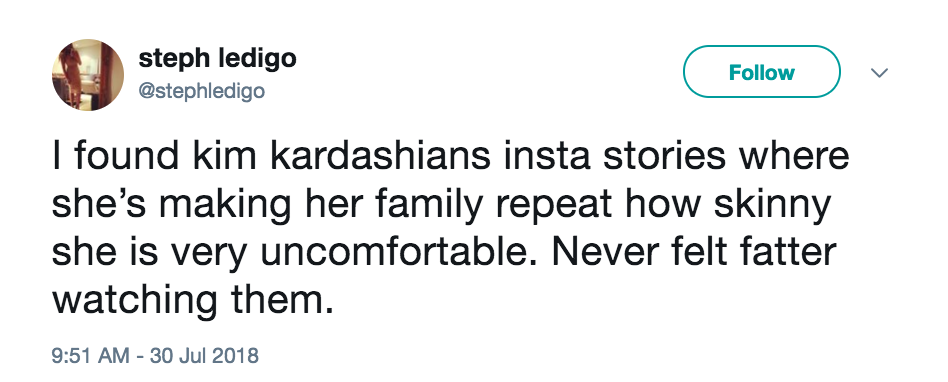 While others said it was a damaging message to be sending to her young followers.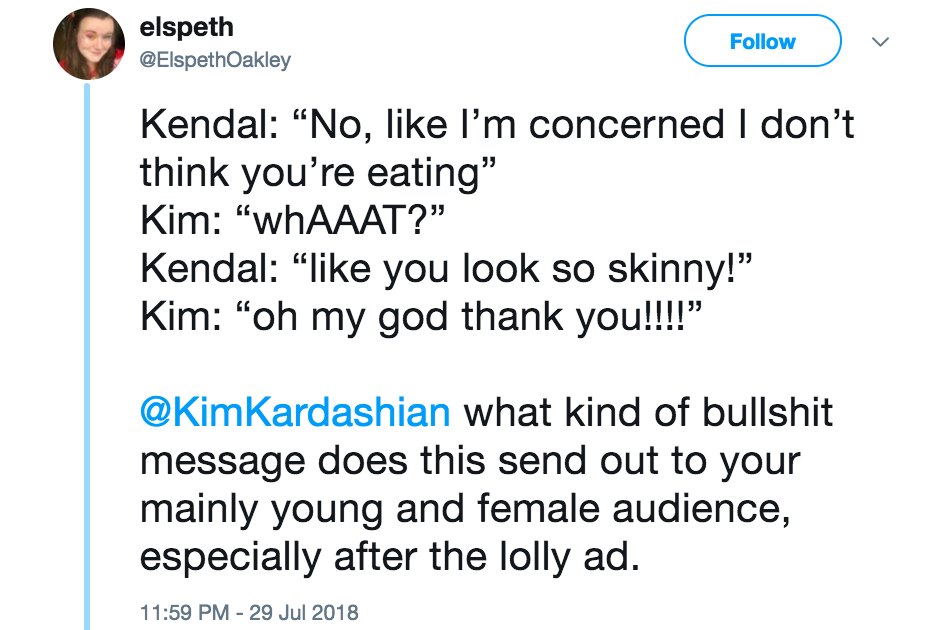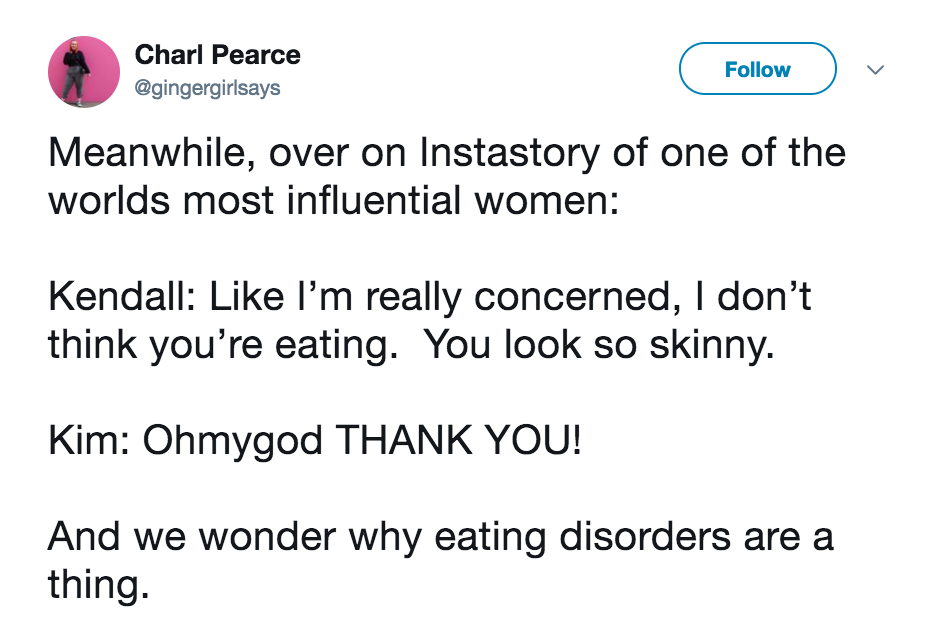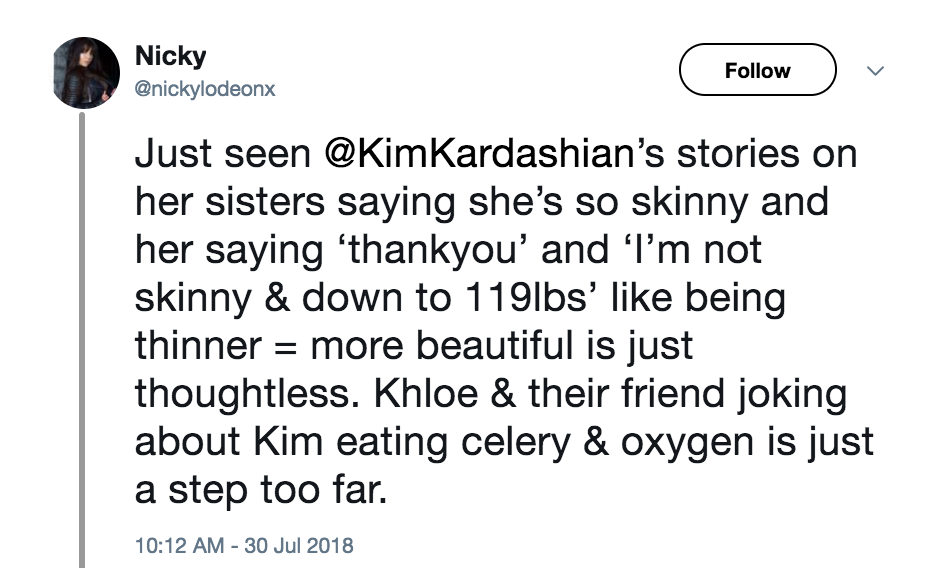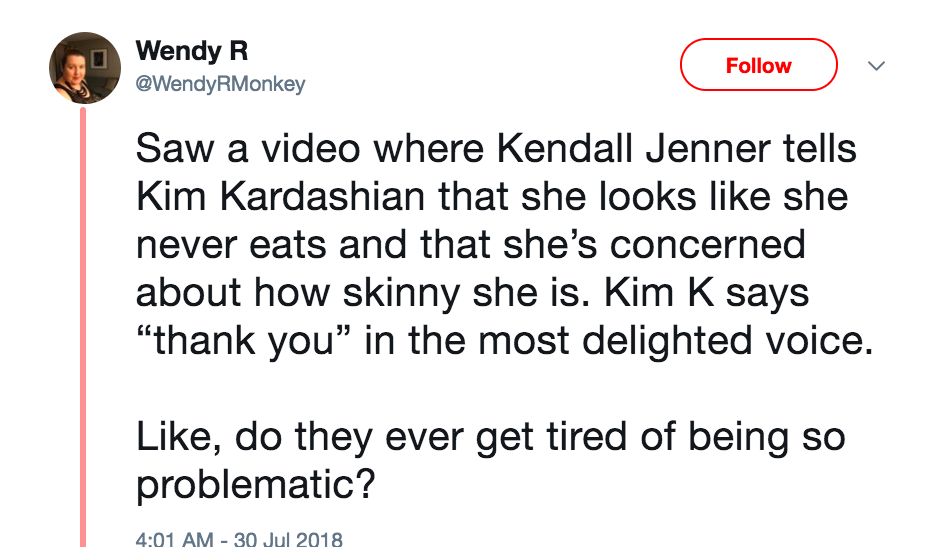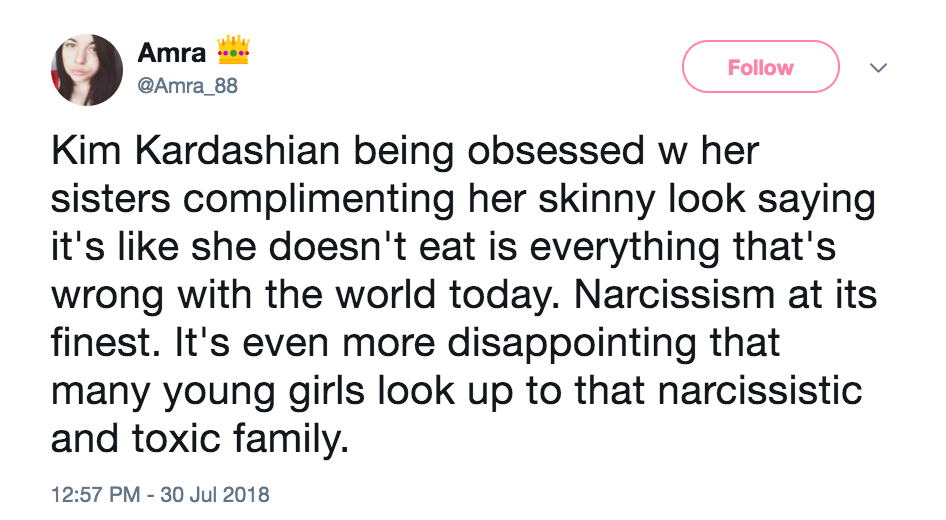 However, some people defended Kim and said that she wasn't promoting an unhealthy body image.
And others used the incident to spread a message of body positivity.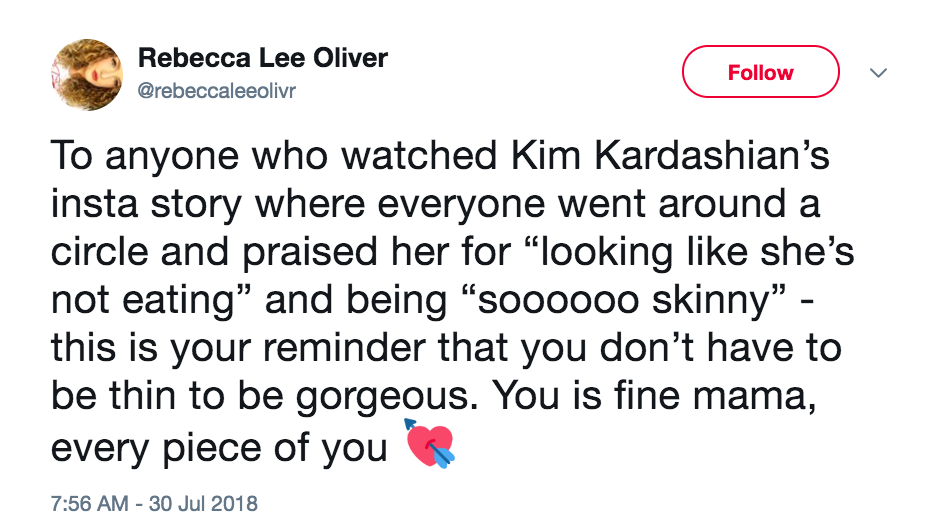 This isn't the first time Kim has been called out for promoting weight loss — just two months ago there was uproar after she posted an advert for appetite suppressant lollipops on Instagram.
You can see some of the comments in full, here.
A spokesperson for Kim Kardashian has been contacted for comment.