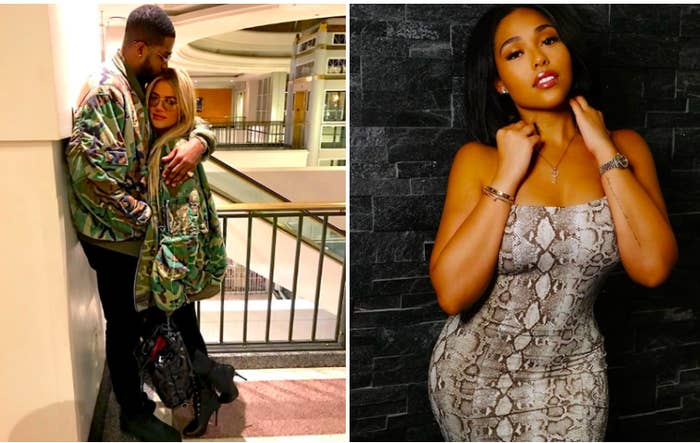 And I'm sure you recall the dramatic episode of Red Table Talk in which Jordyn gave her side of the story just a few days after news of the scandal broke.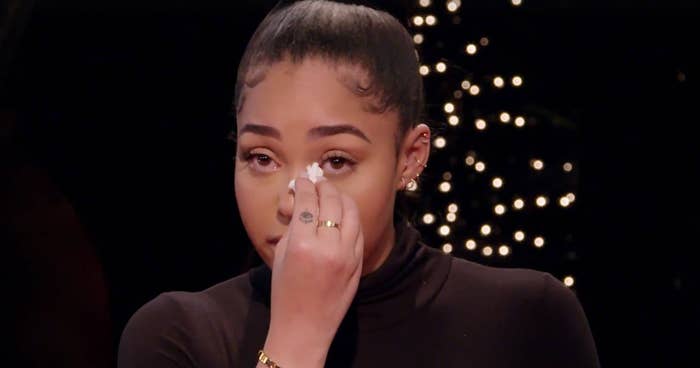 But what we've only just discovered is that, in addition to the interview, Jordyn also sat down for a two hour lie detector test at the same time.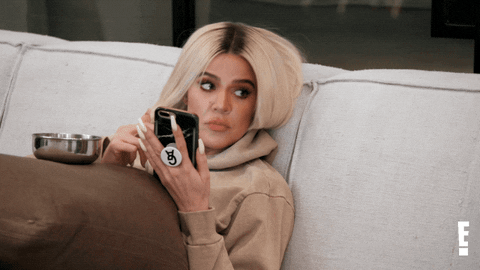 In a new Red Table Talk video, Jada made the revelation that Jordyn had indeed followed through with her request to be hooked up to a lie detector and asked key questions about the scandal.
We then got to see a short clip from the test, where Jordyn was asked the question: "Did you have sexual intercourse with Tristan Thompson?" She responded: "No."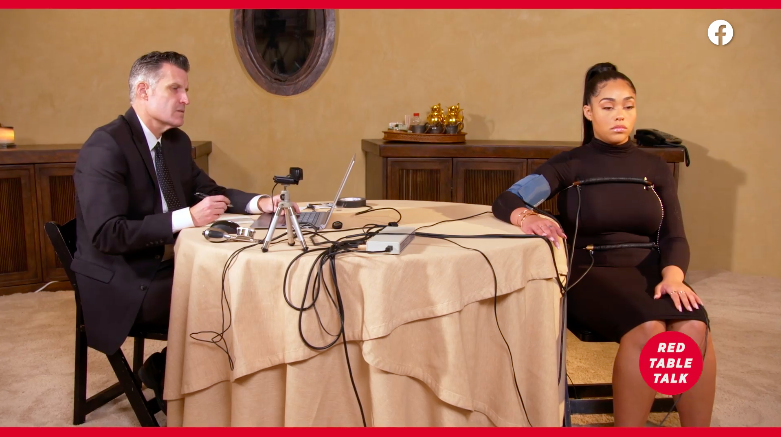 The clip concluded with the polygraphist telling Jordyn that she had "passed the test," and he believed she'd been "truthful in all of her answers".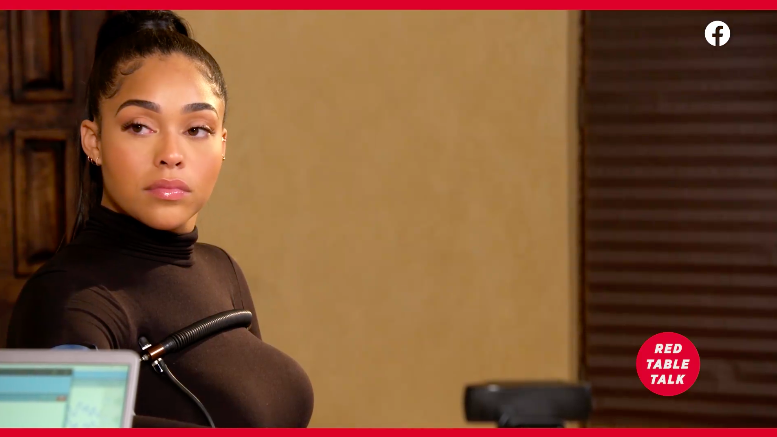 Afterwards, Jada and her mother, Adrienne, revealed that they were proud of Jordyn for choosing to share her side of the story, before heavily hinting that there were "untruths" in the two episodes of KUWTK dedicated to the scandal.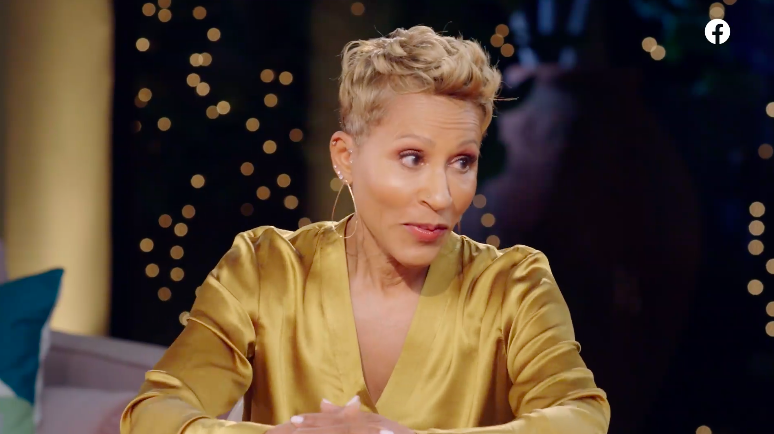 She went on: "What we hope will happen is that at some point in time, the whole truth will come out. Because there were a lot of untruths that were put out there. One of them was about the fact that there wasn't an apology from Jordyn."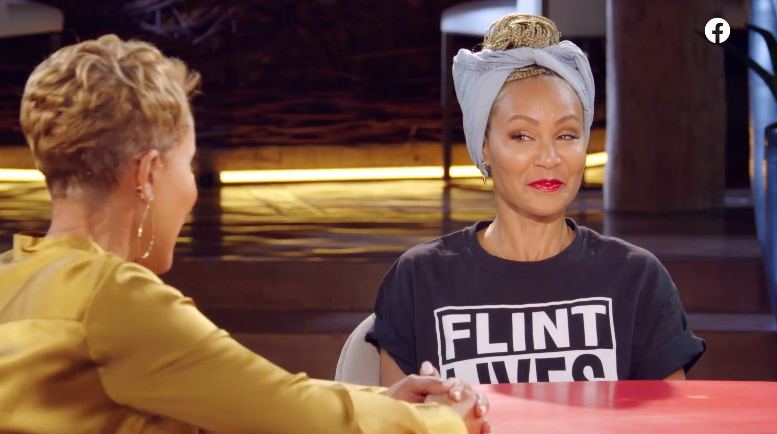 However, within hours of the video being released and its contents circulating across the internet, Khloé took to Instagram and posted a series of cryptic and brutal messages on her story which could reference the drama.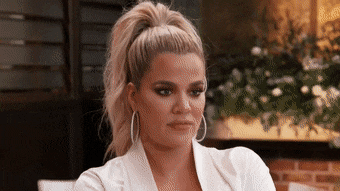 She began with a quote reading: "Learn to discipline your emotions and handle yourself with grace in situations where people push you into being cruel."
Khloé followed it up with this quote.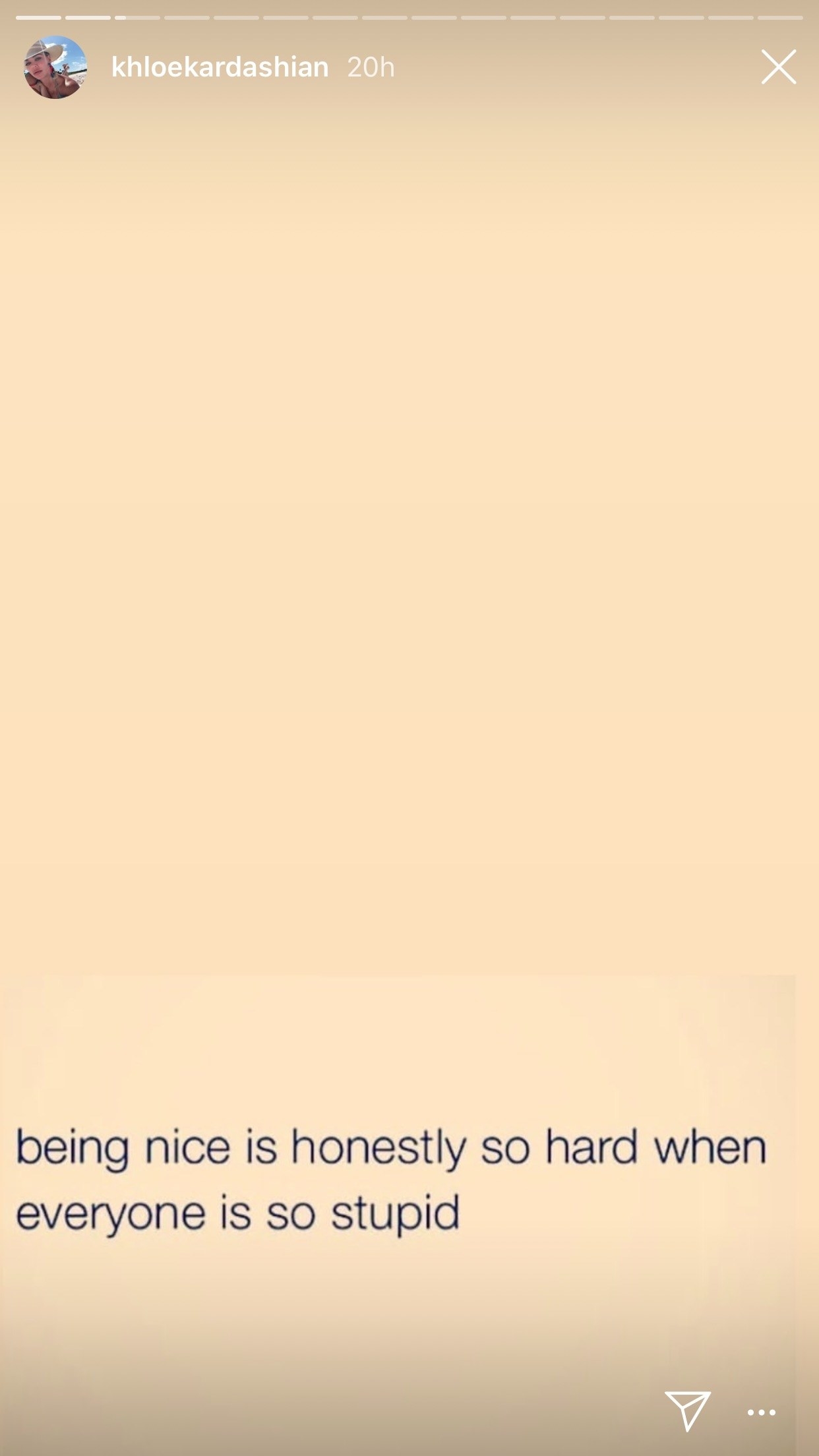 But things got all kinds of 👀 👀 👀 when Khloé shared a quote reading: "Liars are always ready to take oaths."
And in a second apparent reference to Jordyn, Khloé also posted this message, in which she appeared to berate herself for "forgiving people".
And the timing of the latter post is interesting, considering that just last week Khloé publicly forgave both Tristan and Jordyn. She shared two statements on Instagram saying that she'd chosen to "forgive all parties" who have hurt her.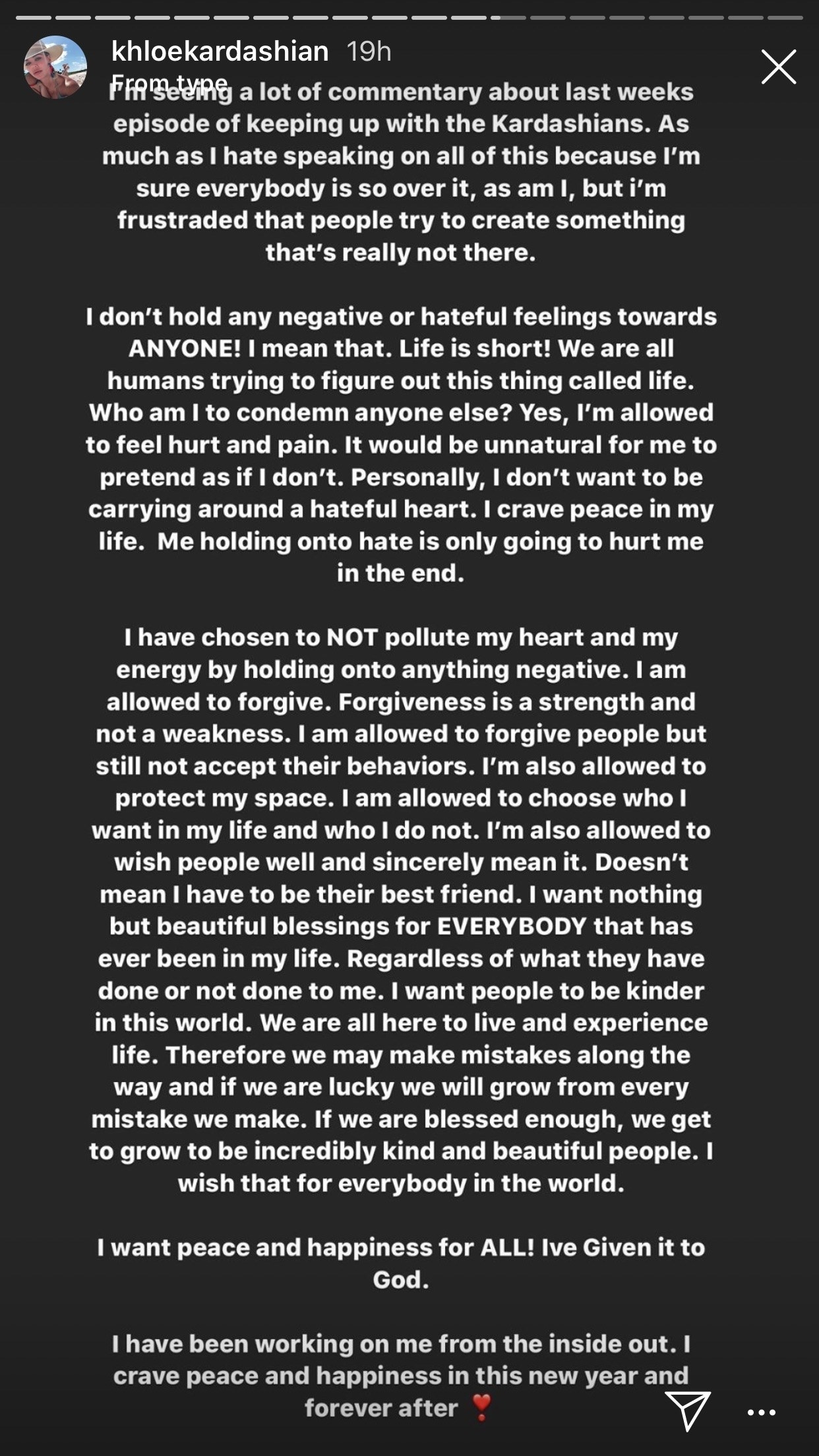 "My life won't be consumed with hate," Khloé added. "I've chosen to occupy my life with positivity. We are all human and make mistakes, myself included. Hate is heavy and I am tired of carrying all that weight around."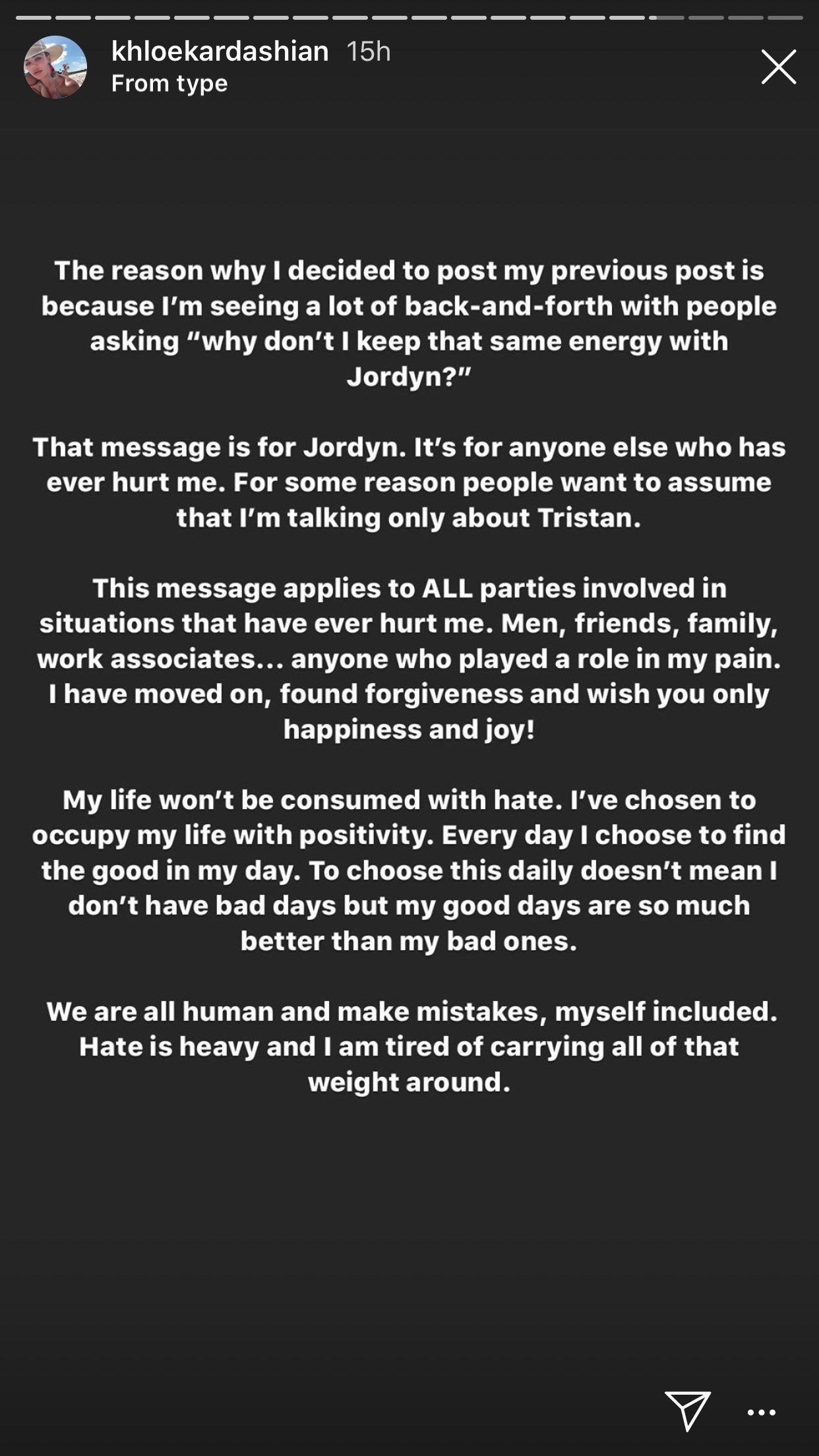 It remains to be seen whether Khloé speaks in any more detail about the latest Jordyn-related revelations.