The road to Kim Kardashian and Kanye West having a family has been a rocky one.
After Kim experienced two potentially life-threatening conditions during both her pregnancies, she was told by medical professionals that carrying another baby herself would be too dangerous for both mother and child.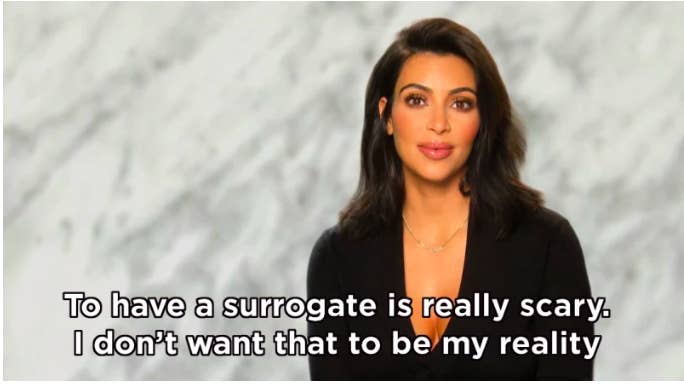 After discussing surrogacy and adoption, Kim and Kanye decided to go ahead with the former option and used a gestational carrier to have their third child, Chicago.
Despite Kim being very open about the entire process on Keeping Up With The Kardashians, it seems some people haven't quite wrapped their head around surrogacy if comments on her Instagram are anything to go by.
Because, after Kim shared this throwback photo of herself as a child, many people commented on the likeness between Kim and her daughters.
One of those people was Khloé Kardashian, who left this comment.

However, someone responded to Khloé's message to say that it'd be impossible for Chicago to bear a resemblance to Kim since they're not biologically related, adding that she looks "MORE like Kanye or the surrogate."
So, in true Khloé fashion, she clapped back and called the commenter's statement "silly" and "uneducated," adding that Chicago is "completely Kimberly's biological child."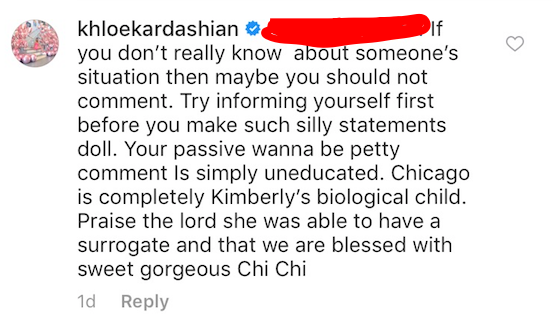 However, the commenter went on to respond to Khloé's message, reiterating the suggestion that Kim couldn't possibly resemble Chicago since a surrogate was used.
And at this point Khloé relented, explaining exactly how the surrogacy process had worked.